Press
Released: 18 Sep 2012
OPERA America to Release the OPERA America Songbook
47 new songs commissioned from the nation's leading composers celebrate the opening of the National Opera Center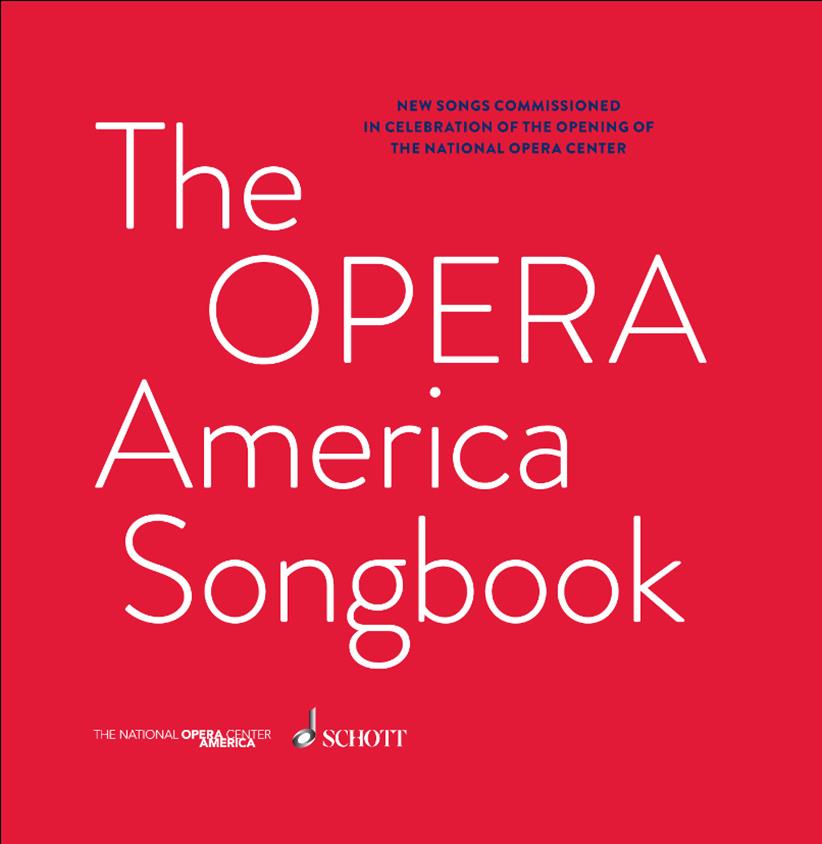 OPERA America, the national nonprofit service organization for opera in the U.S. and Canada, is delighted to announce the release of its first commission, the OPERA America Songbook. The 47 songs were commissioned to celebrate the opening of OPERA America's National Opera Center (official ribbon-cutting on September 28) and are available in a printed score published by Schott Music New York, as an audio CD and as a digital music download. While the Songbook is OPERA America's first commissioned work, the organization has been deeply committed to the creation and production of new opera throughout its 42-year history, having granted more than $11 million to opera companies for the purpose of commissioning new works.
In March 2012, OPERA America invited 70 leading classical song and opera composers to each write a song for solo singer and piano following the themes of opening a new home, the joy of singing or the excitement of new beginnings. Composers invited to participate in the OPERA America Songbook project all have strong ties to the organization, from those whose works have received grant support, to panelists at OPERA America workshops and composers whose works have been performed at OPERA America events.
"OPERA America has always been firmly committed to the development of new opera works, which is why the opening of the National Opera Center was the perfect occasion to commission our own celebration of vocal music," stated President/CEO Marc A. Scorca. "We decided to commission a song cycle to include as many of the talented composers in our circle as possible, and to show that commissioning projects can take many forms beyond the traditional full opera. We are truly honored and touched to see how many composers eagerly embraced this project, making it richer and more varied than we could have predicted," he continued.
Selections from the OPERA America Songbook will be performed during National Opera Center opening week celebrations, and the entire cycle will be performed in the Center over the course of its first year of operation. Two Salon Series events at the National Opera Center, on October 30 and March 19, will feature a number of selections from the OPERA America Songbook, followed by a conversation with the recording engineers and publication editors, respectively, led by OPERA America President/CEO Marc A. Scorca.
Participating composers, who include Ricky Ian Gordon, Daron Hagen, Lori Laitman, Nico Muhly, Thomas Pasatieri, Kevin Puts, Howard Shore and Robert Ward (full list below), were invited to create songs of approximately five minutes in length. Composers were free to choose their own texts, resulting in lyrics from historical writers such as William Shakespeare, Emily Dickinson and Giuseppe Verdi; from contemporary working librettists such as Mark Campbell, Royce Vavrek and Donna DiNovelli; and from the composers themselves.
The full OPERA America Songbook score is being published by Schott Music New York and is being released as a three-disc CD set. The recording features 33 different singers and 23 pianists, including six composers who performed their own works (Ricky Ian Gordon, Lori Laitman, Lowell Liebermann, Ben Moore, John Musto and Bob Telson). Performers were chosen by the individual composers in collaboration with OPERA America and the project's music director, William Hobbs.
The OPERA America Songbook score is available for purchase now at halleonard.com. The CD set and digital download will be available for purchase in October. For further details, visit operaamerica.org/songbook after September 24.
OPERA America Songbook Composer List
Mark Adamo
Derek Bermel
David Carlson
Christopher Cerrone
Mary Ellen Childs
Michael Ching
Conrad Cummings
Richard Danielpour
Anthony Davis
Donald Davis
Paquito D'Rivera
Rinde Eckert
Ricky Ian Gordon
Daron Hagen
Jake Heggie*
Aaron Jay Kernis
Paula Kimper
Lori Laitman
David Lang
Lowell Liebermann
David T. Little
Tod Machover
Ben Moore
Paul Moravec
Theodore Morrison
Nico Muhly
Gene Murray
John Musto
Tarik O'Regan
David Ott
Thomas Pasatieri
Jack Perla
Paola Prestini
Kevin Puts
Robert Xavier Rodriguez
Huang Ruo
Howard Shore
Jorge Sosa
Gregory Spears
Lewis Spratlan
Bob Telson
Christopher Theofanidis
Michael Torke
Stewart Wallace
Wang Jie
Robert Ward
Erling Henry Wold
* Note: Heggie's work appears on the CD, but not in the printed score edition of the Songbook.
About the OPERA America Songbook Score Publication
The Songbook score is published by Schott Music New York and is available for purchase now at halleonard.com. The publication was edited by Scott Wollschleger, Christopher Cerrone and Juan Pablo Contreras.
About the OPERA America Songbook Recording
The Songbook was recorded, edited and mastered at Gurari Studios in New York City during summer 2012. The music director was Williams Hobbs and the recording engineer was Jeremy Gerard. OPERA America staff Cara Consilvio, Lyndsay Werking and Laura Lee Everett served as supervising producer, commission and publication manager and executive producer, respectively.
###
For more information on OPERA America, visit About Us.
For press inquiries, contact Press@operaamerica.org or 212.796.8628.