Audio
Published: 05 Aug 2022
Pacific Opera Victoria presents "What's Up With Opera?"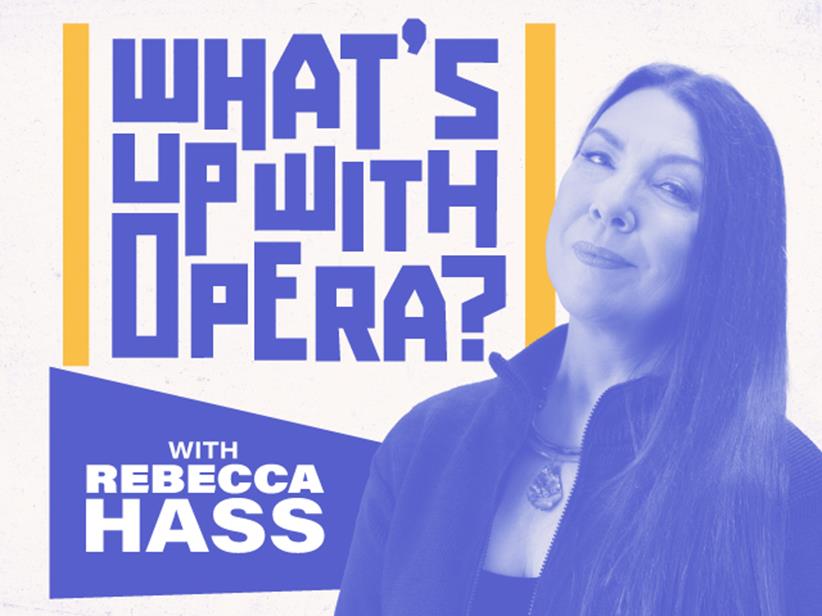 What's up with opera?
As it happens, quite a lot.
At a time when we're questioning assumptions about the portrayal of women and minorities in all forms of cultural expression, it's also time to think more critically about the world of opera – an art form essentially sustained by relics and values of past centuries.
Whose stories are we telling today and who gets to tell them?
What role is race playing in who you see on stage and in the audience?
How does opera stay relevant in today's world?
Join the conversation with the operatic movers and shakers of the 21st century as they share their thoughts in frank conversations about what has to change for opera to survive.
---
Episode 1 | Davóne Tines
American bass-baritone Davóne Tines shares his convictions on the role of the singer beyond being the voice on stage, and how he curates his career to reflect a broader vision of being a change maker in society.
Episode 2 | Barbara Hannigan
Soprano and conductor Barbara Hannigan is a trail blazer who has created a model for what a woman can do in the opera world, and speaks frankly and passionately about why singing isn't enough for her, and the role social responsibilities play in her career choices.
Episode 3 | Peter Sellars
International director and creative force, Peter Sellars, covers everything from the lessons of COVID, to opera as means to redistribute wealth, to the vibrant world of collaborative process in art making and everything in between. It's a view of art, opera, the world from 10,000 feet, offering a compelling vision for the future.
Episode 4 | Debi Wong
Self-confessed history nerd, soprano, and Artistic Director of Re:Naissance Opera, Debi Wong, is upending what opera is and where it can be performed and who is making it. From Virtual Reality, to embracing the play of failure, to a shared power model in the rehearsal room, she is up to change it all to harness the true power of opera.
Episode 5 | Anne Midgette - Part 1
Music Critic Anne Midgette shares her deeply personal passion for women in the classical music field through her knowledge of history, love of opera, and her painful experience in publicly breaking the #metoo stories that permeate the opera field.
Episode 6 | Anne Midgette - Part 2
Self-described voice junkie, Music Critic Anne Midgette shares insights into how the history of opera continues to feed ongoing racism, patriarchal systems, fat-shaming, and the genius myth while still holding on to hope for the future of the opera field.
Episode 7 | Teiya Kasahara
Canadian operatic soprano, multi-disciplinary artist, and co-founder of Amplified Opera, Teiya Kasahara wants it all. In this interview, Teiya speaks about creating opportunities that reflect their whole selves in both the new work they create but also in traditional canon and explores the risks and rewards of straddling the worlds of opera and their identity.
Episode 8 | Ian Cusson
Canadian-Metis composer, Ian Cusson speaks about the barriers that keep diversity out of new work creation and how his own culture fostered an undeniable passion to tell stories that compel him and his sense of responsibility to open the door for the next generation of IBPoC composers.
Episode 9 | J'nai Bridges
J'nai Bridges is a renowned American Mezzo-soprano, who speaks candidly in this interview about being a black woman in the opera field. She discusses her personal experiences with racial stereotypes in casting, how her desire for social change impacts her career choices, and the weight of that responsibility as an opera artist today.
Episode 10 | David Devan
Opera Phildelphia is one of the largest American opera companies and it is an industry leader in innovation. General Director David Devan speaks with passion, humor and business savvy about his experiences in making change through acts of creative destruction, the role of honest examinations of race and casting, radical approaches to engaging new audiences and what it's like to be the Netflix of opera companies.
Special Guests
J'nai Bridges
Ian Cusson
David Devan
Barbara Hannigan
Teiya Kasahara
Anne Midgette
Peter Sellars
Davóne Tines
Debi Wong
---
Creative Team
Denise Ball | Executive Producer
Jennifer van Evra | Producer
About Pacific Opera Victoria
Pacific Opera Victoria is one of the most influential professional opera companies in Canada. Its inspired repertoire comprises original productions of classic favourites and lesser-known works, as well as new commissions, co-productions, and collaborations with other companies and arts organizations across the country. From its home in the Baumann Centre, Pacific Opera Victoria creates significant career opportunities for creative and performing artists and curates opera in surprising ways – enticing newcomers and captivating loyal opera-goers.