Out of Russia
Lidiya Yankovskaya, the newly named music director of Chicago Opera Theater, has built an imposing reputation in opera and new music. Her schedule includes symphonic and opera assignments across the country. She serves as artistic director of the Juventas New Music Ensemble and music director of Commonwealth Lyric Theater. Born in Russia and raised in the U.S., Yankovskaya took part in the 2015 inaugural residency program of the Dallas Opera's Hart Institute for Women Conductors. Here she chats with OPERA America President/CEO Marc A. Scorca about her life and career, and the challenge of developing new audiences for opera.
SCORCA: Let's start at the beginning: Who brought you to your first opera?
YANKOVSKAYA: My mother. She took me to operas and ballets from before I can remember. She absolutely loves the opera, and she studied music seriously as a pianist and a singer when she was a child herself. Now when I conduct Mozart or Puccini, my mother will sing all of the arias at me in Russian, which is hilarious. The first opera that I remember is Prokofiev's The Love for Three Oranges, which I saw at the Mariinsky when I was maybe four or five. I remember very vividly the singers and the crazy costumes, and going down toward the pit and seeing all of the instrumentalists, and just how exciting that was.
How old were you when you came to the U.S.?
We came here when I was nine, as refugees. Russia was falling apart economically and politically in the 1990s and there was an incredible amount of anti-Semitism. Fortunately, we already had some family in the States and were able to immigrate.
There's been a lot of musical variety in your life — piano, violin, voice.
I started out as a pianist and also sang in the St. Petersburg Children's Choir of Radio and Television. We went to two- hour rehearsals three times a week. I started when I was five, and even at that age, you had to sight-read just to get in. When we moved to the States, I added the violin to the piano so that I could regularly perform in orchestras. When I was 17, I won my high school's concerto competition with a Mozart piano concerto. The conductor encouraged me to lead rehearsals from the piano, and later invited me to conduct a movement of one of Dvořák's symphonies. Of course, I did not yet really know what I was doing, but I absolutely fell in love with conducting.
What did you study at Vassar College?
I devoted most of my time to piano, voice and conducting. I also played violin, but not that seriously: I wanted to focus on other things. The wonderful thing about Vassar is that, while it has an amazing music faculty, it's also a liberal arts institution that gave me a really well- rounded education. I was able to study languages, philosophy, psychology — all the things that go into conducting — in addition to music. I never pursued singing professionally but I felt it was very important to study it if I wanted to go into opera. And I ran my own ensemble, of about 55 instrumentalists and 30 singers, that would do performances of contemporary works several times a year.
You've always had an entrepreneurial streak.
Yes, I don't like to be idle! I love to always be working on new and exciting projects, and if they don't come my way then I make them happen. How can we grow as artists if we don't create something interesting and new?
Was opera a goal for you from the very beginning?
I have always loved opera, but when I started out in college, I still thought that I might end up becoming a pianist. In my junior year, though, I learned the Rachmaninoff second piano concerto, and it took so many endless hours, alone in a practice room, that I realized this wasn't for me. But opera is the most collaborative of the musical art forms. It was exciting for me to be with other people — not just instrumentalists and singers, but also set designers and directors and stage managers and producers.
Tell me about your work with the Juventas New Music Ensemble in Boston         
I joined the organization about five years into its existence as an associate conductor, and then became music director. At the time, it was a conglomerate of emerging composers and performers coming together to play chamber concerts of new work. It's difficult to find an audience for those kinds of performances: The early audiences were generally people with personal connections to the composers. When I became artistic director, I started changing the format and focusing on really collaborative presentations. We've done concerts that feature robotic instruments. We've had puppeteers and circus artists — a recent performance featured aerialists. It has brought people from all walks of life into our performances, and it's gotten them excited.
At OPERA America's annual conference last May, you talked about opera becoming truly universal, about it being exciting and relevant.
To me, opera is a living art form, and in a sense, it's already universal, but not everyone realizes this. I think it's very important for us to break preconceptions that people have about opera, and to make sure that they understand opera can be relevant to our world and our society and to everything around us.
At Juventas, we did a piece where the audience downloaded a program onto their cellphones that allowed them to participate in the music-making. We worked with Scott Barton, a composer at the robotics lab at Worcester Polytechnic Institute. He makes instruments that not only can perform music; they can be programmed to interact with live performers.
Would you want a perfect robotic sound in Lucia di Lammermoor?
Robots are not anywhere near the point of emulating the sound of the human voice, and likely never will be. The possibilities are limitless as to how a voice can sound and what a musician can do on the spot with a given piece of music: how a phrase is shaped, how text is delivered, what the vocal color is. It's those limitless possibilities that make going to a performance really exciting, even if it's an opera we know really well.
You've always had a mix of symphony and opera work in your portfolio. Do you anticipate continuing that mix?
Yes. I find it very rewarding to move from opera to the symphonic context and just focus on perfecting the sound of the orchestra. That's part of my job in opera, but there are so many other things I have to deal with there: singers and scenic elements and language. But it is important for any symphonic conductor to also have experience in opera, because so many of the symphonic composers of old were also opera composers, and so much of the way we approach music in general comes from the voice. The drama is there in purely symphonic music, even though you don't see it directly on the stage.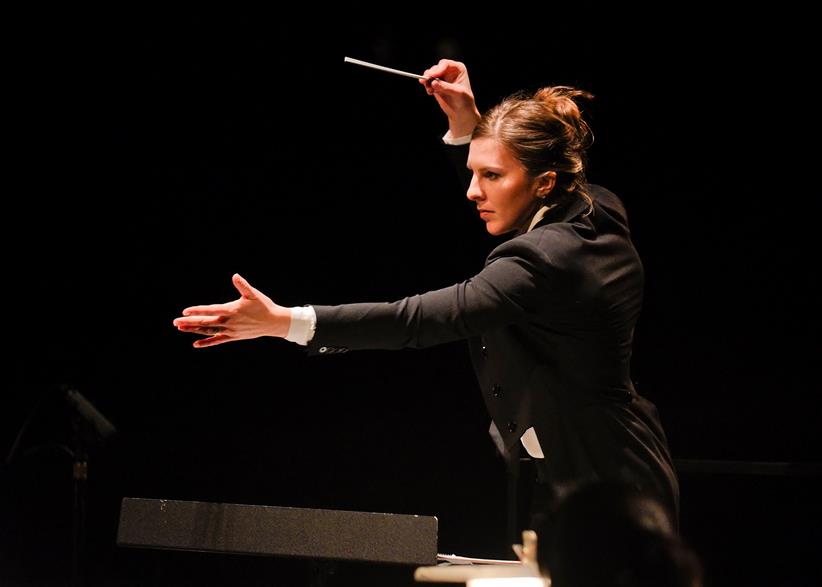 You were part of the first class of The Dallas Opera's Hart Institute for Women Conductors. Was it helpful to get focused, advanced professional development in a gender-specific setting?
It was incredibly helpful. The participants in the institute were amazing women from all over the world. Some have worked mostly in the symphonic world; some have been prompters at major houses in Europe and elsewhere; some come from a coaching background; some are music directors of opera houses abroad. As conductors, we're often islands unto ourselves, because there's only one conductor in any production. So it's rare for me to encounter women who do what I am doing, who are following a similar path to mine.
Tell me about your Refugee Orchestra Project.
My family never talked much about our refugee status. When you leave a country as a refugee, you just want to leave it behind. But I was in Germany when the refugee crisis hit a few years ago, and I was amazed by how many people were welcoming refugees into their homes. I realized I would not be where I am today if I had not been able to come to this country as a refugee. In Russia, there were quotas on the number of Jews who could get into conservatories, but here I could pursue the highest level of education. I'm not a politician; I'm not someone who has experience as an activist; but when I saw how much hostility there was in response to the refugee crisis, I thought, "What can I do? How can I get people to recognize the importance of welcoming refugees. to our nation?" So many of us don't talk about our experiences, but refugees from all backgrounds have contributed to our culture. Irving Berlin was a refugee, and he wrote "God Bless America"!
Yes, absolutely.
So I came together with some of my fellow musicians and arts administrators, and we put together a fundraising concert in Boston showcasing music by refugee composers, with refugee musicians performing. We initially intended to give one concert, but it was so successful that we were immediately invited to do another one in New York. In the span of just over a year, we've now done four different concerts. They've been streamed over social media, and one of the videos has gotten over 100,000 views from around the world. I think even among liberals there's often this view that refugees are very much the other. "We'll be nice and welcoming, but this could never happen to us." It's very dangerous for us to see it as "us and them," and that's one of the things that I hope our project can help break down.
Chicago Opera Theater has a rich history in Baroque opera and American opera. What will your focus be?
Because we are an American opera company, I think it is essential for us to do American opera. But there are so many other exciting things we can do. Certain kinds of German and French operas. COT has done very little Russian repertoire and no Spanish-language operas. So I'm hoping we bring a variety of styles to Chicago's audiences.
What part of Chicago Opera Theater represents the greatest opportunity for you to grow in your career?
With smaller organizations, I was often responsible for aspects that were totally non-musical. Now, I'll be working with Doug Clayton, the executive director. And it's already been exhilarating to work with the staff as we talk about repertoire, and ways to move the company forward and engage the community. Of course, I'll have the opportunity to oversee bigger productions with a bigger budget than what I've generally had access to so far and to bring in top-quality talent from all over the world. I have to say that again I am so excited for this opportunity. I'm thrilled to continue to be part of the field of opera in the U.S.
This article was published in the Fall 2017 issue of Opera America Magazine.