"Brain Exercise" for Dementia Patients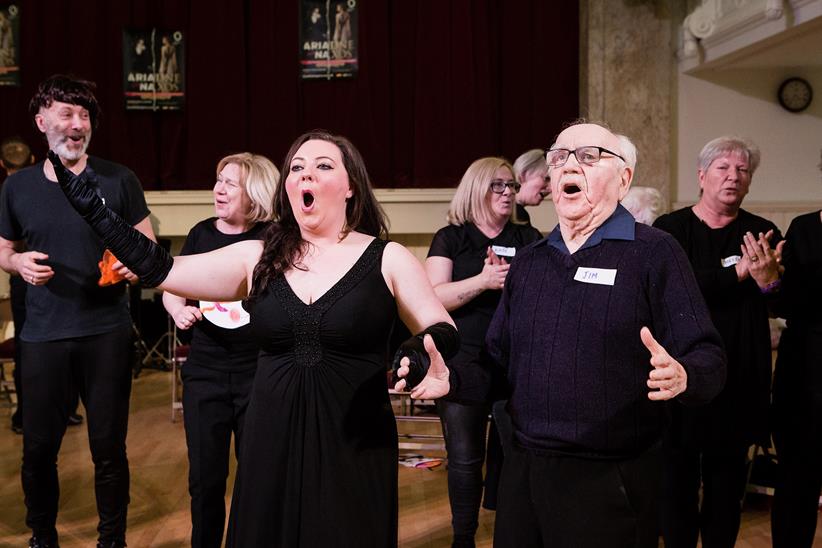 No cure has yet been found for Alzheimer's disease. But singers and opera companies have been quietly working to provide therapy, through music, to people with Alzheimer's and other types of age-related dementia. Three years ago, Nancy Gustafson, a leading lyric soprano of the 1990s and 2000s, founded Songs by Heart, an organization that brings singers into memory care centers. Gustafson was spurred by experiences with her own mother, whose advanced dementia severely limited her verbal expression. "I found it heartbreaking — if you were able to get two words out of her, it was like a home run," she says.
But one day during the fall of 2014, Gustafson sat down at the piano at her mother's memory care unit to play Christmas carols. "My mother starts singing along," says Gustafson. "After about 15 minutes, I turned and looked to her, and the first words out of her mouth were a critique of my playing: 'That's not very good.' So I started playing more songs, and kept her singing for 20 minutes, and when I turned and looked, she said, 'That's much better.'"
Songs by Heart now replicates this type of singalong therapy at nearly 50 memory care centers across the country. The organization sends a music therapist to train the centers' staff, as well as the pianists and singers, who, Gustafson explains, are often recruited with the help of opera- company administrators. The therapy can enhance mood and increase verbalization, as well as bring ancillary joy and relief for the caregivers of dementia patients. "I knew what we were doing was right," Gustafson says, "when we got a call from a woman, saying, 'We can't have [the therapy] stop. My grandmother used to be aggressive, but when we see her now, she's still singing.'"
Music is a particularly effective therapy because, in an Alzheimer's patient, the brain stem and the brain's limbic system are still able to respond to rhythm, explains Linda Maguire, a soprano-turned-neuroscientist specializing in music therapy. Maguire was inspired to pursue neuroscience after visiting an elderly friend at a memory care unit; when Maguire sat down at the piano to play songs like "Amazing Grace" and the Canadian national anthem for the patients there, she saw results similar to those experienced by Gustafson. "Music is like a drug," says Maguire. "It oxygenates the lungs and brain and stimulates tissue; it's a form of exercise, and it recruits many parts of the brain that would remain dormant and die off from lack of use and oxygen."
LA Opera, in partnership with USC's Zilkha Neurogenetic Institute and Alzheimer's Greater Los Angeles, presents "Memory Mornings" throughout the year. The company hires pianists and singers to visit memory care centers, performing a mix of standards and patriotic songs, along with opera pieces. "When people move through the levels of Alzheimer's, they lose the ability to express and manage their emotions," says Heather Cooper Ortner, president and CEO of Alzheimer's Greater Los Angeles. "Singing allows them to connect with those emotions, and with deep, powerful memories, often taking them back to their childhoods."
For Stacy Brightman, LA Opera's vice president of education and community engagement, this sort of work is central to the company's role in Los Angeles. "In our vision statement for the company, we say, 'We envision a community in which all members, especially those of the greatest need, are engaged with opera and have access to its the transformative power,'" she says.
Across the Atlantic, the Scottish Opera has been doing pioneering work with dementia patients. In addition to bringing singers to memory care facilities, the company has also opened its production studios for "Memory Spinners," a program of weekly workshops during which dementia patients and their caregivers, working with a facilitator, respond to operatic works through songs, movement, drama and art activities, culminating in a performance for friends and family.
"This led to us to: How can we have them come to the opera proper?" says Jane Davidson, the Scottish Opera's director of outreach and education. So was born the U.K.'s first dementia-friendly opera performance: a Marriage of Figaro presented in 2016 at Festival Theatre Edinburgh. The work was trimmed to less than 90 minutes; some plot details and characters were omitted; busy stage business was streamlined; and a narrator appeared onstage to give brief plot recaps. Several modifications were made to the theater, as well: The houselights stayed on at a low level; the doors to the foyers remained open throughout the performance so audience members could come and go; and the auditorium was only filled to about a third of its capacity.
The company has followed its successful Figaro with dementia-friendly performances of La bohème and La traviata in Edinburgh and Glasgow. "The idea is to make it as stress-free as possible," says Davidson. "We've received huge feedback from the relatives, things like 'I felt so welcomed, and it didn't matter if my mom shouted in the middle of the show.'"
The performers have been able to gauge the enterprise's success immediately. The houselights let them see audience members' smiles and rapt expressions. "What opera singers do better than anything else is emote with their voices," says Davidson. "And we saw very clearly how people responded to that emotion."
This article was published in the Fall 2018 issue of Opera America Magazine.