A Pared-Down Lucretia
There's not a peplos or broken column in sight in a new production concept for the Rape of Lucretia now on exhibit at the National Opera Center. Minimalism is the driving principle of the concept — the work of director Marcus Shields, scenic and costume designer Ryan Howell, and lighting designer Oliver Tidwell Littleton, who imagine the opera taking place within a stark white box that's part laboratory, part art gallery.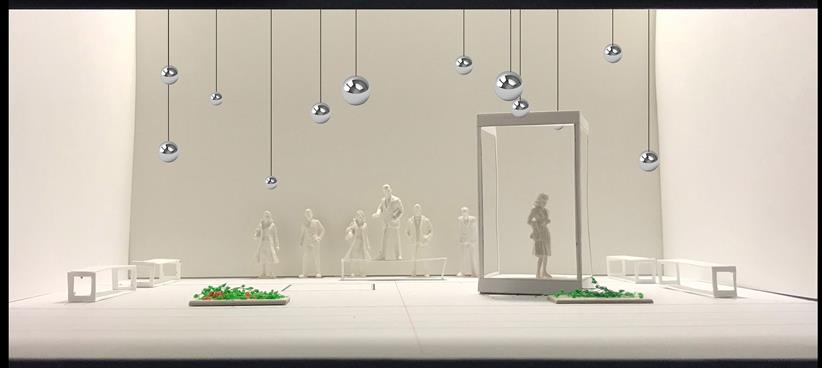 The production concept is on view as part of OA's Robert L.B. Tobin Director-Designer Showcase, a program that provides emerging designers and directors with a national platform to introduce their work to industry leaders. Every two years, the program invites teams of directors and designers to submit production concepts, with the most promising teams receiving support to develop their ideas, present them at OA's annual conference and then exhibit them at the Opera Center.
Shields and his team drew upon contemporary visual references — such as the Japanese installation artist Yayoi Kusama and the fashion house Comme des Garçons — in establishing a stripped-down aesthetic that takes Lucretia out of any particular place or time. A series of suspended chrome orbs, inspired by Kusama's 1966 Narcissus Garden, are reconfigured throughout the opera, at times suggesting scenic elements like campfires. In a coup de théâtre toward the end of the piece, the back wall of the set falls to reveal an enormous mirror and the chrome orbs begin crashing to the stage floor.
The exhibition is the first of four that will be featured from the 2019 round of the Director-Designer Showcase, and it runs through this winter. The Lucretia concept was also featured in a presentation at Opera Conference 2019, which can be viewed on OPERA America's YouTube channel.
The Director-Designer Showcase is supported by the Tobin Theatre Arts Fund.
This article was published in the Fall 2019 issue of Opera America Magazine.