A Troubled Inheritance
Key works in the standard repertoire convey racism and colonialism. How should they be approached?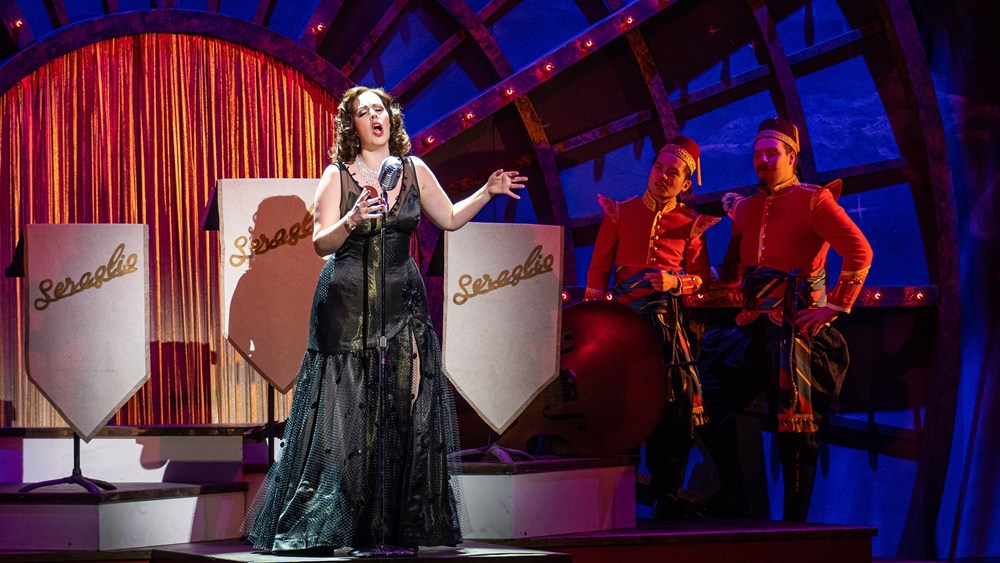 The inherited operatic repertoire is bold and grand, but it also can be problematic. When companies stage works like Die Entführung aus dem Serail, L'italiana in Algeri, Aida, Otello, Madama Butterfly, Turandot, and La fanciulla del West, they need to be careful to avoid racist tropes and offensive characterizations. The process requires thoughtful analysis — and an acknowledgment of the legacy of racism that has historically undermined opera's importance and beauty.
For all the charm of Entführung, it can now evoke criticism for reducing slavery and sexual assault into farce, and for the cultural stereotypes and misconceptions invoked in its fanciful depiction of the East. When James Robinson directed the piece for Houston Grand Opera in 2002 — just months after the 9/11 terror attacks — he strove to focus not on its Orientalist tropes but on human conflict. He moved the action forward from the 16th century to 1920s, and set it in a first-class cabin aboard the Orient Express: an enclosed space that would force the characters to confront each other. "The piece depicts not just a clash of cultures, but a set of mutual misunderstandings," Robinson says. "On a moving train, the characters can't escape, and they are forced to deal with their situations." In effect, these strangers on a train are forced to address their misconceptions. Ultimately, as Robinson notes, "Out of misunderstanding comes understanding."
Alison Moritz's 2020 Opera Omaha Entführung also moved the action forward to the 20th century. She and scenic designer Steven Kemp set the piece in a flashy Weimar Republic nightclub called The Seraglio. "We asked ourselves, 'How can we create a container where we can look at an exotic environment through a Western lens?'" Moritz explains. Glamorous Hollywood films of the 1930s and 1940s such as Casablanca, depicting exotic places from a Western viewpoint, provided inspiration and a way of viewing Mozart's work as a fantastical, fictionalized view of Turkey. Because the characters were presented as fictitious, they were not to be taken at face value. The opera was shown not as naturalistic, but rather as light-hearted comedy.
Two of Verdi's greatest operas, Aida and Otello, feature Black protagonists whose depiction can cause problems in modern productions. Aida's plot pits Egyptians against Ethiopians: fair-skinned versus dark-skinned people. Aida is of Ethiopian descent, but the character has been predominantly been portrayed by white sopranos. In the past, it was standard practice to paint white Aidas in dark makeup, but this has been lambasted in recent years. To some, the use of dark makeup is not an affront to an ethnic group but a way of honoring the composer's intentions. For others, it is a form of blackface: the theatrical convention that for so many years promoted the spread of racist stereotypes. Tamara Wilson, a white soprano who is one of today's most prominent Aidas, came across this conundrum when she portrayed the Ethiopian princess at the Arena of Verona in 2019, and ended up in conflict with the theater's management when she objected to the dark makeup she was forced to wear.
Some see a legitimate distinction between the makeup white artists wear in Aida and Otello and old-fashioned blackface. "Stage makeup is meant to create what is real for the character," says tenor Issachah Savage, a Black artist who counts both Otello and Radamès among his roles. "Blackface was intended to make a caricature of a Black person. It seems to me that there is a difference between caricature and the visual image of a character." But director Francesca Zambello believes that painting white singers in darker makeup, no matter the role, is unnecessary. "Whether I am casting The Crucible or Aida, I am looking for singers who can convey the character through their acting," she says. "The said, when it comes to iconic roles in which race is an important part of that character's story — like Butterfly, Otello, or Aida — that's always going to be a strong consideration for me in casting. And to anyone who says they can't find those singers who can do those roles, I say you're not looking hard enough." Zambello's 2012 production of Aida at The Glimmerglass Festival, meanwhile, used a predominately Black cast for the Egyptian as well as Ethiopian characters. Michelle Johnson and Noah Stewart were the Aida and Radamès.
"With casting for Aida or Otello we are not only dealing with the problematic history of these operas and how the audience views them, but also with equity toward real people," says Derrell Acon, director of engagement and equity at Long Beach Opera. His company aims to create an equitable space and empathy for marginalized groups and to present art that leaves room for imagination and interpretation.
Three of Puccini's operas — Madama Butterfly, Turandot, and La fanciulla del West — contain problematic ethnic depictions. The orientalism of Butterfly is built right into its story, which depicts Cio-Cio-San as so childlike that she thinks she has entered into a bona fide marriage with Pinkerton and doesn't realize she is being exploited for sex. Adding to the cultural condescension implicit in the traditional use in productions of yellowface — a makeup convention akin to blackface — when white sopranos portray Butterfly.
During its 2017 run of the opera, Seattle Opera eschewed yellowface, presenting Armenian soprano Lianna Haroutounian in her own guise. But the production courted controversy by reinstating dialogue from early versions of Puccini's work in which Pinkerton uses racist slurs to describe the Japanese servants. To provide context for the production, the company used engagement programs as an educational tool. Gabrielle Nomura Gainor, the company's media relations manager, and Barbara Lynne Jamison, who was then its director of education and community engagement, organized a panel that explored the ramifications of the creators' prejudices. Documentary director Frank Abe led the panel of eight Asian American performers and academics.
Turandot, with its presentation of China as a realm of horrifying savagery, has also come under fire for presenting the East from a distinctly Western perspective. Canadian Opera Company's 2019 staging by Robert Wilson attempted to deal with the work's problematic nature by hiring Richard Lee, a Toronto performer, as a cultural consultant. The production's chief innovation was to rename the "three masks," Ping, Pang, and Pong, as "Jim, Bob, and Bill." Unfortunately, the choreography for their scenes recycled hoary orientalist tropes. Meanwhile, the stark white Kabuki-influenced makeup for all the performers registered as a form of yellowface.
In La fanciulla del West, the Native American servants Billy and Wowkle can easily be depicted as racist stereotypes. In Opera Colorado's most recent production, director Emma Griffin took great care to treat the two characters not as oddities within the mining camp, but as integrated members of the community. Griffin moved the action from California to Colorado and depicted its rough-and-tumble miners as people who could easily live in a multicultural environment. She was adamant that the company not dress any of the characters in Native American garb, or demean the culture in any way by using guttural utterances. She also made sure the surtitles omitted racial slurs.
The inherited repertoire is rife with worrisome ethnic depictions, but the current attitude of opera's producers offers some good news. Companies are aware of the cultural shift in our era, and they recognize that they must address issues of racial depiction from as many angles as possible. Conscientious directors, empathetic singers, and opera companies that promote equity certainly help pave the way to an enjoyable opera experience for everyone involved.
This article was published in the Fall 2020 issue of Opera America Magazine.