Downtown Dilemma: How is urban fear impacting opera attendance?
No two downtowns of major U.S. cities are alike, but since the pandemic, most could offer some broad variation of the same sentiment: The American downtown is experiencing an identity crisis. The tempos of these finance districts have slowed dramatically since in-person work interruptions, with fewer commuters and diminished office occupancy. Some urbanists warn that decreases in downtown foot traffic, driven by this white-collar set, are the first sign of what's called an "urban doom loop:" fewer eyes on the street means more crime, and fewer feet frequenting downtown businesses leads to closures and empty storefronts.
While some major corporations are relocating away from downtown office spaces, many city arts organizations are continuing to act as essential civic anchors as the population reshuffles around them. And even though the statistics may sound dire on first hearing, many opera companies in cities dogged by perceptions of high crime and increases in the unhoused population report that fear of downtown is not a significant driver of diminished attendance, at least not in comparison with other pandemic-related factors. "Certainly, the doom loop narrative has not helped people's comfort level coming into the city," says Matthew Shilvock, general director at San Francisco Opera. "But on the flip side, the kind of numbers we've been seeing here and at other arts organizations around the city is helping shatter that narrative."
For some opera companies, pushing back on the doom narrative means engaging with the issues head-on. On Site Opera in New York City regularly stages Gian Carlo Menotti's one-act opera Amahl and the Night Visitors in a soup kitchen with a chorus of New Yorkers who have experienced homelessness. Similarly, San Francisco Opera teamed up with San Francisco Ballet and the homelessness services nonprofit HomeRise to inaugurate an Usher Training Pilot Program, which trains three to five formerly unhoused participants to become professional ushers at the War Memorial Opera House or neighboring theaters.
When Houston Grand Opera staged Another City (Jeremy Howard Beck, composer; Stephanie Fleischman, librettist), a commission based on interviews with unhoused Houstonians, earlier this year, general director Khori Dastoor says the company was simply building on the city's own recent history. Houston has adopted nationally admired initiatives for battling homelessness, which involves matching as many "chronically homeless" Houstonians as possible with permanent residences as opposed to short-term housing like shelters. Homelessness decreased in Houston by 63% between 2011 and 2022, and by 20% between 2020 and 2022. "There are many different organizations that have been working in partnership to manifest this incredible result," Dastoor says. HGO worked with many of them for workshops and rehearsals of Another City: the Houston Coalition for the Homeless, SEARCH Homeless Services, the Salvation Army, and Ecclesia, a nondenominational church that also hosted Another City's offsite premiere.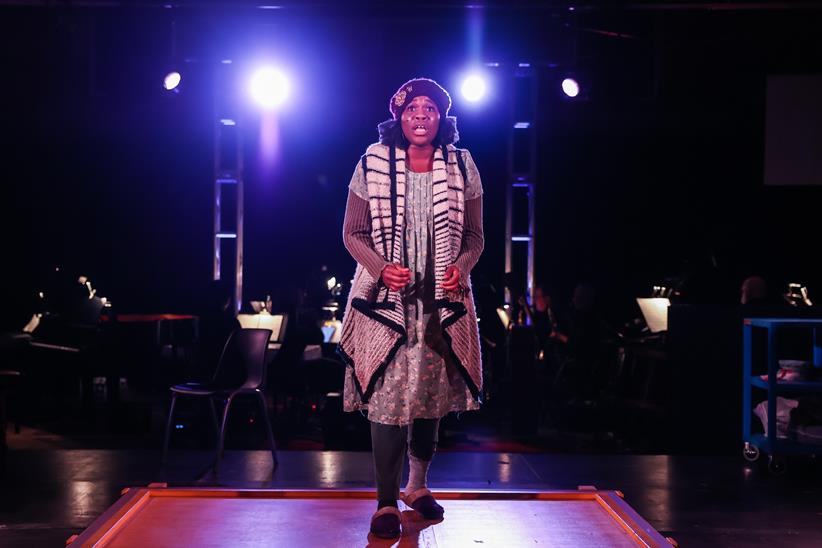 Composed by Jeremy Howard Beck, whose initial proposal for the piece was partly based on his own experience with housing insecurity, Another City had been in the works long before COVID. Attending the premiere with her daughter, however, Dastoor was struck anew by the immediacy of the piece. "During COVID, the entire artistic community was flung into complete financial ruin overnight," she says. "My staff, the artists, and everyone started to realize that homelessness wasn't so removed from their lives. We may be one friend's couch away from being in a similar circumstance."
FEAR ITSELF
HGO reported that it's not hearing much at all about safety concerns or that attendees are fearful of returning downtown. But Houston is an exception; it didn't "hollow out" in the same way as urban areas that locked down harder during the pandemic. In San Diego, though, the downtown is home to one of the largest unhoused populations in the county. The city's opera company performs in the Civic Center Plaza, an area that general director David Bennett said is often perceived as "particularly blighted." (In fact, the city is considering selling the area to private developers who would have to include affordable housing in any plans to redevelop the site.) But, Bennett notes, there's a difference between safety perceptions of the area and the actual safety of the Civic Center area. Bennett could only name one recent instance in which security had to escort someone from inside the company's venue. "We don't run into situations where homeless people are bothering our audience... It's not an unsafe area. It's just an area where we do see quite a bit of homelessness," Bennett says.
Those perceptions do make a difference — Portland Opera General Director Sue Dixon began tracking reasons subscribers chose not to renew their subscriptions during the 2021–2022 season. That year, 34% of respondents cited perceived safety issues in downtown Portland as a reason for not renewing, a concern that prompted the company to hire additional onsite security. (For both Portland Opera and San Diego Opera, concerns related to COVID-19 remained audiences' number-one reason for not returning to the opera house.)
Emerging data revealed that despite those survey responses, violent crime actually dropped in Portland city limits by more than 10% during the 2021–2022 season. Audiences have taken that data to heart. Dixon says the latest survey responses from the 2022–2023 season show that just 10% of non-renewers cite safety fears as a reason for letting their subscriptions lapse — with the important caveat that Portland Opera is tracking these factors for subscribers but not single-ticket buyers, then and now the bulk of their audience. "We're currently halfway through our renewal campaign for 2023–2024 and to date we have not had downtown safety mentioned as a reason to not renew," Dixon says.
CIVIC CORNERSTONES
For many companies, attendance has not returned to pre-pandemic levels, but many are reporting promising high-water marks for audience expansion. Last season, more than a quarter of San Diego and Portland Operas' audiences were first-time ticket buyers — a 10% increase from pre-pandemic seasons. Likewise, Lyric Opera of Chicago saw eye-popping new-audience figures across its contemporary programming in 2021–2022 and 2022–2023. The Factotum, a Lyric commission set in a Black barbershop on Chicago's South Side, and Fire Shut Up in My Bones drew 35% and 32% first-time opera attendees, respectively. Proximity, a triptych featuring three different composers and storylines, clocked in at 19% first-time attendees.
Given these figures, Paul Gunning, Lyric Opera's vice president and chief marketing officer, is also seeing some mismatch between audience perceptions of safety and reality. Though downtown Chicago is statistically among the city's safest areas, media coverage tends to focus disproportionately on crime affecting well-trafficked tourist or commercial attractions. That's not to say audiences haven't experienced that unease firsthand on rare occasions: In the spring, after a Chicago Philharmonic concert, a full-house audience was instructed to shelter in place by Harris Theater for Music and Dance staff for 15 minutes due to police activity outside. Even so, Gunning says box office data don't bear out a safety-related audience exodus: The company doubled its single-ticket sales compared to the 2021–2022 season, and saw sell-outs for three productions. "Safety's moved to the front of the conversation, and we definitely see it mentioned in our post-performance surveys," Gunning says. "But we don't see it in actual feet. People aren't choosing not to show up — we're still selling out."
More trackable, he says, has been a decline in the company's 9-to-5 commuter demographic. Like many major cities, Chicago's return-to-work and office occupancy rates remain well below pre-pandemic levels. Friday evening performances, once cash cows for Lyric, now see the thinnest attendance, with many corporations having cemented Friday as a work-from-home day. These days, Wednesday evenings are the company's biggest tickets. It's not just Lyric: Other theaters in Chicago are noticing slow Friday sales, too. "It's mirroring when people come to the city, which is Tuesday, Wednesday, and Thursday," Gunning says.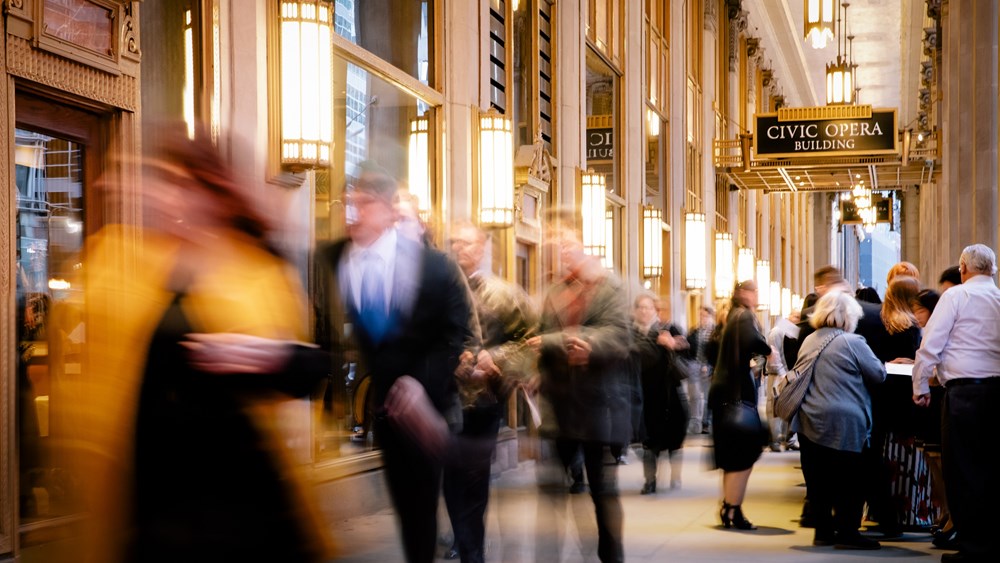 That's yet another wrinkle in the oversimplified claim that audiences "aren't coming back," with much finger-pointing at the visible bogeymen of crime and homelessness. In many cases, that claim describes specific types of operagoers — long-term subscribers and aging attendees, both dwindling in ticket-sale trends long before increased perceptions of crime — and looks no further than raw capacity figures, which overlook promising growth in areas like first-time attendees.
Opera companies' diminished attendance may mirror overall foot traffic downtown. But that isn't the whole story. At OPERA America's May 2023 conference in Pittsburgh, where some businesses are exploring office options away from Downtown, the city's mayor, Ed Gainey, took time to acknowledge the arts' role in the urban landscape. He encouraged attendees to think of the arts as a revitalization engine for the cities in which they are based. Corporations may come and go, but performing arts organizations depend on patrons congregating at a city venue — and that doesn't seem poised to change anytime soon. "People are not coming back downtown to go to work, but they are for concerts, they are for musicals," said Gainey. "People are coming back out because they want the experience of the arts so that when they leave here, they leave here with a memory — a memory of why they came downtown to hear a beautiful concert."
This article was published in the Fall 2023 issue of Opera America Magazine.