Pioneer Woman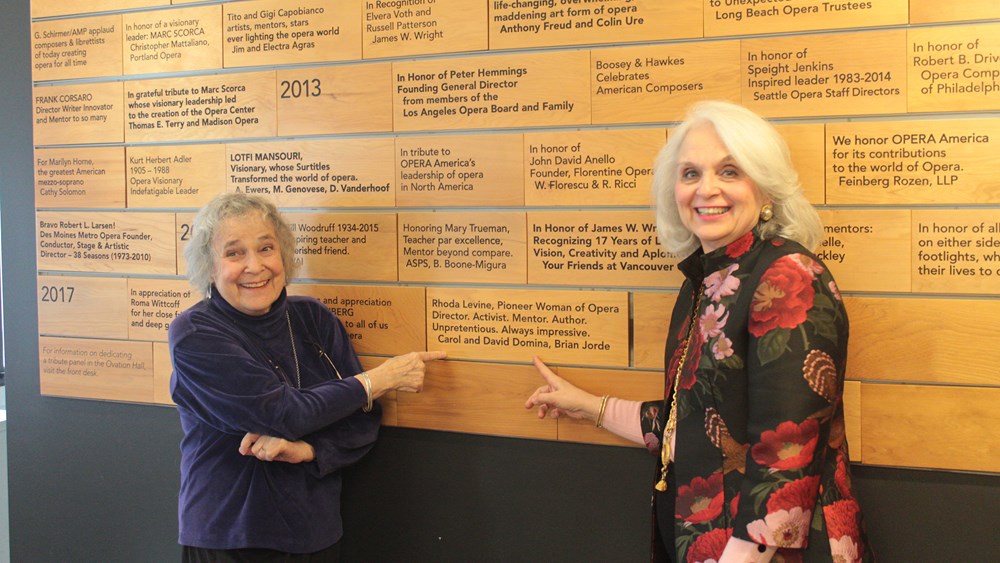 A tribute panel to Rhoda Levine, recently installed in OA's Ovation Hall in the National Opera Center, describes her as a "pioneer woman of opera." It's a fitting title for the veteran director and choreographer, who in her five-decade career has brought dozens of operas to life around the world — from the 1975 world premiere of Der Kaiser von Atlantis, written by inmates of the Theresienstadt concentration camp, at the Netherlands Opera, to the 1990 American premiere of Janáček's From the House of the Dead at New York City Opera. An eminent teacher as well, Levine has taught at Yale, Juilliard and Northwestern, and today serves on the voice faculty of Manhattan School of Music. Along the way, she's written seven children's books, including two illustrated by Edward Gorey.
"She's been a pioneer when it hasn't always been easy for women," says Carol E. Domina, who, with her hus­band, David, made the tribute panel possible. The Dominas met Levine at The Glimmerglass Festival in 1996, when she was directing Lizzie Borden, and have been friends ever since.
Levine's long and storied career is one that defies easy summation, but Domina sees a through-line in her work: a social consciousness and a com­mitment to using art to make societal statements. One such instance came when Levine was asked to direct the South African premiere of Porgy and Bess, and she refused to do so until Nel­son Mandela was no longer imprisoned. (She eventually directed the work's Cape Town Opera premiere in 1996.) As Domina says of her friend: "She's an activist. She's unpretentious. And she's a woman who lives her values."
This article was published in the Spring 2018 issue of Opera America Magazine.