The Whole Show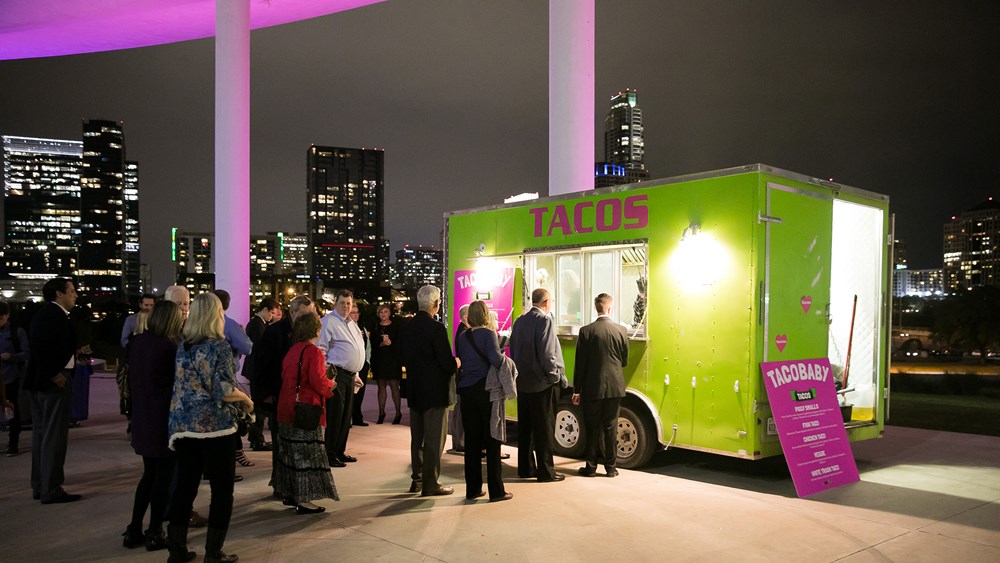 Considering how complicated it is to produce opera, you might forgive a company for thinking its responsibility to its audience begins and ends there. But for audience members, operagoing encompasses much more than simply sitting in a theater and watching a performance. The show itself is part of a larger sequence of events: the ticket purchase, the trip to the theater, parking, using the bathrooms, buying drinks, socializing. Any of these elements can play just as big a role in the total experience as the performance itself.
"Most of us devote a large part of our attention to the product on stage, but we don't know enough about what's happening around that," says Annie Burridge, general director of Austin Opera. Addressing that situation, her company created a new position: director of audience experience, underwritten by an Innovation Grant from OPERA America. This fall, Michael Solomon, formerly in charge of media relations for Washington National Opera, took the post.
The concept of audience experience is definitely coming into its own among performing-arts institutions. The Cleveland Orchestra this November hired hospitality consultant Robert Phillips as its first director of customer experience. The new position has its roots in "The Total Orchestra Experience," a 2014 research project in which the orchestra polled 60,000 of its audience members with the question "What is your experience of concert attending, and what can we do better?" The aim of the job, according to Ross Binnie, the orchestra's chief brand officer, is to help create "a holistic experience" that will encourage repeat attendance.
"We're very good at creating goosebumps in a concert," says Binnie. "I wanted goosebumps before and after the concert." One focus of the orchestra's new audience-experience endeavor is to modify the public areas of Severance Hall, the orchestra's performance venue. "It's a magnificent hall, but it's not built for hanging around," Binnie says. "We're looking for more engagement with our space — more wows."
In 2014, Opera Philadelphia launched an elaborate audience-research project to get a reading on the type of experiences its audiences were seeking. Many of the innovations that the company used in its O17 festival this fall (see page 24) have their roots in the data that the study generated: For instance, the My OperaPhila app, which helped users make ticket purchases and plan their festival schedules, offered sightseeing and dining recommendations and facilitated social interactions between audience members.
In its quest for audience-experience insight, OP took a look at Disney's theme parks. "When you enter the Magic Kingdom, you know you're entering an amazing place," says Ryan Lewis, the company's VP of marketing. "All of their team members are 'cast members' — they're onstage and performing, even if they're just working a turnstile. Everything evokes an emotion." In preparation for O17, OP brought in a hospitality coach to train its entire staff in "the art of providing five-diamond service." In another Disney-inspired tactic, the company gave out-of-town attendees a gift box, including a festival program, when they checked into their hotels.
The process of optimizing audience experience is not an easy one. The route to Austin Opera's performance venue, the Long Center, is often plagued with traffic jams, and the adjacent parking garage has space for only a fraction of attendees' cars. Despite the intractability of these problems, the company is searching for solutions. "I got sick of hearing, 'Sure these things impact audience experience, but we can't do anything about it,'" says Burridge. "That isn't good enough. Some areas will be like pushing boulders up a hill, but we have to start pushing."
One of Solomon's first innovations in Austin has been a series of pre-show e-mail blasts to ticket-buyers, setting expectations for the event ahead: advising them on potential traffic problems, telling them when intermissions come, offering drink coupons. "The e-mails are as human-to-human as I can make them," he says. "'Yes, you're coming to see a show, but you can also relax on the City Terrace with a tap beer and a taco. If it's your first time, don't stress — you don't need a Ph.D. in musicology to enjoy this.'"
Even though the organizations instituting audience-experience programs have an eye toward expanding their ticket-buyer base, Solomon stresses that Austin Opera's existing audience remains his primary focus. "I see it as a way to help retain the audience we already have," he says. "We want to give them good reasons to keep coming back. I don't think that simply having a taco truck out on the Terrace is going to make a millennial come to the opera for the first time, although it might help break down a barrier. But it does make the experience more authentic, more part of the fabric of the city. And I think that's good for everyone — newcomers and veterans alike."
Bottoms Up in San Francisco
When San Francisco Opera experimented last year with allowing drinks into the auditorium of the War Memorial Opera House, it was the result of an audience research project. The 2014–2015 study revealed dissatisfaction with the intermission experience. "We heard complaints like, 'Sometimes I feel I have to make a choice between getting a drink and going to the bathroom,'" says Jennifer Lynch, the company's managing director of philanthropy and audiences. "That started the conversation."
SFO's pilot program, which lasted from May through December 2017, was especially popular with younger audience members, and received an overall positive response. "Subscribers are pleased when they see the house is full and see younger people in the audience," says Lynch. There were, she admits, some complaints among more traditional-minded attendees who objected to the noise and smell of the open cups in their midst, but that problem was largely solved when the company started using covered spill-proof cups. The pilot program was particularly pleasing to the Patina Group, which runs the house's drink concessions, and saw a 50 percent rise in its sales.
SFO is now examining whether to make drinks in the hall a permanent policy.
This article was published in the Spring 2018 issue of Opera America Magazine.