Voices from the Cybersphere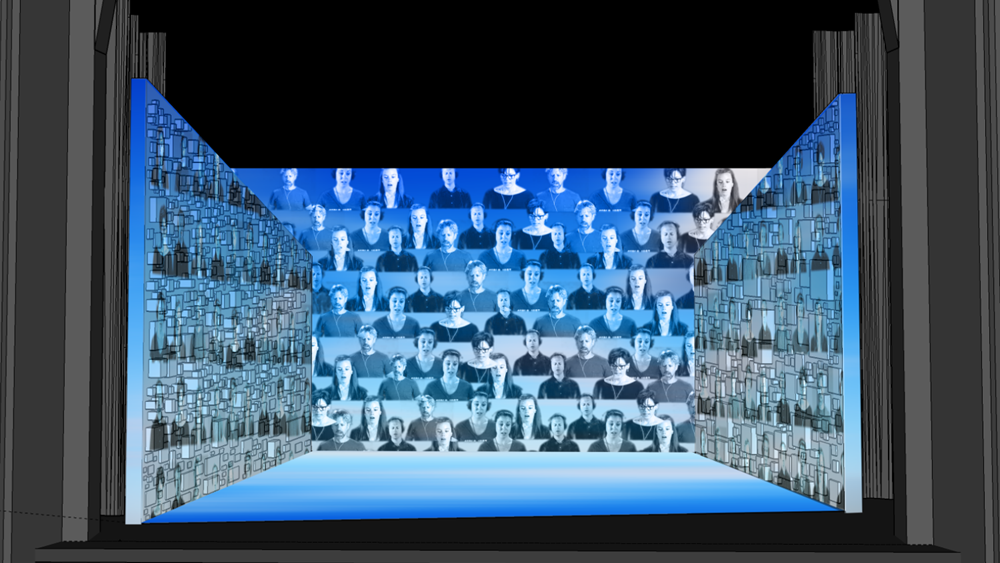 In 2009, composer Eric Whitacre came across a YouTube video of a young fan singing one of his choral works. It sparked an idea: What if you could form an entire chorus out of homemade videos, featuring singers spread across the world? Part crowdsourcing, part audience-building, the "virtual chorus" idea was a hit among Whitacre's fans. In April, the concept makes its opera debut in Opera Columbus' new production of Orphée et Eurydice.
Conceived and produced in collaboration with Against the Grain Theatre, the Toronto-based company known for its innovative stagings in unconventional venues, this Orphée is fundamentally Gluck's; the music, save for a few cuts, is unchanged. But it weaves technology and modern staging devices in and around the original. Electric guitar replaces harp; voices pass through synthesizers; and Amour, here portrayed by aerialist Marcy Richardson, sings dangling from a suspended ring.
Then there's the chorus: With help from projection guru Katy Tucker, Opera Columbus is building its own virtual chorus from crowdsourced videos. The videos will be projected onto the set, with audio knitted together by sound designer John Gzowski. Anyone with a smartphone can participate; no conservatory training required. "What I loved about this idea was that it was so inclusive," says Peggy Kriha Dye, Opera Columbus' general and artistic director. "You don't have to be Renée Fleming to be in this chorus."
While the concept has raised questions of labor and compensation, Dye explains that four live choristers will sing in the production; others were recorded in advance, but compensated at the normal onstage rate. "We actually spent the same amount on the chorus that we would hiring people to be in the room," Dye clarifies.
Joel Ivany, artistic director of Against the Grain Theatre and the director of the production, takes a more provocative tack. "You hear just generally — this is a blanket thing — how robots are replacing the workforce," he says, before turning back to opera's particular financial woes. "Can you double up on the strings? Can you have a whole orchestra played by one person with a computer? Those are important questions that need to be asked. And instead of just saying 'no,' we're asking, what actually can we do?"
Dye echoes the importance of facing up to hard questions about the future of opera. "If the art form is going to survive, we have to have a new audience to mix in with the audience that we already love," she says. "I want a modern audience to be able to come in and have some sounds that are part of their world."
"Gluck set this timeless story with incredible, moving, simple, beautiful music," Ivany says. "And that should have the appeal. And if it's simply having a few curiosities attached — some creativity attached to a production — hopefully that's enough to get people through the door."
Dye notes that perpetual evolution has distinguished opera throughout its history. Orphée itself, she points out, was revolutionary in its time, a major stylistic departure from the structural dictates and narrative complexity of opera seria. "That's just the nature of opera," Dye says. "It's full of innovation. It's always morphing and changing."
This article was published in the Spring 2018 issue of Opera America Magazine.