Zambello's Road to Leadership
At the Backstage Brunch, Francesca Zambello discussed her career journey and the role of female leaders in opera. Her remarks, excerpts of which are reproduced here, were greeted with enthusiastic applause.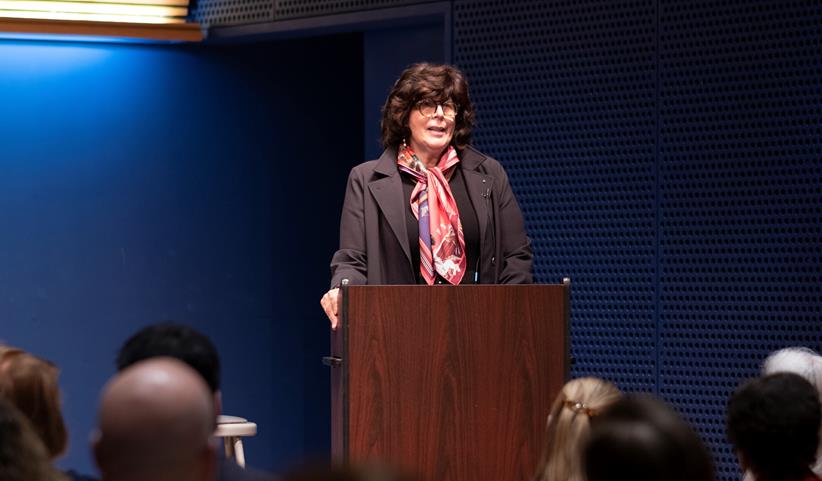 I didn't have a lot of mentors when I started my career. I learned a lot by getting knocked over and criticized, and I think most women in my age range had the same experience. But there have been many people, unlikely and unexpected, who have helped open doors for me. My first professional gig was at the New Jersey State Opera, on a production of Don Carlos. This company was run by one Maestro Alfredo Silipigni, and he hired me because I could speak with him in Neapolitan slang, which I can thank my grandmother Zambello for. The company did what was called instant opera. It was the complete antithesis of what we do today: We would rehearse the opera for a week, perform it in Newark, and then it was my job to take the entire production to Trenton.
That led me to the august institution of the Lyric Opera of Chicago. I was the first woman on the production staff, and there were eight men in the department. On my first day, one guy jokingly said to me, "We don't put the toilet seat down here." I thought his subtext was pretty clear. In that first season, I was somewhat tormented by a group of my colleagues. One of them complained so bitterly to the director of production that he called me to his office and said, "You are on probation for a month, and you will lose your job if you don't shape up." I asked him to give me some things to fix, and he couldn't really come up with anything legitimate. So that's when it clicked for me: I've got to work twice as hard as these guys.
Then, like a bolt from heaven, I got a call from the stage manager at San Francisco Opera, who had been talking to Alfredo Silipigni, and was invited to come to San Francisco for an interview.
So I went, and I had an interview with the then head of artistic administration, the formidable Sarah Billinghurst. She became a mentor and a savior. In that interview, she offered me twice as much money as Chicago was paying me and offered me my directing debut, for the student cast of La traviata. I went back to Chicago and told my boss that I was grateful for my time at Lyric — always say you're grateful — but that I was leaving. And then I went into the office bathroom and put the seat down.
When I got to San Francisco, there was a receptionist named Olivia. She and I were very chummy. One day the general director of the Colorado Springs Opera, Don Jenkins, called and asked Olivia to connect him to the directing department since he was looking for a good director. And she convinced him that the best director in the department was a woman named Francesca Zambello and that he should hire me — which he did! The lesson that I learned from Sarah and Olivia was that women help women. Now that I have more authority, I try very hard to create a world in which women are supportive of one another.
Fast forward 30 years, and I'm trooping all around the world directing lots of operas and musicals. At a certain point, I realized it wasn't enough to do art only for myself. I wanted to give back, and I wanted to be in a place where I could help control my environment more. I was up for various general director jobs, but then another lightning bolt struck, and this time it was Betty Eveillard, who was then chairperson of the Glimmerglass Opera. She offered me the job of running the company and gave me the chance to revitalize an organization that had a storied history. One of the most important early decisions that I made at Glimmerglass was a commitment that, no matter what, we would see diversity in 30 percent of the artists onstage, and that 50 percent of the jobs offstage — conductors, directors, designers, decision-makers — would be held by women. As it turns out, the entire senior staff at Glimmerglass is now women. I felt that it wasn't all about me anymore; it was about a company achieving change through the power of the arts.
So what can we do to make the opera field better for women? It seems obvious to state this, but you can hire women for positions of authority. When you're in an interview, think to yourself, "Can I get a woman for this job?" Hire minorities, hire people of color, hire people of diverse ages. Make your company look like rest of the country. Use programming and commissioning choices to make a statement. Engage with the press and taste-makers about issues concerning women in the arts.
We need to all work together to dismantle all these superficial boundaries — gender, race, sexuality, you name it. Many of these things have kept great administrators and artists away from our field. Opera needs great leaders to survive, and when women are discouraged, we miss out on a vast pool of talent.
This article was published in the Spring 2020 issue of Opera America Magazine.