My First Opera: Rhiannon Giddens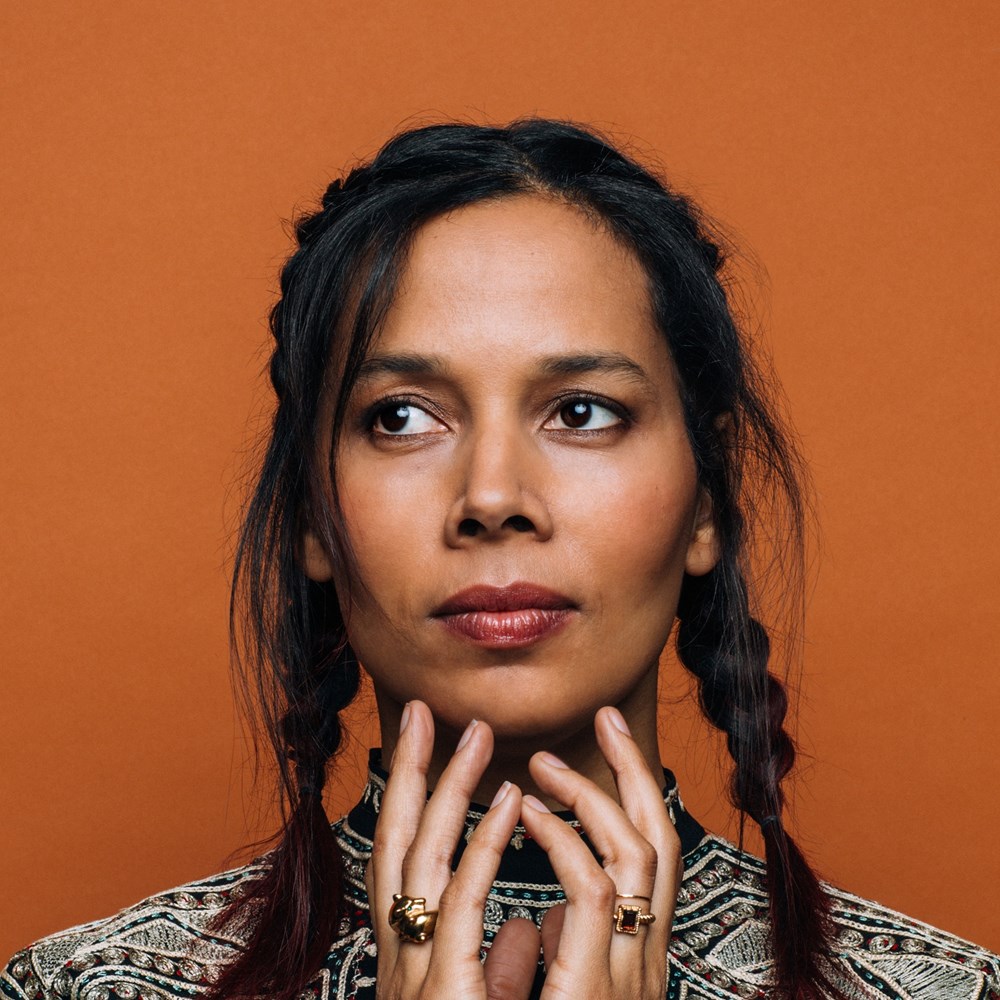 I didn't listen to much classical music growing up. My mom loved Andrés Segovia, so I heard a lot of classical guitar, but other than Beverly Sills on The Muppet Show I didn't hear any opera. Then in high school, I joined this summer opera program and it was full of baby voice majors — Broadway folks and folks who wanted to sing opera — and I was like, "Who are these people? What is this?" It was exciting and I wanted to sing all the time. So I got a couple of opera compilation CDs and started taking voice lessons.
I got into Oberlin and ended up falling head over heels for opera. I had auditioned with opera arias, but I had never given any thought to the whole idea of music drama. Then I saw the fall opera production, which was The Marriage of Figaro. Oberlin had received some sort of grant that required them to do their op­eras in English, so I could understand what was going on. I loved the humor and the way the drama was told through the music. I stood in the back of the theater thinking, "This is the most amazing thing I've heard in my whole life." After that, I became absorbed in opera 24/7.
I started auditioning for college productions. I was Mercédès in Carmen as a junior, and then I got three leads after that: Juliette, Fiordiligi, and Massenet's Manon. One of my favorite moments was always when I'd get the Schirmer score, which would have this awful English translation, and I'd sit with the other folks in the cast with whiteout pens, making all our translations. For Manon, I read the original novel and researched the historical period. I just loved the whole process.
Walking away from opera eventually and finding the banjo was probably the thing I needed to do, but I missed the challenge of wearing a crazy multilay­ered corset dress and a powdered wig and watching the conductor and singing a high D in French. To be honest with you, I think that one of the reasons I've been so successful in this other world is because being onstage with a banjo is hard, but it's not as hard as opera. Before I left Oberlin, I did work for Cleveland Opera's education program — and noth­ing is tougher than going into a school, dressed in a kimono, and singing "One Fine Day" to a group of really bored fourth graders.
I went to grad school for a year and did two more roles: Beth in Little Women and the title role of Susannah. But I didn't take to the world of profes­sional opera. I hate auditioning, and I hate the fact that the best auditioners are not always the best singers. I would send off a tape for an audition, and they'd be excited when I got there, and not so ex­cited when I left. I was having technical problems: over-singing, over-darkening. I started to think, "What can I do in this world that a million other sopranos can't do?"
I got an administrative job, but my mezzo friend Cheryse McLeod Lewis started putting together concerts mixing Broadway stuff with art songs that she and I performed in. Then in 2005, I went to the Black Banjo Gathering, a conference at Appala­chian State University, and everything fell into place. All along, I've still been practicing opera on my own. I recognized that if I practiced correctly, my voice didn't get as tired when I was singing with my band.
Now I'm getting back into opera. I've sung programs with the North Carolina Symphony and San Francisco Symphony mixing a bit of classical with my own stuff. Porgy and Bess is a natural fit for me. One of my favor­ite things in the world is to sing with no microphone onstage and fill a whole theater. With Aria Code, I'm trying to get people who think opera is not for them to hear these beautiful melodies and get into it. I think breaking the "class ceiling" in opera is important any way we can do it. If this little working-class Southern girl can fall in love with opera and do different things with it, then anyone can!
---
Composer/singer/banjoist Rhiannon Giddens, winner of a 2017 MacArthur "genius" grant, was a founding mem­ber of the folk/Americana string band Carolina Chocolate Drops. She is the artistic director of Silkroad and the host of the podcast Aria Code, a co-production of the Metro­politan Opera and WQXR. Her opera Omar, recipient of an OPERA America Commissioning Grant for Female Composers, is scheduled for its premiere at Spoleto Festi­val USA in May 2022. She will also sing Bess with Greens­boro Opera in 2022.
This article was published in the Spring 2021 issue of Opera America Magazine.