Change in the Air
Opera Conference 2017 guided industry professionals in new directions.
The issue of equity in the performing arts took center stage at Opera Conference 2017: Creating Collaborative Change. "There is a growing awareness that diversity, equity and inclusion can no longer be a mere consideration, but now is a reality of absolute necessity for all of us to survive," said Zenetta S. Drew, executive director of the Dallas Black Dance Theatre at the general session "Creating Change: Equity, Diversity and Inclusion." Her words could have served as a motto for the annual conference, which from May 4 to 8 drew nearly 500 opera professionals from across North America to Dallas. The conference included many conversations about inclusivity and collaboration — from a general session on the cultural ecosystem of Dallas' Arts District, to a seminar about how to be an ally for social equity, to a conversation with bass-baritone Ryan Speedo Green that included reflections on the role of race in his life and career (see "A Conversation with Ryan Speedo Green").
In addition to addressing the big-picture issues facing the field, the conference also provided sessions tailored to the full range of opera specialties. For marketers there was "The Power of Dynamic Pricing," while for development staff there was "How to Get More Money from Individuals." Roundtable discussion for the various professional specialties also provided an informal setting for people to share common concerns and best practices.
With The Dallas Opera as the host company of the conference, attendees were treated to several performance opportunities, including Norma and semi-staged versions of Joby Talbot and Gene Scheer's Everest and Douglas Cuomo's Arjuna's Dilemma. Close proximity to Fort Worth Opera also allowed them to take in that company's productions of Carmen, José "Pepe" Martínez and Leonard Foglia's Cruzar la Cara de Luna, and the world premiere of Matthew Peterson and Jason Zencka's Voir Dire.
The conference served as the occasion for electing seven new members to OA's board of directors: Rena De Sisto, global arts and cultural executive at Bank of America; David Devan, general director of Opera Philadelphia; Carol Domina, former board member of Opera Omaha and Opera Volunteers International; Carol Lazier, board president of San Diego Opera; mezzo-soprano Denyce Graves Montgomery; John Nesholm, board president of Seattle Opera; and Matthew Shilvock, general director of San Francisco Opera.
To view select sessions from the conference, visit youtube.com/ OPERAAmerica. 
Wish Lists
Attendees at the Opening Session of Opera Conference 2017 received 4x6 notecards and were asked to write down their visions for opera's future. The cards were then put on display in the conference's networking space. Here are some of those shared thoughts: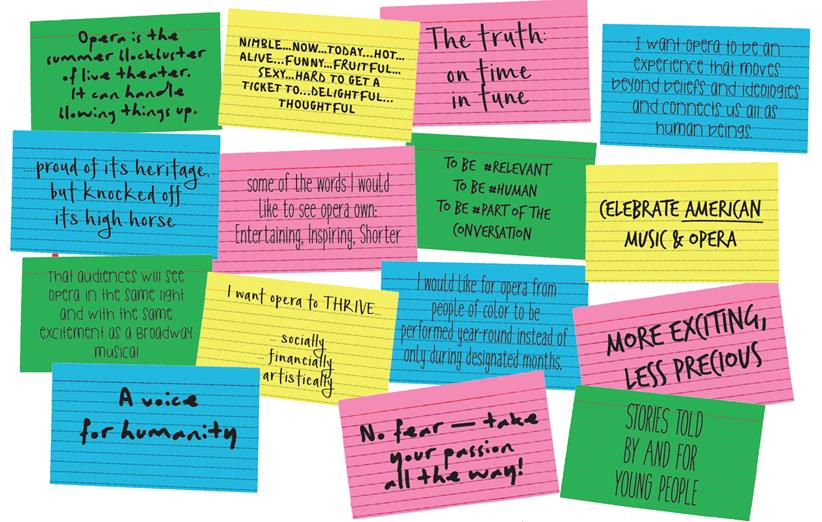 Conference Takeaways


The Power of "NO"
Fundraisers should never be afraid of the word "no." That was a key insight that Greg Robertson, chief advancement officer of Houston Grand Opera, offered in the session
"Fundraising vs. Sales." He argued that a refusal doesn't represent a failure: Donors will like certain opportunities but not others; if you treat them with respect and don't pressure them to say "yes," you'll only strengthen the relationships. Moreover, if every solicitation gets a positive response, you're probably leaving money on the table: You simply aren't making enough "asks."
Mixed Messages
At the general session "Opera's Paradox: Mission and Business Model," Marc A. Scorca examined the confusing signals that the field often sends to potential new audiences. Companies are eager to draw in younger and more diverse audiences. But marketing materials often stress the perks available to high-level donors, while program books highlight high-society galas. While hoping to broaden their audience base, companies often project an image of opera as an exclusionary art form.
A Living Art Form
"If we accept opera as a dying art form, we are going into a self-fulfilling prophecy. The truth is, there's no reason to believe that opera is anything other than an emerging art form. There's a whole new generation of artists who are fascinated by this hybrid art form and are taking the genre into their own hands. What is powerful and relevant and necessary about opera is its ability to embrace difference. For what is opera, if not the highly unstable, heterogeneous nexus of so many different art forms?" —Yuval Sharon, artistic director of The Industry, at the Opening Session
This article was published in the Summer 2017 issue of Opera America Magazine.