A Concert Turns Theatrical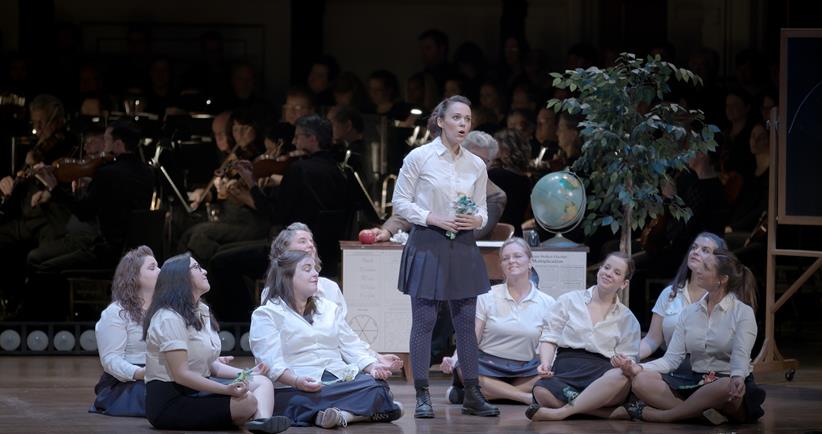 Although Haydn's Creation is most definitely an oratorio, what the Pittsburgh Symphony audience encountered at Heinz Hall last December was more like what you'd find in an opera house. Under the direction of Sam Helfrich, it was a fully staged production, with singers in costume (as school students, rather than Haydn's angels) moving about the concert platform. Behind them, huge projection screens offered images, devised by Greg Emetaz, of God's creatures, along with depictions of the present-day ecological disasters that threaten their existence.
The Pittsburgh Creation is one of a significant number of concert-hall stagings that are expanding the notion of music theater. The New York Philharmonic has collaborated with director/designer Doug Fitch on opera (The Cunning Little Vixen, Le Grand Macabre, HK Gruber's Gloria — A Pig's Tale) and an evening of Stravinsky dance pieces. The Philadelphia Orchestra, working with Opera Philadelphia, offered a Salome in a "4D concert environment." Director Peter Sellars' work has often blurred the lines between opera and oratorio: in his opera-house renderings of Handel   oratorios, his Berlin Philharmonic stagings of Bach's Saint John and Saint Matthew Passions, and his collaboration with John Adams, from operas like Doctor Atomic to the "Passion oratorio" The Gospel According to the Other Mary.
The Creation marked the third such venture for the Pittsburgh Symphony, which began with Messiah in 2011, and continued with the Saint John Passion in 2016, all Helfrich's work, conducted by Manfred Honeck, the orchestra's music director. "This music can of course stand alone," says Honeck. "We know the music and we love it. But I say, 'Why not give it an extra element?' It's not necessary, but it's also beautiful to see what a stage director can do with the piece."
Far from representing competition for the neighboring Pittsburgh Opera, the stagings were in fact midwifed by the company's general director, Christopher Hahn, who suggested Helfrich for the projects. "It works perfectly for what I'm trying to do with my audience," he says. "My opera patrons didn't even blink — they loved it. Although it'd be fair to say that the regular symphony audience didn't all react like that." Honeck confirms that the initial Messiah in fact riled some longtime symphony patrons, but in fact there has been such a clamor for its return that the orchestra is seeking ways to finance a revival.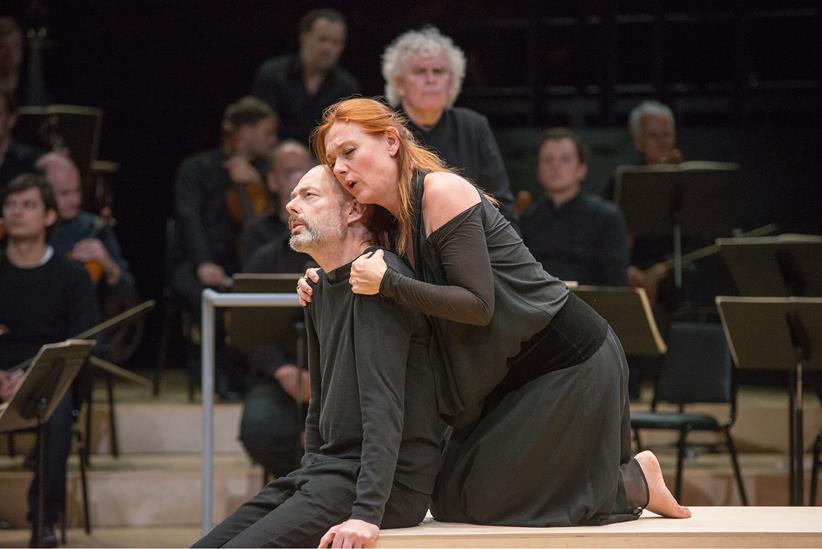 For Helfrich, the decision to stage these pieces was simple. "Why not?" he says. "The pieces are fairly familiar to knowledgeable audiences. There doesn't seem to be any reason not to explore them in a different way. It isn't so much that I'm taking them and adding to them; I just treat them as operas. It's no different from the approach I would take if someone asked me to do Aida or Norma. I've done Philip Glass pieces that have less narrative than The Creation does, but you're still expected to stage them. Pieces like The Creation, or The Dream of Gerontius or Elijah, are full of inherent drama. It feels like such an obvious connection."
"Oratorios bring you into the drama of the soul," says Sellars. "In this day and age of endless distraction, the music creates a zone of stillness, quiet and refuge. You're really trying to say, 'Let's go to the deepest place of what a human being is.' In a way there's quote-unquote 'no action,' but in another, it's the real action of your life."
Sellars sees his Bach stagings as a way of bringing the pieces to fullest life. "When Bach wrote his Passions, he was making something that never really found a home," he says. "He didn't write for the concert hall, and they never had an ongoing life in the church. It is up to us to invent ritual and ceremony that can give them a home."
This article was published in the Summer 2018 issue of Opera America Magazine.