The Industry on the Front Lines
Opera companies find ways to support their communities during the crisis.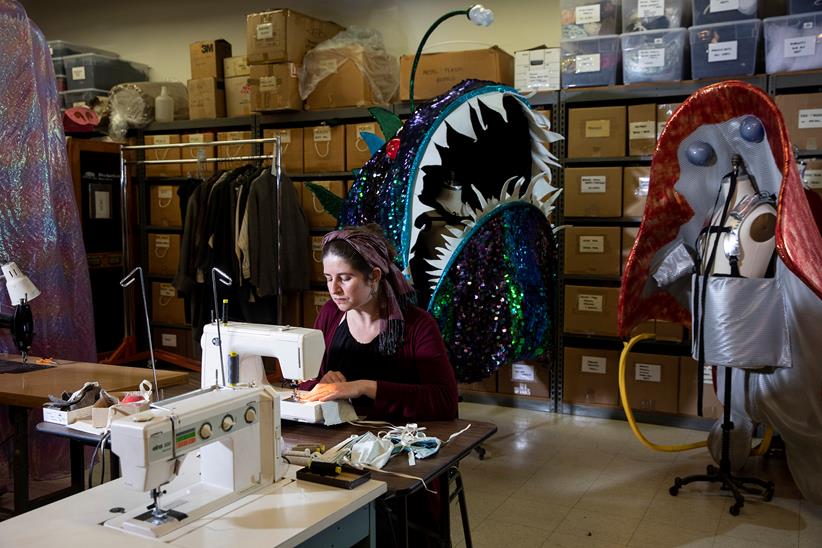 Faced with the shutdown of their seasons and facilities, some opera companies began thinking about how they could use their resources to benefit their communities. Looking at the nationwide shortage of medical masks and the sudden, overwhelming demand for personal protective equipment for medical personnel, several opera companies recognized that they could manufacture facial masks to donate to local hospitals and health organizations. For Minnesota Opera Costume Director Corinna Bakken and her team, sewing masks was a way for her and her employees to get involved. "One of our goals was to keep everyone who was on payroll in the costume and scene shops occupied," says Bakken. "We used the scene shop to cut all of the pieces and do all the deliveries and pick-ups and the costume shop to do all the assembling." Partnering with the Minnesota healthcare group HealthPartners, Minnesota Opera built and donated over 10,000 masks.
Similarly, Houston Grand Opera had four full-time employees sewing masks for Methodist Hospital; eight freelance costume technicians joined them as volunteers. The team created roughly 700 facial masks a week. According to Managing Director Perryn Leech, as the community need for masks continued to grow, the company began donating them to other Houston organizations, including St. Joseph Medical Center, the Women's Center, and Star of Hope, a homeless shelter. The endeavor echoes HGO's 2017 response to Hurricane Harvey. "HGO is completely embedded in the Houston community, and it was unsurprising to me that our staff wanted to help out in this way," says Leech. "As with Hurricane Harvey, everyone wanted to do what they could to help each other."
The Glimmerglass Festival, in New York's rural Otsego County, first answered the call to assist front-line workers by donating extra supplies from their scene shop — including gloves, respirators, and hand sanitizer — to Bassett Hospital in Cooperstown. Mask-making efforts were spearheaded by Production Coordinator Marsha Nicholson, who enlisted community members and 13 year-round staff members to sew masks using personal and company-owned sewing machines, along with donations from Joann's Fabrics, to deliver over 400 masks to Bassett and other local organizations. In addition, A/V Coordinator Joel Morain, a skilled carpenter, oversaw the creation of 100 birdhouse-building kits, distributed to local families to use as at-home projects during self-isolation.
As a smaller company without resources to make medical masks, Opera Orlando answered the call to support front-line workers by organizing a virtual benefit concert for Orlando Health. Held via Zoom, the May 29 concert was an online version of the annual end-of-year performance of the Opera Orlando Youth Company, a training program for young singers ages eight through 18. "It was not only a way to support Orlando Health and the community," says Gabriel Presser, the company's general director, "it gave our students the opportunity to show off their hard work."
This article was published in the Summer 2020 issue of Opera America Magazine.