My First Opera: Sasha Velour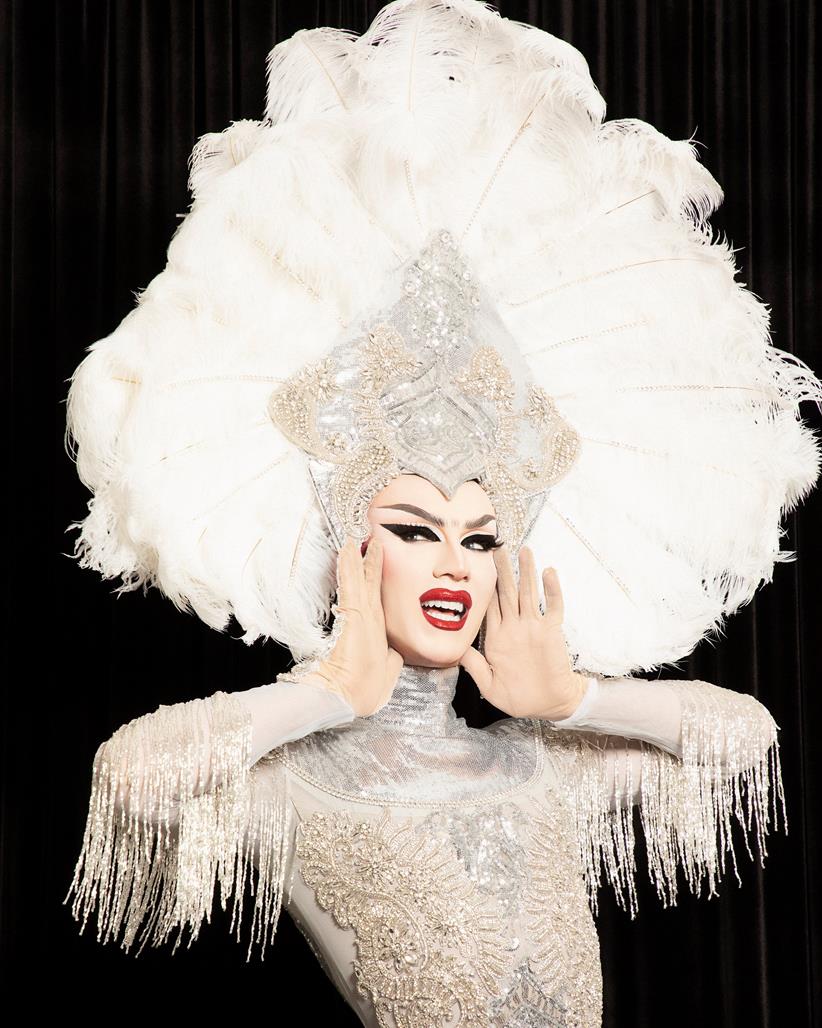 My love for opera came from my parents, Jane Hedges and Mark Steinberg. They had all these boxed sets of LPs, and I listened to them from the time I was a little kid. My favorite was Rigoletto, with Sutherland and Pavarotti. Listening to it was a multimedia experience. The box cover, with the singers' heads set against a deep-blue background, is engraved in my memory. I loved the story, all about jesters and disguise and murder. I'd put the record on and jump around to it. My friends would get mad at me because I'd make the needle jump. But I adored it. And here I am today, still lip-syncing and jumping around to music!
When I was in high school in Champaign-Urbana, I made a friend who also loved opera, and we'd sing duets from Traviata walking to gym class. Then I had the good luck to be introduced to Deborah Myers — an actual opera singer! I would go to her house and sing. She staged a community-theater production of The Medium in a converted train station and I got to play the mute role of Toby. He gets murdered at the end in a puppet theater, and I had it rigged so that I'd shoot blood all over. Then every night I'd take the curtain home and wash the blood off for the next performance. It was great training for my current career, where I have to make sure my costumes stay fresh and clean, night after night.
My mom brought the family abroad for a year when I was 18. She insisted that I find an internship, and through her network of powerful women, she found me a spot at the Berlin Staatsoper. The film producer/director Bernd Eichinger was making his opera debut with a new Parsifal. They threw a ton of money at it and went completely over the top. My job was making coffee and taking notes.
One day, the Kundry couldn't make it to rehearsal. I jumped right in: "I know the staging!" They draped me in fabric, and I stood there, lip-syncing. I knew I would never sing opera: If I had trained my voice, I'd be a bass, and I wasn't interested in those roles. But the experience showed me that opera has room for those of us who don't have great voices.
I had always thought that opera had certain traditions and certain looks. But in Germany I saw productions that stretched the texts as far as you possibly could. I saw a Pearl Fishers set in a cocktail lounge that turned the music into jazz. I loved the boldness of that approach and the idea that you could take the text and collaborate with it. It's close to what I do with lip-syncing and drag: take the music and stretch its meaning to express queer, non-gender-conforming experiences.
I was thrilled when Opera Philadelphia came to me with The Island We Made. They didn't question whether this would be a good fit; they just asserted that it would be. Angélica Negrón, the composer, played with the idea that the performer and the singer didn't have to be the same person. It added a layer of collaboration: Eliza Bogg, the singer, got to see her voice through another visual prism. For me, somebody opened a door into the world of opera.
Opera and drag both exemplify camp — a word I don't use in any derogatory way. They both exaggerate emotion to a jumping-off-of-buildings extent: the farthest reaches of what a human can feel. Sometimes they go too far over the top — but in my world, that's not a bad thing.
---
Sasha Velour is a gender-fluid drag queen and visual artist, and the winner of the ninth season of RuPaul's Drag Race. She can currently be seen in Opera Philadelphia's digital offering The Island We Made.
This article was published in the Summer 2021 issue of Opera America Magazine.