The Human Connection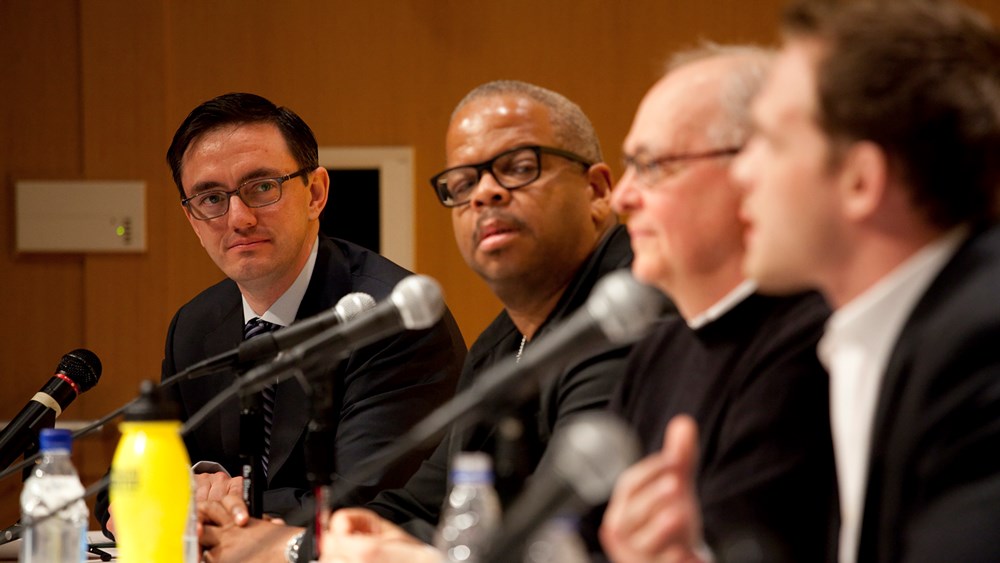 A conversation with Timothy O'Leary
OPERA America's board chairman, Timothy O'Leary, became general director of Opera Theatre of Saint Louis in 2008. Under his aegis, OTSL has launched its New Works, Bold Voices series of commissions and attracted new audiences through its Engagement and Inclusion Task Force and Young Friends programs. Here he talks with OPERA America President/CEO Marc A. Scorca about his career path, his OTSL achievements, and his faith in opera's capacity for forging community bonds.
Marc A. Scorca: Who brought you to your first opera?
Timothy O'Leary: I was in high school in Trumbull, Connecticut, and my choir teacher mentioned that the Connecticut Opera had an open rehearsal of The Magic Flute. I went with a friend, thinking we'd leave at intermission, but halfway through the Queen of the Night's first aria, I realized that this was nothing like I had thought it would be. I loved it! As it happens, I was singing in multiple choirs at the time, and the tenor who sang next to me in a church choir was Matthew Polenzani. I sang next to him for two years, feeling bad about my voice every week.
MAS: What a coincidence!
TO: So later that year, Yale Opera was also doing The Magic Flute, starring Matthew. They needed more chorus tenors, which are always more in demand than other voice parts, so Matthew and the head of the choir asked if I would join. Shortly into the Magic Flute rehearsals, I really fell head over heels. Then the next year I signed up to do Yale's The Marriage of Figaro. As I got to know that opera, I started to understand that this was not just something that was beautiful, but something that really was meaningful and important.
MAS: When did it occur to you that a career in opera was something that you might pursue?
TO: I was an English major at Dartmouth College, and I started to develop this idea that I wanted to spend my life helping make beautiful things possible in the world. I took voice lessons and learned to sing classically. I took Italian so that I'd be able to understand The Marriage of Figaro. When I was an exchange student in Italy, I went to a performance of La traviata. The musical values were great, but the dramatic values were so bad that I started thinking what the opera world needed was better balance between the musical and the dramatic. Back at Dartmouth, I took more and more music and theater courses, and I also took a course in directing. I started to direct plays, and my roommate wrote an opera, which I got to direct. Then I was lucky to get an internship at the Lincoln Center Festival between my junior and senior years of college, and got to know people at New York City Opera. Eventually, I got a job in development there to get to know opera better. I dreamed of being a stage director. Above all, I just loved the people at that company.
MAS: Were you any good as a stage director?
TO: [laughs] I had a good run for a while! At first, I did my own self- produced plays in the evenings and on weekends: Samuel Beckett short plays in storefront theaters and things like that. I got involved in New York's chaotic entrepreneurial scene of hopeful young artistic people.
MAS: So where did you go from there?
TO: After three years in City Opera's development department, I worked up the courage to make an appointment with Paul Kellogg [then general director of New York City Opera and Glimmerglass Opera] to mention to him my hope of being a stage director. It was one of those moments of real risk when you sort of "out" yourself. Paul was incredibly kind, and helped me get a job at Glimmerglass on James Robinson's production of La bohème. I had to leave my steady administrative job to accept a 10-week contract, but luckily I found more work, went back to Glimmerglass and did a total of three seasons on the stage-directing staff of City Opera. I had a season as the resident assistant stage director at Florida Grand Opera. In between, I directed small-venue productions, like education and outreach tours. Then I became the apprentice stage director with [San Francisco Opera's] Merola program, which was a tremendous opportunity. But at a certain point, I had to be honest with myself: I actually didn't want to keep living a stage director's life of constant travel. I went back to City Opera to work on Mark Lamos' production of L'Étoile, which was a wonderful swan song in the stage-directing world.
MAS: Where did the decision to stop directing lead you?
TO: You know, after I'd worked at various companies, I realized that you could have wonderful artists, but if the company itself wasn't well-run, the artists' work could never really achieve its potential. So I started to think that I would really like to be running a company [laughs]. I cobbled together a living for a little while in New York as a freelance grant writer, and then one night I attended a double bill of Martinů operas at what was called the Henry Street Chamber Opera.
MAS: Which later became Gotham Chamber Opera…
TO: I thought this kind of intimately scaled work, with excellent musical and dramatic values, was exactly the kind of thing the opera world needed more of. I wrote [founder] Neal Goren an ail the next day to say that I'd love to be involved in whatever way could be useful. It just so happened that they were on the search then for a managing director who could help the company establish itself as its own 501(c)(3). I was able to learn on the job thanks to a really wonderful collaboration with Neal and the board. And I simultaneously enrolled in the Theater Management and Producing program at Columbia University. I was lucky, because the course work kept coinciding with what I needed to learn in order to run Gotham. On the very day I realized I needed to do a cash flow projection, that topic was covered in my finance course.
MAS: Two and a half years later, you returned to City Opera.
TO: I was the administrative director, supporting the executive director, Jane Gullong, and taking on a variety of interdepartmental projects. I was put in charge of the Opera for All project, a weekend where all tickets were $25. I became the point person for labor relations: We had, I think,13 unions that we had to work with. I became responsible for negotiating and managing coproduction arrangements, and as time went by, gained more and more strategic-planning and financial- management responsibility.
MAS: Then OPERA America played a role in getting you to Opera Theatre of Saint Louis.
TO: Yes! You personally were very kind and encouraged me to apply for what was then called Leadership Advance, the first year it was offered as part of the OPERA America conference. I had been coming to the conference for a few years by then, but now we were getting instruction and mentoring from the greats in the field, like Speight Jenkins and Plato Karayanis, and that was the first time I met Charles MacKay [then general director of Opera Theatre of Saint Louis]. I admired his style of leadership tremendously: a complete commitment to artistic significance and excellence paired with institutional strength and a real sense of valuing people.
MAS: What aspect of your work are you most proud of?
TO: My interest in art has always been about human connection, so I'm proudest of those times when our work has brought people together and built understanding in our community. It happens in performances, when a thousand people at a time are pulled together into a common emotional state. And it happens in the planning work. I think of the first time [composer] Terence Blanchard came to a meeting of our Engagement and Inclusion Task Force. We had built this wonderful group from diverse faith communities, the African-American community, the LGBTQ community, all listening to him describe why he'd chosen [gay boxer] Emile Griffith as the subject of his first opera, Champion. The electricity in that room — an incredibly diverse group of people finding a common opportunity to help support something of beauty — was a thrill. I would say the same about the incredible moments of interfaith engagement that surrounded our production of The Death of Klinghoffer: Muslim, Jewish, Christian faith leaders speaking with tremendous candor and common purpose. At our best, the arts are all about people discovering their common humanity across differences.
MAS: I know that you were involved in working with the Ferguson community after the tragic shooting of Michael Brown and its aftermath.
TO: We helped organize a coalition of community organizations for a concert at Normandy High School, from which Michael Brown had just graduated: "With Normandy: A Concert for Peace and Unity," benefitting the school's scholarship fund. Working with its choir director, Duane Foster, we put together a program that included not only great opera professionals like Denyce Graves and Christine Brewer, but also church choirs, Gateway Men's Chorus, jazz, blues, musical theater, gospel. Of course, one concert cannot fix the substantial social issues that were so clearly exposed during that period, but it did provide a truly beautiful, unifying moment.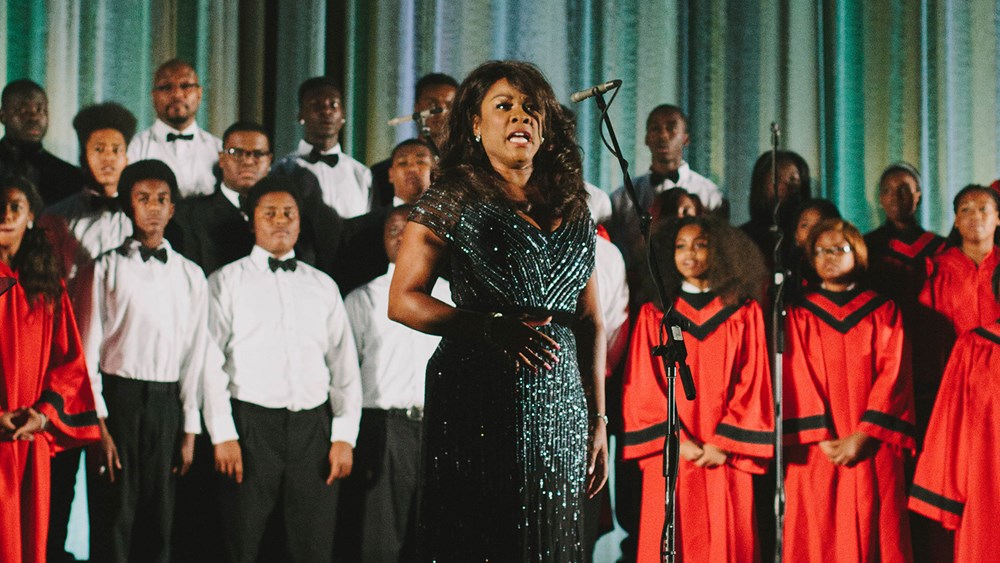 MAS: Your wife is a clinical psychologist. Does she help you when you work with difficult artists?
TO: Yes, she's helped me when people's behavior becomes…hard to understand.
MAS: You mean obnoxious and disruptive?
TO: [laughs] People all have different coping mechanisms when it comes to stress and anxiety. One of the most important jobs of the producer is to try to understand what issues are beneath the inevitable moments of tension and conflict in a creative, collaborative endeavor — and to have tremendous sympathy for what artists and staff  are going through as people in order to create something beautiful.
MAS: Beverly Sills said that a successful general director needs to be an orphan and single. I know you're devoted to your three children. How do you manage it?
TO: It's a challenge! It's true that the time commitment and emotional commitment of leading an opera company is seemingly bottomless. And yet, when I made that decision to stop traveling as a stage director, it was partly that I knew I wanted to have a family and children. So the trick is to know your order of priorities and know yourself well enough to figure out how to fulfill all your commitments. One truism about being a parent is that it's all about a kind of hyper-charged empathy. I have often found that when my first challenge of the day is to help my three-year-old get into her shoes, it can prepare me well for the various other challenges I'll face that day.
MAS: Now that you're chairman of OPERA America, any thoughts about what you'd like to see the organization achieve in the coming period?
TO: I think the opera world is making wonderful progress as the arts in general adapt to the vast changes of the 21st century. But there is so much work to do to ensure that opera is inclusive, resonant and meaningful. We have to overcome the negative stereotypes embedded in how opera is often perceived to ensure its place in the young, technology-driven, diverse American culture we live in, and make art a truly unifying, healing and meaningful force at the center of our communities. Our companies are developing the tools to adapt, but we have to make rapid progress in order to thrive.
This article was published in the Winter 2017 issue of Opera America Magazine.