Opera Fans in Diapers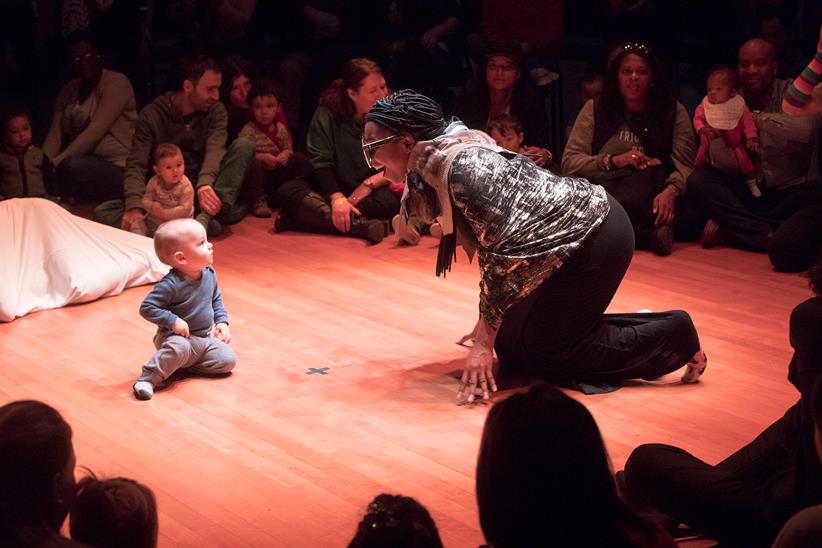 It was not your typical opera crowd. When Carnegie Hall presented OTOYOTOY! this October in its Resnick Education Wing, a significant portion of the audience consisted of babies. The 2017 opera is the work of composer Thomas Cabaniss, singer/composer Saskia Lane and librettist Zoë Palmer, and it featured the vocal ensemble Moving Star, which specializes in improvisation. The interactive environment that the team created was aimed at infants, and infants only. ("Please note that this event is for babies and toddlers age two or younger," a notice on Carnegie's website warns. "It is not recommended for older children.")
The idea is not unique to Carnegie Hall. Last April and May, the Metropolitan Opera presented BambinO, a 40-minute opera for babies 18 months and younger. And in 2017, San Francisco Opera offered the American premiere of Up in the Mountains, an opera by the Norwegian ensemble Dieserud/ Lindgren designed for children under three years old, an age group that was new territory for the company's education department. "It made sense because we are here to connect to the entire community," says Ruth Nott, director of education, "and an opera for babies gave us the opportunity to reach a new part of the population."
Cabaniss' work with Carnegie's Lullaby Project, which pairs pregnant women and new parents with artists who write and sing personalized lullabies, gave him the inspiration for OTOYOTOY! "We asked ourselves, 'Once we've written, performed and recorded a lullaby, how do we then help young moms and dads sustain their musical experience and keep music going in their children's lives?'" he says.
In the 45-minute OTOYOTOY!, four eggs hatch to reveal three birds and the title character, a human figure representing the spirit of play who longs for acceptance from his nestmates. The opera explores themes of work versus play, as well as difference and outsider status. "I try for clarity of image and intention, and trust that the babies will respond to that," says librettist Zoë Palmer. "The music does the heavy lifting, and the babies respond to the multisensory experience."
"Like any opera, you want a story arc, an experiential arc that's satisfying - it should be interesting to both babies and parents," says Cabaniss. "But it also needs to be incomplete; it needs to leave space for the babies." What babies do with that space is, of course, unpredictable, but OTOYOTOY! invites participation: Babies can wander in and out of the performance area, and they are encouraged to handle props and make noises, which sometimes inspire improvisatory vocal responses from the performers. "We are on the edge of chaos, and that's an exciting place to be," says Palmer. The creative team is following up with NOOMA, due for an April premiere at Carnegie Hall, which co-commissioned the piece with Minnesota Opera and San Francisco Opera.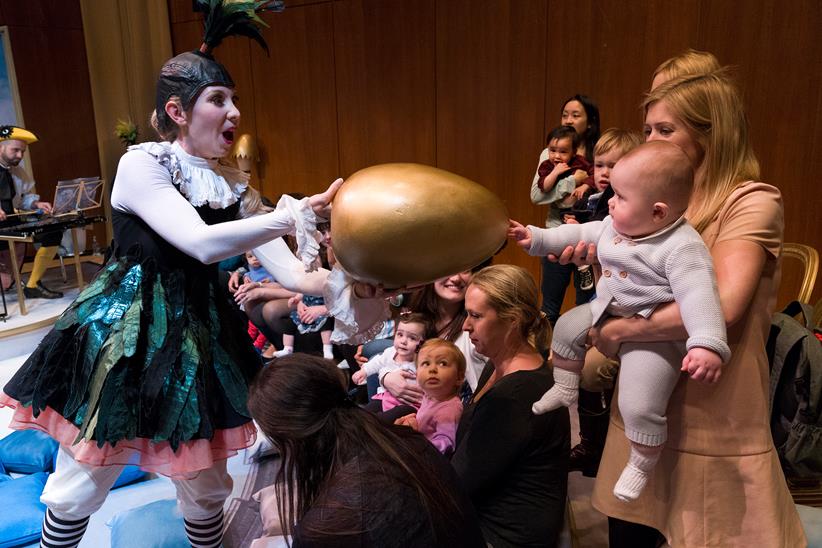 The San Francisco performances of Up in the Mountains presented challenges that SFO's education department had never before encountered. Dressing rooms were converted into breastfeeding and baby-changing rooms; a nearby stroller parking area let parents grab items stored in the strollers at a moment's notice. The show was a hit: The 15 shows sold out, and Nott gets regular requests for more baby-specific programming.
The response to San Francisco's early­ childhood programs overall suggests that they're reaching new potential audiences. In the 2016-2017 season, with the opening of its new Wilsey Opera Center, the company launched First Act, a series of programs for children six years and younger; of the 385 tickets sold for First Act events that season, 267 (nearly 70 percent) were purchased by new­ to-file households. First Act attendees would go on to purchase 160 mainstage performance tickets — a modest number, but one that's proportionally large for a group of this size.
The Met found similar success with BambinO. The opera, written by Lliam Paterson and developed in the U.K. by Scottish Opera, Improbable theater company and Manchester International Festival, came to the company's attention through its director Phelim McDermott, who also helmed the recent production of Cosi fan tutte. Soon after The New York Times published a short piece on the opera, all 10 of the free performances reached capacity. Performances of the opera in Met's List Hall placed babies and one caregiver apiece onstage with the performers; other family members could watch from the auditorium, and afterward, the company gave the babies "me and" photo ops with the cast.
Only time will tell whether today's BambinO attendee will become tomorrow's Boheme ticket-buyer, but in the meantime, operas for babies go a long way toward reinforcing the idea that the art form is truly for everyone. "Our whole mandate is to be friendly and open and welcoming," says Marsha Drummond, the Met's director of education. "When kids come to the opera house, and we all get down on our knees and experience a performance together on that stage, it immediately knocks down any negative stereotypes about opera."
This article was published in the Winter 2019 issue of Opera America Magazine.