Common Ground
Innovative collaborations help build equity and understanding between Native American communities and their non-indigenous neighbors.
When Pacific Opera Victoria took the lead in creating Missing, the company knew it was treading into new terrain — and that it was going to have to learn a new way of doing business to make it a success. The opera, which premiered in 2017, gives voice to the stories of missing and murdered indigenous women. Bringing authenticity to such an important topic required careful attention to the details in its creation, its production and its marketing. The company needed indigenous artists in the creative team and indigenous singers.
"It required us to give real control over to the people in that community," says Rebecca Hass, the company's director of community engagement. "They knew better what was needed."
Pacific Opera Victoria was facing a dilemma that companies are working to address on both sides of the U.S.-Canadian border: the imperative to connect with indigenous populations. The trend is especially prevalent in Canada, ever since a 2015 report from the national Truth and Reconciliation Commission called on citizens to confront the country's long history of colonialism and mistreatment, and to work toward building equity and understanding between indigenous and non-indigenous communities.
"The sensitivity of Canadian companies to Native American concerns points the way forward for the whole field," says Marc A. Scorca, president/CEO of OPERA America. "This kind of thoughtful approach can apply to any population that has been underrepresented or oppressed in the context of opera."
The Missing project, Pacific Opera Victoria's first major response to the commission's report, taught the company valuable lessons. A company can't just decide one day it is going to target a whole new set of audience members and expect people to show up, especially if it has previously paid scant attention to their community. "You're not just going to go and say 'This is really pretty' or 'You'll be emotionally moved,'" Hass says. "At the least, that's irrelevant, and it's probably offensive."
The effort has to start at the very conception of a new work. In this case, the company assembled a creative team with a mix of backgrounds. Métis playwright Marie Clements wrote the libretto, collaborating with Juno-winning composer Brian Current, who is non-indigenous. As for marketing, the opera company started by reaching out to prominent figures in the indigenous community to discern ways of connecting the dots between Native American and European music and performance practices. It didn't take long to find commonalities, says Hass, who is Métis herself. Both cultures, Hass points out, have a tradition of storytelling through music. This helped the company spread the word.
Missing, co-produced with City Opera Vancouver, sold out its original run in Victoria, and then sold out again when the title was restaged this November. It followed up its 2019 production with a tour to performing arts spaces in the cities of Regina and Prince George.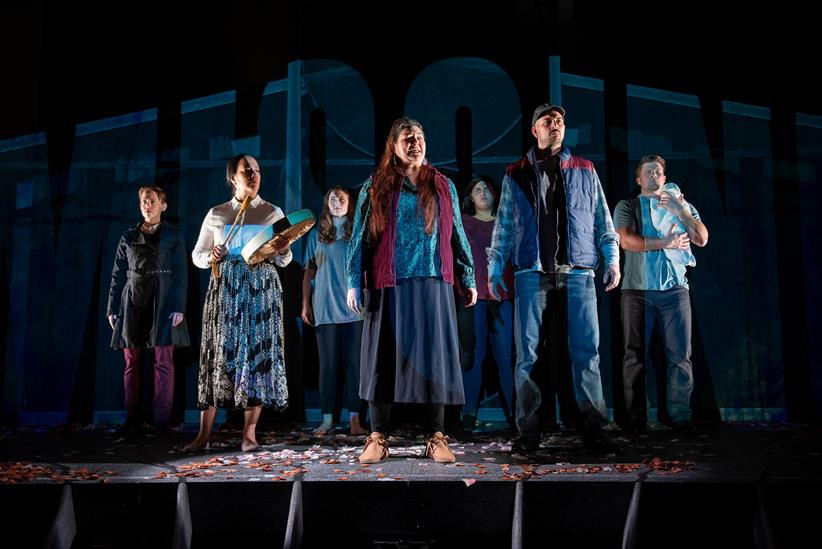 Hass is pleased with the public reception for the opera, but she says the audience figures account for only a portion of the project's success. The opera company built relationships with the indigenous community that it has managed to sustain. Among its efforts: a workshop for young people at the Victoria Native Friendship Centre about careers as opera technical and support staff. "We took them to our shop and they met the head carpenter," Hass reports. "They learned about prop painting, set construction, wigs and makeup, and about careers in the costume department."
The company collaborated with Sacred Circle, an all-indigenous theater group at local Esquimalt High School, to offer advice on stagecraft and vocal training. "We provide a class in Western voice care, but don't ask them to change the way they sing," Hass says. "The relationship is built on respect — not us stepping in and dictating."
"The relationship is built on respect — not us stepping in and dictating." Rebecca Hass, Pacific Opera Victoria
When faced with the directives from the Truth and Reconciliation Commission's report, Toronto-based Tapestry Opera incorporated them into its mission to develop operas that have, in the words of its artistic director, Michael Mori, "a contemporary argument for existing." Partnering with Opera on the Avalon, it commissioned Shanawdithit, the story of the last surviving member (1801–1829) of the Beothuk people, who were based primarily in the land that is now Newfoundland.
There were obstacles even at the start. First, the company had to determine which version of the tale it needed to tell. Shanawdithit's biography is not well-known in Canada beyond Newfoundland, and what is known, at least among the white population, is often filtered through a colonial, pro-settler lens "that's been proven to be completely untrue," as Mori put it.
Shanawdithit's story is, however, a common legend in indigenous communities, and so the company invited indigenous artists from across Canada into the creation process. "Every indigenous collaborator who came on board, no matter where they were from in the country, knew this story," says Tapestry's executive director, Jaime Martino. "Only they knew a different version than the white folks in Newfoundland because they had heard it from a different channel — not passed down in history books, but through oral traditions from their elders."
Rather than simply starting with the composer and librettist — the typical route for developing an opera — Tapestry brought in 10 indigenous artists to work as part of the creative team. These collaborative forces worked with indigenous people who told them how their stories have been interpreted in the past, and how they wanted them to be told now. Among the sources for the story was a series of drawings Shanawdithit left behind.
Using that work, Tapestry asked librettist Yvette Nolan, a well-known indigenous playwright, to give Shanawdithit words, and composer Dean Burry, a non-indigenous Newfoundland native, to set them to music. Nolan served as a bridge to the indigenous creative community, but the company still had to overcome suspicions that it would be producing yet another colonialized version of the tale. "We had conversations before people came on board to make them understand that they had the right to tell the story, and that we would be led by them," said Mori, who co-directed the production with Nolan.
These companies see the work of following the Truth and Reconciliation Commission's recommendations as a long-term commitment. They want to make moves that are thoughtful and lasting. It's not just a matter of offering a few titles to bring in the occasional Native American attendees: They want connections, a diversity of new material for the canon, and more Native American composers and singers in their ranks.
In Winnipeg, home of Manitoba Opera, more than 90,000 people identify as First Nations, Métis or Inuit out of a total population of 750,000 — the largest indigenous contingent in North America outside of New York City. The company recently received an OPERA America Innovation Grant "to discover how it might connect authentically and meaningfully with the province's indigenous community." It has brought on a consultant who will survey attitudes among the staff and board to determine biases. As General Director and CEO Larry Desrochers puts it: "What are your knowledge gaps, what behaviors do you have, and what behaviors can change through this process?" From these findings, Manitoba Opera will develop a plan of action that could affect everything from artistic programming to staffing.
Desrochers believes the industry has a head start in this kind of work. In recent years, companies across the continent have worked to develop a civic practice, connecting with members of the community that face particular challenges. Most of these efforts at Manitoba Opera have been centered around individual productions: connecting with the mental health community for Werther and working with refugees for Fidelio. The goal, according to Desrochers: "How do you go beyond music and story to offer value to your community? We have a hunch that there could be good things that come out of it."
In 2017, when Toronto's Canadian Opera Company staged Harry Somers' Louis Riel, members of the Nisga'a people objected to the use of an aria, based on a traditional Nisga'a lament, that the composer included in his original 1967 score. According to Nisga'a law, the song can only be performed by singers with hereditary rights to do so. To perform the lament in other contexts is said to release the song's spirit, bringing misfortune to the singers and listeners alike.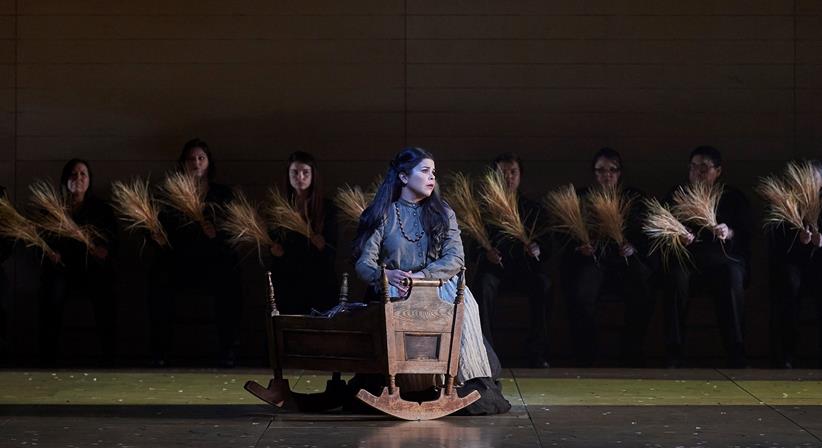 In all likelihood, Somers didn't intend to antagonize any of his listeners, explains COC General Director Alexander Neef. He was, like many Canadians of his day, unaware of indigenous artistic practices. He was doing something akin to what classical composers have done for more than a century, incorporating ideas from regional folk music into new creations. But for many Nisga'a people, Neef explains, "music is sacred in a way that music is not sacred in the European Western tradition."
The company responded to the objections by initiating a community-wide process of reimagining that moment in Louis Riel. Composer Ian Cusson, who is of Métis and French-Canadian descent, was commissioned to replace the content with alternative material, with the goal of revamping the scene for further productions. The company worked closely with the estates of Somers and librettist Mavor Moore, both of which agreed to the revision.
Researching the opera's original libretto, Cusson uncovered Moore's unused lyrics for a melody in the scene where the aria takes place. For some unknown reason, Somers didn't use Moore's words in the final version, but Cusson composed music around Moore's initial writing. The new music was premiered in a concert performance at the National Arts Centre in Ottawa this September.
"It's not only about righting something that was done wrong," says Neef. "It's also about deepening our understanding of why we can't do certain things."
This article was published in the Winter 2020 issue of Opera America Magazine.