The Rise of the New
The emergence of a contemporary American canon has transformed the field.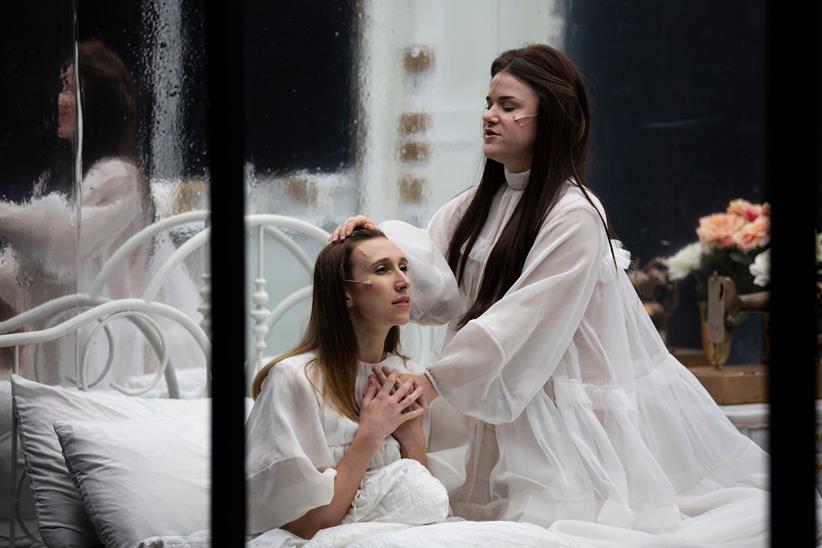 New work played at best a negligible role in the repertories of North American companies in 1970. An occasional new piece popped up, as if in response to criticism that companies had turned into museum-like repositories for the works of the past, causing the art form itself to atrophy. But these premieres seldom had an afterlife in revivals or new productions. As a whole, the industry gave every indication that its priorities lay elsewhere, and that American opera's true business lay in the presentation of the inherited repertoire.
Over the past half-century, the landscape for new work has changed so radically as to be unrecognizable. Companies large and small regularly program world premieres along with revivals of the American operas of our time. Nixon in China (1987), Dead Man Walking (2000) and As One (2014), among many others, have spawned multiple mountings, drawing seasoned operagoers and new audiences alike. Some new operas, like The (R)evolution of Steve Jobs (2017) and the upcoming Eurydice, result from co-commissions, which means that multiple airings are built into their very existence. Philip Glass' 1983 Akhnaten, in its first Metropolitan Opera production earlier this season, sold out its entire run. Works like X, the Life and Times of Malcolm X (1985), Harvey Milk (1995), Glory Denied (2007) and Blue (2019) have demonstrated that opera can address the social concerns of the day, adding its voice to the national discussion. New work is no longer an afterthought: It's the heartbeat of American opera today.
A key factor in the growth of new American opera is the work of OPERA America. Starting in 1983, with the establishment of the grant program Opera for the 80s and Beyond, the organization has provided funding for 330 pieces, supporting composers and librettists, as well as the companies that commission new works.
The cultural environment itself has played a role in the shift. Fifty years ago, classical music was in the throes of the orthodoxy of serial music. It was an era when symphony subscribers would regularly storm up the aisles at premieres, furious at the abstruse sounds they were hearing. In the years since, minimalism and New Romanticism have spawned a new acceptance of tonality among the composers of concert music, and a new degree of approachability in their music
Opera has followed suit. Mid-20th-century opera composers like Carlisle Floyd and Samuel Barber wrote tonal music, but were considered far outside the academic mainstream. The relaxation of serialism's grip, though, has allowed new generations of composers to work fearlessly in tonal idioms. The occasional atonal
American opera still pops up, such as Charles Wuorinen and Annie Proulx's Brokeback Mountain. But the vast majority of today's American opera composers, from John Adams to Ricky Ian Gordon to Kevin Puts, base their output within tonality. The form's new eclecticism lets composers like David T. Little and Ellen Reid incorporate rock-and-roll elements into their works. All of this is making the music of opera accessible to a broad audience swath.
The ranks of pre-1970 American opera creators were all but exclusively filled by white men. The African American composer William Grant Still wrote eight operas and Gertrude Stein supplied the librettos for Virgil Thomson's two operatic works, but these were exceptions that most definitely proved the rule. Now artists of color like Terence Blanchard, Anthony Davis, Huang Ruo and Tazewell Thompson have written some of today's most notable works. Female composers have risen to the forefront: Du Yun, Laura Kaminsky, Lori Laitman, Cerise Jacobs, Missy Mazzoli, Ellen Reid, Kamala Sankaram and Jeanine Tesori, among myriad others. Many of these women have been recipients of support from OA's Opera Grants for Female Composers program.
Much of the output of these creators addresses an audience beyond opera's traditional bases. Opera Theatre of Saint Louis' 2013 world premiere of Champion, by Blanchard and Michael Kristofer, drew in record numbers of attendees from the city's African American population. In 2010, Houston Grand Opera offered the premiere of the world's first mariachi opera: José "Pepe" Martínez and Leonard Foglia's Cruzar la Cara de la Luna. The work has proved immensely popular — it has spawned productions around the world, including three return engagements in Houston — and succeeded in drawing Latinx audiences to the art form. Cruzar engendered a 2015 follow-up by the same creators: El Pasado Nunca se Termina for Lyric Opera of Chicago. Pepe Martínez died in 2016, but his son Javier is carrying on his tradition: He and Foglia wrote a Cruzar prequel, El Milagro del Recuerdo, which premiered at HGO this December.
One huge advance of the past 50 years is the emergence of systems for bringing new works to life. Before an opera gets presented to the public at large, it will go through a thoughtful development process, often the result of the commissioners investing time and resources to bring the piece into final form. Dramaturgs help the creators shape their work. Organizations like the American Opera Project, founded in 1988, and American Lyric Theater, founded in 2005, devote themselves to the development of new works. They have been joined by university-based programs like the University of Colorado Boulder's CU NOW, founded in 2009, and Opera Fusion: New Works, a collaboration of Cincinnati Opera and the University of Cincinnati College-Conservatory of Music. No longer must new works open "cold": These programs allow composers and librettists to test their ideas and see them in performance before bringing them before the general public.
The past half-century has seen a burgeoning not just of new works, but of new approaches. When John Adams and Alice Goodman wrote Nixon in China in the 1980s, they launched the idea that opera could address recent contemporary political or cultural issues. Adams and Goodman exposed themselves to controversy with their second collaboration: The Death of Klinghoffer (1991), which depicts the 1985 murder, by Palestinian terrorists, of the wheelchair-bound American-Jewish tourist Leon Klinghoffer. Terrorism has since been the subject of several other operas, notably Jimmy López and Nilo Cruz's Bel Canto (2015) and Jack Perla and Rajiv Joseph's Shalimar the Clown (2016).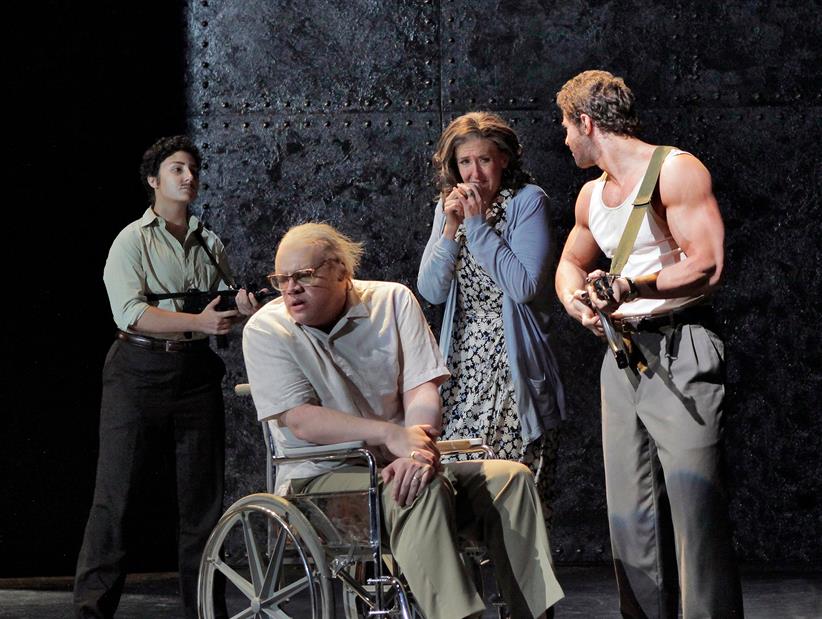 A socially relevant subject — and a thoroughly accessible score — have made Jake Heggie and Terrence McNally's Dead Man Walking one of the most durable of recent operas. Since its 2000 premiere, the work, adapted from the memoir of the persistent anti-death-penalty activist Sister Helen Prejean, has been staged more than 40 times in North America, and it is now scheduled for the Metropolitan Opera's 2020–2021 season.
The American Opera Initiative, founded by Christina Scheppelmann at Washington National Opera in 2012, has made it its mission to address contemporary society. The program commissions three 20-minute operas and one hour-long opera each season, with the stipulation that they all must reflect themes and issues relevant to contemporary America. AOI operas include An American Soldier by Huang Ruo and David Henry Hwang, which premiered in a one-act version in 2014 at WNO and then was expanded to two acts for Opera Theatre of Saint Louis in 2018. The opera tells the real-life story of a Chinese-American soldier who in 2011 committed suicide at age 19 in Afghanistan after enduring violent racial harassment by his fellow soldiers.
Opera has always attracted artists from the gay community, even if the content of their output has been all but uniformly "straight." But a new wave of operas is bringing LGBTQ issues onto opera's stages. Gregory Spears and Greg Pierce's Fellow Travelers, based on Thomas Mallon's 2007 novel about the McCarthy-era persecution of gay people, has already become part of the contemporary American canon, with nine productions since its 2016 Cincinnati Opera premiere. Another LGBTQ-themed work, Laura Kaminsky, Mark Campbell and Kimberly Reed's As One, has received a whopping 24 productions since its 2014 premiere by the American Opera Project.
Much of recent American opera is dark stuff: a logical state of affairs, considering how much it focuses on our most vexing social concerns. Still, music's transformative power can give an element of catharsis to even the most harrowing scenarios: For instance, Jeanine Tesori and Tazewell Thompson's Blue depicts the grief of a mother and father whose son has been felled by a policeman's bullet, while its soaring music underlines the humanity we share with its heartbreakingly afflicted characters.
Not all recent works dwell in tragedy. John Musto and Mark Campbell's 2007 Later the Same Evening is full of gentle humor. William Bolcom and Campbell's 2017 Dinner at Eight is an adaptation of a beloved stage and film comedy. John Corigliano and William M. Hoffmann's The Ghosts of Versailles, which weaves together pathos and knockabout farce, made a splash at its 1991 Met world premiere; more recently, a chamber-orchestra version has occasioned a number of revivals by smaller companies.
Unlike the operas of past eras, which were overwhelmingly adaptations of preexisting material, most recent American works have used original stories. Nonetheless, our era has seen some notable adaptations of literary properties: not just Fellow Travelers, Shalimar the Clown (based on Salmon Rushdie's novel) and Bel Canto (based on a best-selling novel by Ann Patchett); but also The Great Gatsby (John Harbison, 1999), The Grapes of Wrath (Ricky Ian Gordon/Michael Korie, 2007) and The Scarlet Letter (Lori Laitman/David Mason, 2016). Meanwhile, Heggie's musically and dramatically vivid Moby-Dick has been performed more than 49 times since its 2010 Dallas Opera premiere.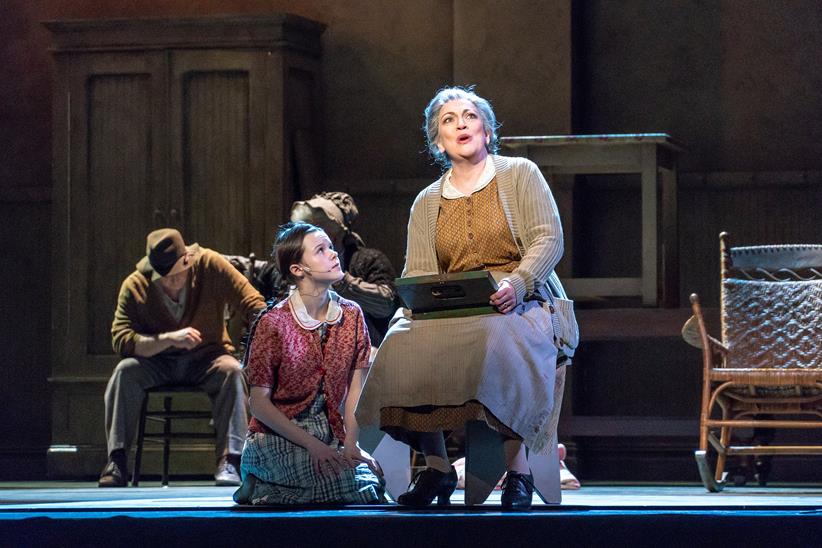 Much American work of the past half-century has expanded the boundaries of the art form, occupying a territory that encompasses music theater and performance art as well as traditional opera. Recently, the Met engendered grumblings that Akhnaten was "not an opera," but the work was nonetheless embraced by multitudes eager to witness its blend of singing, orchestral music and stage spectacle. For most of the length of the 2018 PROTOTYPE production of Michael Gordon and Deborah Artman's 2005 Acquanetta, the performers were hidden from view while the audience watched their actions on a projection screen. The Industry's 2015 Hopscotch sent its audience scurrying in cars across Los Angeles — and caused a sensation. These efforts suggest that creators are continually exploring new ways of thinking about the four-century-old art form.
Just as in 1970, American opera companies are keeping opera's heritage alive: Mozart, Verdi, Wagner and Puccini are all holding their own on the nation's stages. Still, the dazzling abundance of new works has transformed the field, giving it a vitality and connection to contemporary culture that would have been all-but-unthinkable in 1970. In the words of Marc A. Scorca, president/CEO of OPERA America: "The emergence of an American opera repertory is the single most important achievement of the past 50 years."
---
An earlier version of this article misattributed the circumstances of the founding of the American Opera Initiative. The program was launched under the direction of Christina Scheppelmann.
This article was published in the Winter 2020 issue of Opera America Magazine.