Silent Applause
New ways of connecting opera with disabled communities are resonating around North America.
The creative team behind Opera Mariposa didn't set out to start Canada's first opera company by and for disabled artists. Nor did they have lofty goals of changing the opera world. When sisters Stephanie and Jacque­line Ko, who have lived with myalgic encephalomyelitis (ME) since childhood, founded Opera Mariposa in 2012, they simply wanted to support singers treading their way through a grueling industry.
Stephanie Ko, Opera Mariposa's general manager, says she was surprised when someone pointed out that the company was "disabil­ity-run and disability-led."
The end result of their efforts: a hyperflexible company that baked accessibility into its core values from the beginning. In its total com­mitment to access, Mariposa remains a conspicuous outlier in the opera world. (For example, the company has opted to stick to stream­ing for the foreseeable future to optimize audience access and safety.)
Such efforts are resonating with this community. Robin Hahn, a co-founder of Opera Mariposa, was diagnosed in adulthood with hypermobile Ehlers-Danlos Syndrome (hEDS), a connective tissue disorder correlated to pain, fatigue, and joint damage. A childhood friend of the Kos, she cut her touring career short to return to Vancouver, where Opera Mariposa is based. "I tried my hand at the more traditional way of being an opera singer, and my body said no," Hahn says. "Luckily, because Mariposa existed, there was already a support space for me."
Now that the pandemic has set access needs in even greater relief, other opera companies on the more "traditional" side of things have asked themselves hard questions. Like: Was their "normal" — one-size-fits-all venue accommodations, tough rehearsal schedules, last-minute casting calls — ever accessible to begin with? To answer that question, some companies are working to reimagine the art form from the ground up.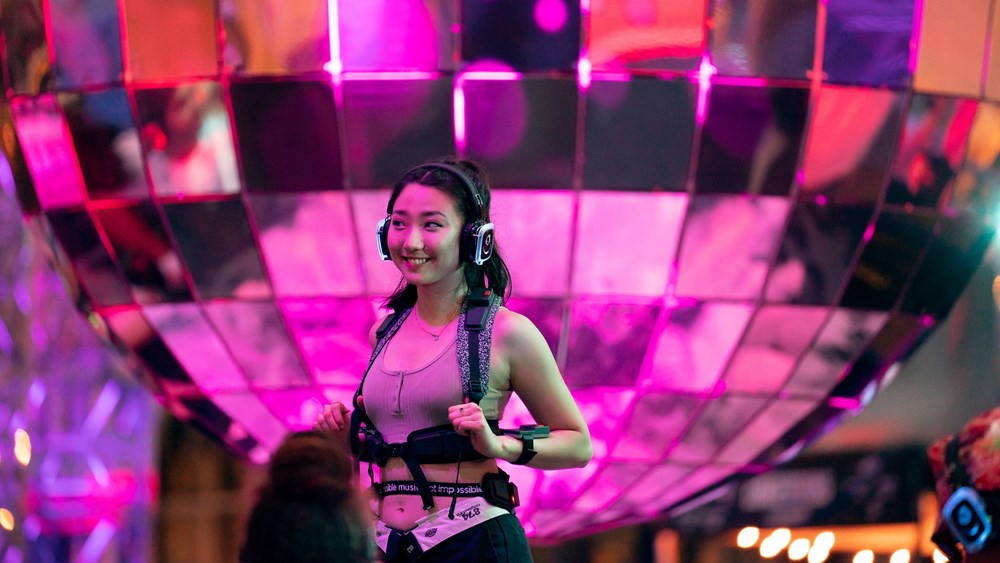 Touch and Tech
Opera Birmingham addresses these challenges head-on with Touch, a new opera by composer/librettist Carla Lucero and co-librettist Marianna Mott Newirth about Helen Keller and her teacher, Anne Sullivan. The Janu­ary 2024 premiere will inaugurate enhanced access accommodations for all subsequent Opera Birmingham productions. These include an ASL interpreter, personal supertitles displayable on phones and tablets, and braille program notes provided by the Alabama Insti­tute for Deaf and Blind (AIDB). Crucially, Touch's disabled characters are played by disabled actors. Keller will be portrayed by a low-vision and/or low-hearing actress onstage, with her voice embodied by a small vocal ensemble.
Keller herself grew up northwest of Birmingham, in Tuscumbia, Alabama, and is an icon at AIDB (though Keller herself attended Perkins School for the Blind outside Boston). Even so, AIDB Presi­dent John Mascia, who attended workshops of Touch along with local d/Deaf, b/Blind, and DeafBlind community members, says the opera expanded his horizons in more ways than one.
"I left the first reading having learned something about Helen Keller, and I've been in the field a long, long time," Mascia says. "But I have to be really honest, when I first heard [about Touch], I wondered, 'Why would DeafBlind people go to an opera?' But that's not correct — they just experience it differently. We have to be really careful not to limit people's experiences with the arts based on stereotypes."
Some presenters are teaming up with high-tech collaborators to enhance those artistic experiences. For example, engineers with "Music: Not Impossible" have designed a wireless wear­able system that transmutes the experience of listening to live music to accommodate d/Deaf audiences. Twenty-four differ­ent actuators — embedded on a vest and strapped to listeners' wrists and ankles — vibrate in time to live music. The organi­zation has previously partnered with Opera Philadelphia (with another collaboration planned for 2023), the International Brazilian Opera Company, Lincoln Center, and more.
Another example: Sensorium Ex, an opera by Paola Prestini and Brenda Shaughnessy set to premiere at the PROTOTYPE Festival during the 2024–2025 season, has collaborated with Enact:Lab outside Copenhagen and AI researchers at the Georgia Institute of Technology and New York University to explore speech recognition technologies for those with non­standard speech. Real-life research will form the basis for the opera's dystopian scenario, in which a mother's nonver­bal son has been non-consensually recruited into a dystopian science experiment. After some initial hesitation, Shaugh­nessy landed on the concept by basing it more directly upon her relationship with her son, Cal, who has cerebral palsy and is nonverbal.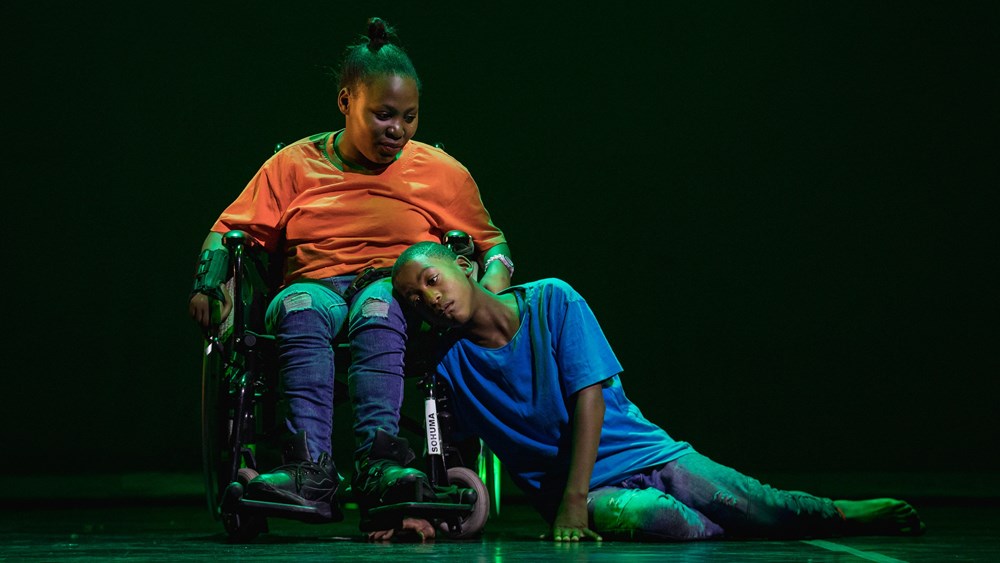 "I'm a word person, so that was sort of a paradox. How do we relearn to communicate with our own kid?" Shaughnessy says. "We had to create a whole new communicative space, which is exactly the kind of thing that we're trying to do in the opera."
Like Touch, Sensorium Ex will feature a mixed-ability cast. Choreographer and Associate Director Jerron Herman, him­self a dancer with cerebral palsy, says the opera consciously rejects past binaries about disability and ability. "The charac­ters will share disability identities and also subvert them. That sometimes presents another layer of conflict [in the opera]," Herman says.
Silent Applause
Touch and Sensorium Ex's shared goals are not only to depict disability with dignity onstage but to reach disabled audiences. This has a hugely successful precedent in the Los Angeles Philharmonic's multilingual Fidelio. The brainchild of Music Director Gustavo Dudamel, this semi-staged production was first performed to a packed Walt Disney Hall last April and will be reprised and toured in the 2023–2024 season. It pairs singers with signing actors from L.A.'s Deaf West Theatre company and the Los Ange­les Master Chorale with El Sistema's Coro de Manos Blancas, which performs in Venezuelan Sign Language.
Director Alberto Arvelo opted to trade all spo­ken recitatives for signed ones, with supertitles, ensuring that everyone in the hall would experi­ence those silent moments together. "By the time Beethoven wrote the piece, he was deaf," Deaf West Artistic Director DJ Kurs wrote in an email. "The physicality and expressiveness of sign lan­guage lend so much to the piece and our overall impression of Beethoven's desired result."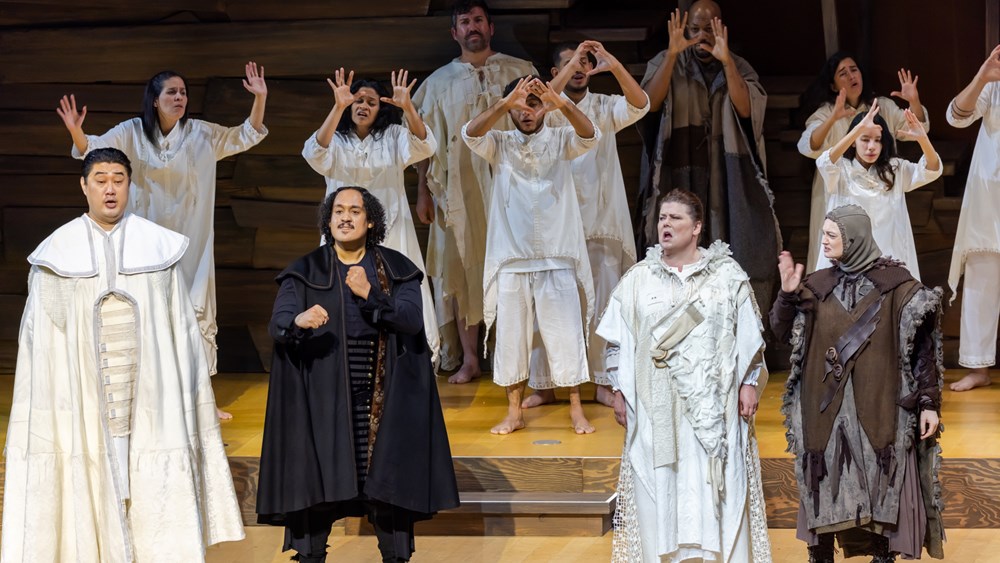 Bass-baritone Ryan Speedo Green, who sang Rocco in the 2022 production and stars in Terence Blanchard's Champion at the Met­ropolitan Opera this spring, says working with d/Deaf actor Russell Harvard "gave me a deeper understanding of music. "I started asking him what certain words meant, like 'death,' 'love,' 'together,' 'friendship.' At some point during rehearsals, I found myself sign­ing with him in certain parts," Green says. "It made me realize how important my body lan­guage is to the viewer."
Those in attendance at that first Fidelio likely carry the performance with them still, too. Between scenes and arias, about a quarter of the Walt Disney Hall audience shook their hands in the air to signal applause. By the end, hear­ing audiences started doing the same — music punctuated by silent ovations, and not a whit less enthusiastic.
This article was published in the Winter 2023 issue of Opera America Magazine.