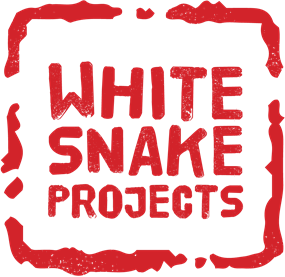 White Snake Projects
About White Snake Projects (WSP):
White Snake Projects (WSP) is an activist opera company making mission-driven work that unites artmaking with civic practice. We envision a world where the power of opera expands our collective understanding of community and transforms lives through creative storytelling. Our most recent efforts have been devoted to the live digital productions of the Pandemic Trilogy: Alice in the Pandemic addressed the disproportionate strain of COVID-19 on communities of color and essential workers; Death by Life explored long-term incarceration and institutionalized racism; and the upcoming A Survivor's Odyssey dealt with the ongoing crisis of sexual and intimate partner violence. A critical element in our exploration of these themes is the establishment of authentic connections with thought leaders in social justice to ensure that our work lives in an ecosystem of activism. We see opera not just as performance, but as performance with purpose, a vibrant and vital art form that is also a champion of change.
Mission Statement:
White Snake Projects is an entrepreneurial start up whose mission is the creation of original opera of the highest production values combined with social activism. Like our namesake, the legendary White Snake demon who becomes human to live intensely, we transform present day experiences into new opera made in America. Founded by iconoclasts, Charles and Cerise Jacobs, Cerise has continued the mission of the White Snake after Charles' death by investing in American composers musically adept in telling myth-based stories living in our collective imaginations. Part of our credo of social activism is to make our art accessible to all. We open our doors to one and all by committing one-third of all seats to diverse and underserved communities.
| Name | Title |
| --- | --- |
| Glenn Petry | Public Relations Manager (21c Media Group) |
| Tianhui Ng | Music Director |
| Cerise Jacobs | Creator & Librettist |
| Samantha J Dotterweich | Artistic Administrator |
| Wanda Strukus | Producer |
Position
Job Type
Posted
Sorry, no jobs available at present.
Load more