Schedule
Join opera administrators, artists, trustees, and advocates from around the world in Los Angeles for a full week of activities.
World Opera Forum: Monday, June 3 - Wednesday, June 5, 2024

Opera Conference: Wednesday, June 5 - Saturday, June 8, 2024

Performance Festival: Saturday, June 1 - Saturday, June 8, 2024
Full schedules of sessions and events during the forum and conference will be released in the spring. Explore the listing of festival performances. 
Conference/Forum App
Registrants to the forum and conference will be able to build their schedule in the conference/forum app, which will be released in the spring. If you've already registered, log in to add performance tickets and events to your schedule.
Schedule Overview
The full line-up of forum and conference activities spans Saturday, June 1 through Saturday, June 8.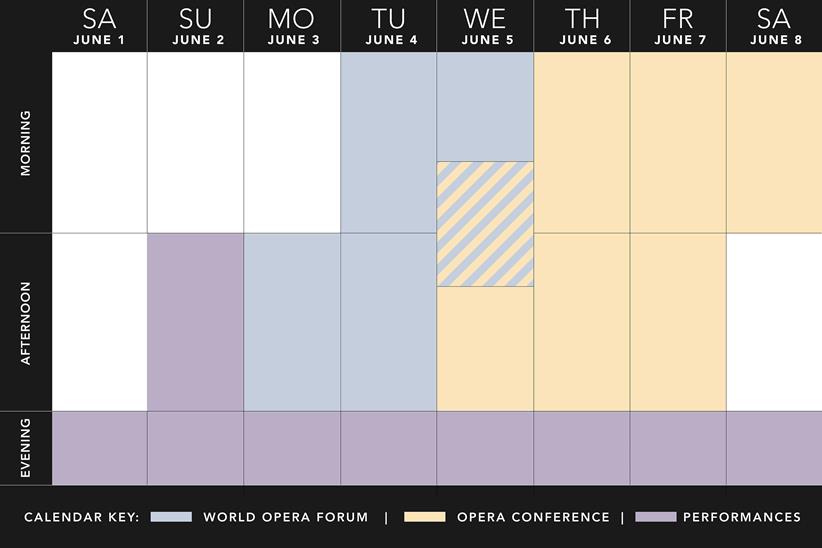 The conference gave me the feeling that I am part of something much greater than myself, resulting in an enthusiastic recommitment to my work, to my personal and professional connections, and to my modest monetary donations within the opera field.
Rita Horiguchi, emeritus council member, Opera San José
The forum has a very different feel compared to the Opera Conference. This is the space for the big philosophical things, the existential questions.
Christopher Hahn, general director, Pittsburgh Opera, and 2018 World Opera Forum participant
As a newcomer to this art form, I have only begun to scratch the surface of the deep history of opera and the vast network of organizations across North America. Opera Conference provided me with a ton of insight, and many, many touch points.
Mélanie Dubois, artistic producer, Tapestry Opera
Both OPERA America and Opera Europa have practical conferences and forums where they get into solutions, but at the international level, it can be incredibly enriching to simply discuss the differences in the challenges facing different companies around the globe.
Audrey Jungers, general manager, Opera Europa, and 2018 World Opera Forum participant
I loved how many different points of view were represented — the mix of production, administration, composers, singers, board members, and more.
Kim Powers, set designer
The most important value of the World Opera Forum was to start a collective work between five continents. It was a milestone in the history of opera.
Alejandra Martí, executive director, Ópera Latinoamérica, and 2018 World Opera Forum participant
I love this conference — it's truly a highlight of my year. Being around hundreds of people who share my passion for opera is inspiring and makes me feel I'm in the industry I'm meant to be.
Regi Lammers, director of development, Hawai'i Opera Theatre
World Opera Forum is an opportunity to think beyond the day-to-day business of opera and spend some real time grappling with industry issues that impact us all. The intentional curation of participants ensures that you will be challenged, supported, and pushed to see opera from a perspective that is new to you.
Nadege Souvenir, chief operating officer, Saint Paul & Minnesota Foundation, and 2018 World Opera Forum participant
Register Now
Register by December 15 to score the best prices during the Advance Registration period!