Opera Conference
OPERA America's annual Opera Conference is the largest assembly of opera administrators, artists, trustees, and associates in the world.
Hosted by one of our Professional Company Members, hundreds of stakeholders convene in a different location each spring for discussions, networking, and performances that move opera forward.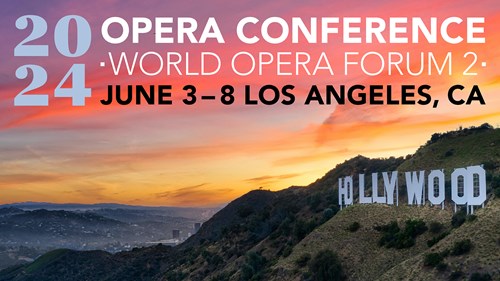 Opera Conference 2024 | June 5–8
World Opera Forum | June 3–5
Mark your calendar for opera's largest gathering of opera administrators, artists, trustees, and advocates!
OPERA America and LA Opera will welcome attendees to the City of Angels for four days of networking, discussions, panels, and a mini-festival of performances headlined by LA Opera and companies in the greater Los Angeles area at Opera Conference 2024, June 5-8.
PLUS! Participate in the second-ever convening of the global opera community as delegates from around the world address the intersection of art, politics, and technology at the World Opera Forum, June 3-5. 
A collaboration between OPERA America, Opera Europa, Ópera Latinoamérica, and Association for Opera in Canada. 
Stay tuned for more information. Registration opens November 1, 2023.
Conference Experience
When you attend the Opera Conference, you join colleagues, peers, and associates from across North America with a shared dedication to advancing the art form and industry.
Gain insights from inside and outside the field at inspiring plenary sessions.
Learn practical tips in breakout sessions to expand your on-the-job skill sets.
Reconnect with colleagues and expand your professional network to advance your career.
Enjoy performances of new and traditional works produced by the conference's host company.
Sponsors and Exhibitors
We invite businesses, civic institutions, arts organizations, universities, and foundations to join as partners in presenting the annual conference. By sponsoring conference activities or hosting a table in the communal exhibit hall, you can enhance your experience with:
Access: Take advantage of networking opportunities with over 650 opera professionals and decision-makers.
Promotion: Receive customized recognition packages to showcase your brand and connect with attendees.
Appreciation: Earn admiration from the field by contributing to the sector's most valuable annual convening.
To learn about becoming a sponsor or exhibitor, download the Sponsorship Prospectus and contact Jenny Fornoff, Institutional Giving Manager, at jfornoff@operaamerica.org or 646.699.5258.
Past Conference Locations & Hosts
| Year | Location | Host Company |
| --- | --- | --- |
| 2023 | Pittsburgh  | Pittsburgh Opera |
| 2022 | Minneapolis | Minnesota Opera |
| 2021 | Online |   |
| 2020 | Online | [Intended: Seattle Opera] |
| 2019 | San Francisco | San Francisco Opera |
| 2018 | St. Louis | Opera Theatre of Saint Louis |
| 2017 | Dallas | The Dallas Opera |
| 2016 | Montreal | Opéra de Montréal |
| 2015 | Washington, D.C. | Washington National Opera |
| 2014 | San Francisco | San Francisco Opera |
| 2013 | Vancouver | Vancouver Opera |
| 2012 | Philadelphia | Opera Philadelphia |
| 2011 | Boston | Boston Lyric Opera |
| 2010 | Los Angeles | Los Angeles Opera |
| 2009 | Houston | Houston Grand Opera |
| 2008 | Denver | Opera Colorado |
| 2007 | Miami | Florida Grand Opera |
| 2006 | Seattle | Seattle Opera |
| 2005 | Detroit | Michigan Opera Theatre |
| 2004 | Pittsburgh | Pittsburgh Opera |
| 2003 | St. Louis | Opera Theatre of Saint Louis |
| 2002 | Toronto | Canadian Opera Company |
| 2001 | Atlanta | The Atlanta Opera |
| 2000 | Houston | Houston Grand Opera |
| 1999 | Vancouver | Vancouver Opera |
| 1998 | Minneapolis | Minnesota Opera |
| 1997 | Philadelphia | Opera Philadelphia |
| 1996 | Los Angeles | Los Angeles Opera |
| 1995 | Washington, D.C. | The Washington Opera |
| 1994 | Seattle | Seattle Opera |
| 1993 | Miami | Greater Miami Opera Association |
| 1992 | San Diego | San Diego Opera |
| 1991 | Chicago | Lyric Opera of Chicago |
| 1990 | Washington, D.C. | The Washington Opera |
| 1989 | San Francisco | San Francisco Opera |
| 1988 | Houston | Houston Grand Opera |
| 1987 | Dallas | The Dallas Opera |
| 1986 | Miami | Greater Miami Opera Association |
| 1985 | Washington, D.C. | The Washington Opera |
| 1984 | New York |   |
| 1983 | Toronto | Canadian Opera Company |
| 1982 | San Francisco | San Francisco Opera |
| 1981 | New Orleans | New Orleans Opera |
| 1980 |   |   |
| 1979 | Miami | Greater Miami Opera Association |
| 1978 | Chicago | Lyric Opera of Chicago |
| 1977 | New York |   |
| 1976 | San Francisco | San Francisco Opera |
| 1975 | Miami | Greater Miami Opera Association |
| 1974 | Miami | Greater Miami Opera Association |
| 1973 | Washington, D.C. | Opera Society of Washington |
| 1972 | Dallas | The Dallas Opera |
| 1971 | New York |   |
| 1970 | Seattle | Seattle Opera |