Audio
Published: 17 Oct 2022
Artful Narratives Media presents "Speaking Soundly"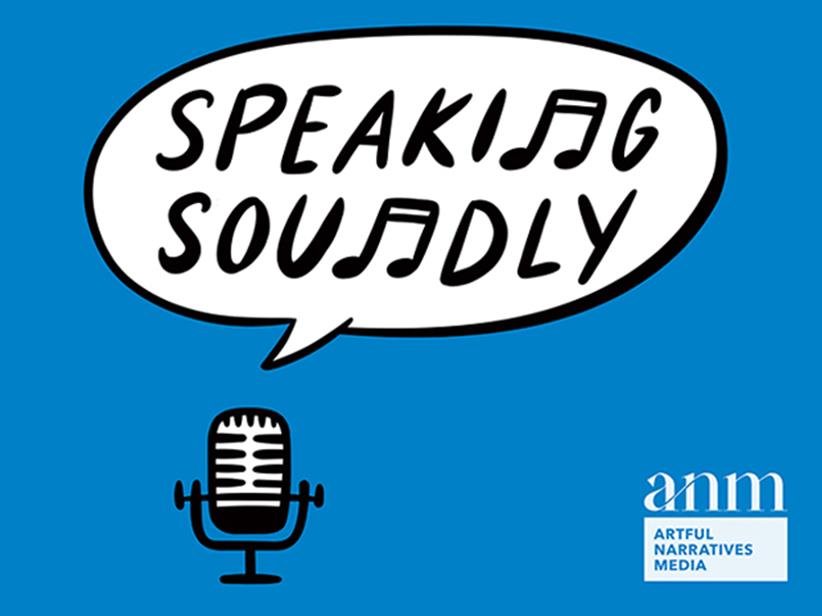 You're at a performance and it's amazing. The beauty and virtuosity on display really moves the entire audience. And you think to yourself:
What's it like for the artist on stage?
What inspires them?
Welcome to Speaking Soundly,
a brand-new podcast where you'll hear from the artists themselves as we lift the veil on talent, discuss their process, and discover what led them to the stage. Join host Metropolitan Opera Principal Trumpet David Krauss for candid and compelling discussions with Grammy Award-winning and internationally celebrated artists like Wynton Marsalis, Joyce DiDonato, Emanuel Ax, Marin Alsop, Christian McBride, Anthony Roth Costanzo, Terence Blanchard, Isabel Leonard, and many more!
---
Episode 1 | Christian McBride
From the age of seventeen, Christian McBride has been playing with jazz legends and, over the past 30 years, has become one himself. The eight-time Grammy Award-winning bassist recalls a brief stint at Juilliard, the strong influence of his musical family, and how the music of James Brown got him through some tough times.
Episode 2 | Isabel Leonard
Three-time Grammy Award-winning American mezzo-soprano Isabel Leonard describes how she navigates the occasional chaos of backstage as she prepares to sing in the world's greatest opera houses. She enjoys the challenge of finding emotional inroads to the operatic roles she's portrayed, even if it's a love-stricken teenage boy.
Episode 3 | Emanuel Ax
Eight-time Grammy Award-winning pianist Emanuel "Manny" Ax has performed in the world's greatest concert halls, playing on a different piano in each city, and enjoys the challenge of adjusting to each unique instrument. He recalls how an accidental trip to Carnegie Hall ignited his fantasy to perform on that very stage and reveals the secret to making the piano sing. 
Episode 4 | Denson Paul Pollard
Metropolitan Opera Orchestra trombonist Dr. Denson Paul Pollard had an unconventional path to the stage and credits his grit, determination, and humble roots for taking him from a small town in rural Georgia to Carnegie Hall. Paul's work ethic is inspiring as he describes the jobs he's held from Iowa to Hong Kong and his daily commute from Indiana to New York City.
Episode 5 | Evelyn Glennie
Scottish percussionist and Grammy Award winner Dame Evelyn Glennie became profoundly deaf at the age of twelve. Her unique journey to open up her entire body to sound led her to become the first person in history to create and sustain a full-time career as a solo percussionist. She explains how hearing is not only done through the ears, and has a mission to teach the world how to truly listen.
Episode 6 | Wynton Marsalis
Wynton Marsalis is a Pulitzer Prize-winning composer, nine-time Grammy Award winner, Artistic Director of Jazz at Lincoln Center, and the greatest trumpeter of his generation, but to our host, David, he'll always be his teacher, mentor, and family friend. Wynton and David chat about the benefits of music and Wynton's musical development, and discuss a treasured gift. This episode will make David's mom especially proud!
Episode 7 | Spencer Rubin
Juilliard freshman Spencer Rubin is either practicing the oboe, working on his oboe reeds, or making a TikTok video for his 1.5 million followers. The young oboist is taking the musical world by storm as he chases his dream of becoming a professional oboist, and entertains us along the way with his irreverent, honest, and hilarious viral videos.
Episode 8 | Joseph Alessi
Longtime Principal Trombonist with the New York Philharmonic and Juilliard faculty member Joseph Alessi discusses his musical childhood, the key to inspiring his students, and a recent health scare that jeopardized his career and caused him to consider a life without the trombone.
Episode 9 | Ray Chen
International violin virtuoso Ray Chen is redefining the role of today's classical soloist. Using social media, Ray aims to educate, enlighten, and entertain his audience before they get to the concert hall. He credits his grit and determination to his experience of being a first-generation immigrant and likens playing his ten-million-dollar Stradivarius violin to wielding Thor's hammer.
Episode 10 | Joshua Weilerstein
Conductor Joshua Weilerstein catapulted to international attention at a young age when he won first prize of the world-famous Malko Competition for Young Conductors with hardly any formal training. He discusses growing up in a musical family, how performing for thousands of youth who had never heard a live concert before profoundly influenced his career, earning the trust and respect of musicians, and paying homage with his popular classical music podcast "Sticky Notes" to the late Leonard Bernstein.
Episode 11 | Anthony McGill
Avery Fisher Prize winner and clarinetist Anthony McGill is the first African-American to hold a Principal chair in the New York Philharmonic's 180-year history. He sees his high-profile position as an opportunity to inspire a new generation of diverse musicians. Anthony discusses his work as an artist and activist, the greatest experience of his life, and how Michael Jordan inspired him to strive for excellence.
Episode 12 | Keri-Lynn Wilson
Canadian conductor Keri-Lynn Wilson has led orchestras and opera companies around the globe to great acclaim for over two decades. Earlier this year, with her cousins on the battlefield of Ukraine, she turned her outrage into action when she founded the Ukrainian Freedom Orchestra in coordination with the Metropolitan Opera and the Polish National Opera. Keri-Lynn and David talk about this meaningful work, the key to being a conductor, the advantage of experience, and reminisce about a respected and feared teacher they shared at Juilliard.
Episode 13 | Joyce DiDonato
American mezzo-soprano and three-time Grammy Award winner Joyce DiDonato compares singing into a packed opera house to Roger Federer's swing, as an effortless, efficient flow that feels like you're on a sailboat taken by the breeze. She recalls the profound process of developing her voice and marvels at its humanizing and therapeutic value.
About The Team
Artful Narratives Media amplifies artistic voices and the arts as a sanctuary. We engage audiences by sharing insightful, intimate, and inspiring stories. ANM was founded by two creatives who are devoted to audio, literary, and additional forms of content that will galvanize and entertain a new generation of artists.
Speaking Soundly was co-created by David Krauss and Jessica Handelman. 
The Speaking Soundly theme song is composed by Joseph Saba/Stewart Winter and used by permission of Videohelper.