Audio
Published: 24 Aug 2022
An Oral History with Speight Jenkins
On September 16th, 2019, arts administrator Speight Jenkins sat down with OPERA America's President/CEO Marc A. Scorca for a conversation about opera and their life.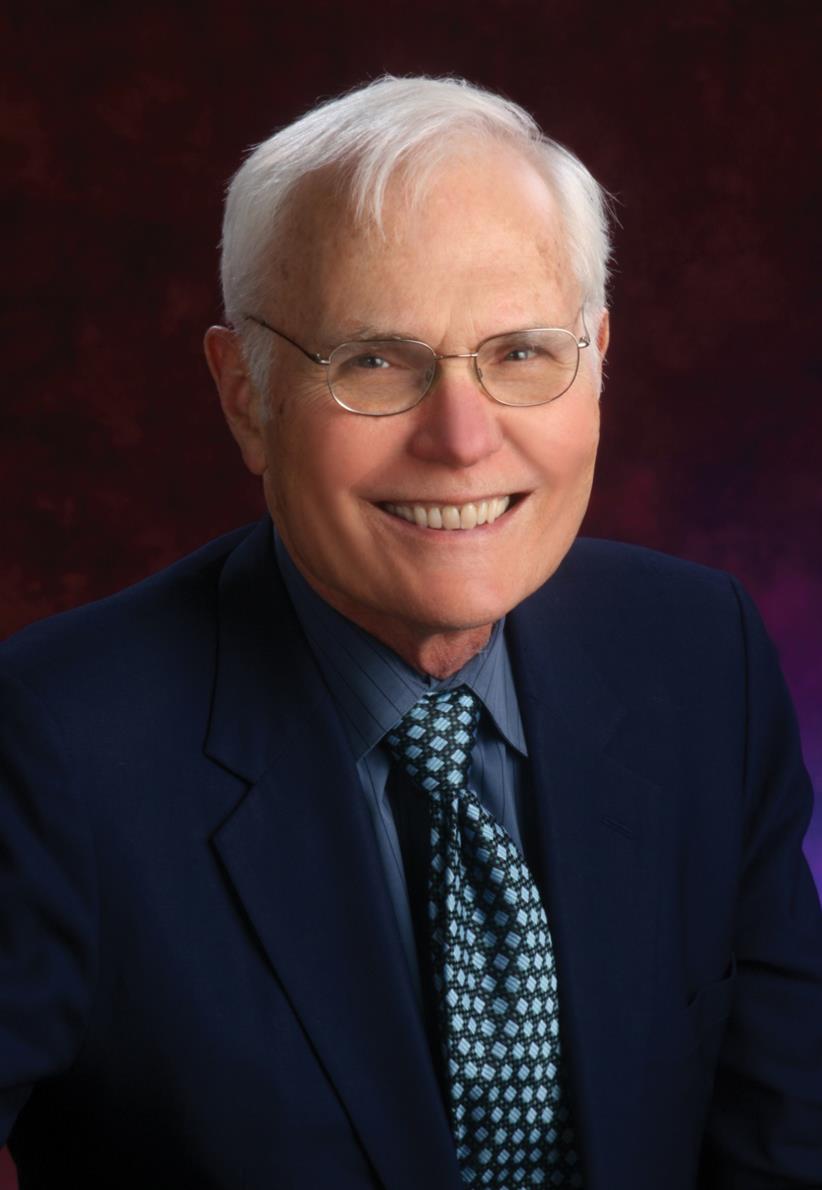 This interview was originally recorded on September 16th, 2019. 
The Oral History Project is supported by the Arthur F. and Alice E. Adams Charitable Foundation.
Speight Jenkins, arts administrator
Recognized as one of the most influential people in opera in the United States, Speight Jenkins has been an editor for Opera news, a music critic for the New York Post, host of Live from the Met broadcasts, and much more. He was appointed general director of Seattle Opera in 1983 where he served until 2014. Some of his many honors include the Seattle Times naming him one of the 150 most influential people who have shaped the city, Opera News citing him as one of the 25 most powerful names in opera, and the Mayor of Seattle presenting him with a Mayors Arts Award in 2009.
Oral History Project
Discover the full collection of oral histories at the link below.
Transcript
Marc A. Scorca: So Speight Jenkins, I'm thrilled to be sitting here in Seattle with you. As you know, we're creating an oral history with OPERA America's 50th anniversary coming up and I'm capturing 50 interviews in the course of about 16 months. And you're number seven or eight. So I'm just delighted to be capturing this time with you. You, a legendary producer, commentator, expert, advocate for the art form and for singers; it's just such a pleasure to be with you. Thank you.
Speight Jenkins: It's a pleasure to be with you too. We've known each other for 30 years, 35 years, 40 years?
Marc A. Scorca: Before I came out, I took a look at your long interview for the NEA Opera Honors and it was fun to look back at that interview and all of that will be incorporated into our oral history. But I did want to ask you: what is it about opera that first captivated you? You were, from childhood, mesmerized by it. What about opera captured you?
Speight Jenkins: Well, I saw my first opera when I was seven. It was Aida and I loved that. But it was the first Met performance of Rigoletto on May 18th of 1946, that I saw Leonard Warren....I can't put this into words. I have no way of knowing, but I loved the performance. I came home that afternoon. I couldn't get over his voice; I couldn't get over the sound of it; I couldn't get over the whole show of Rigoletto. And I was sitting outside to water the flowers, and when I was holding the hose - I remember vividly; I'm not making this up - I said, "Opera is my life." At that point. And I've never changed from that. And I've had to fight everybody, because I came from certainly an unmusical family and I was supposed to be a lawyer or a doctor. I'd tried both and hated both. And I was determined to stay in opera. But it was that moment. Oddly enough, it wasn't Wagner; it was Leonard Warren. It was the whole presentation of Rigoletto. But I don't know why.
Marc A. Scorca: It's so interesting because, of course we're celebrating opera from 1970 on, but you have this incredible look backward before 1970. You just mentioned 1940's. And in your NEA Opera Honors interview, you talk about the San Carlo touring company. And of course you talk here about the Rigoletto that The Met did. What was opera production like in these touring companies? What was the San Carlo like?
Speight Jenkins: The San Carlo was ... of course, you have to take this through the memory of a seven year old, but it was very basic. I can see the Aida set: there were two sphinxes; people had funny little things they held in their hands that were palms. It looked like a standard Egypt. But of course all the sets were two-dimensional and everything was flat, because the reason that (Fortune) Gallo could do it in the war, was because the sets were interchangeable. Now, I don't know what Aida was interchangeable with, but they could put them on the trains and they could move, because The Met was not allowed to, but he did. And so I remember that. I don't remember anything about any drama connected with it. It was the voices that you heard and the whole thing, that was significant. I'm giving some lectures starting on the 2nd of October here, which I've done in Stanford (on my favorite operas/productions) and I've gone back and been looking at all this stuff recently. So, they were very basic. I remember Carmen, which was the second year. All I remember about the Carmen was my mother saying that Carmen shouldn't have worn a dotted Swiss dress in the fourth act. I didn't even know what a "dotted Swiss dress" was; I hardly know what it is now.
Marc A. Scorca: It still doesn't sound appropriate for Carmen.
Speight Jenkins: No, but it was very basic and there was really no sense. I mean everybody really stood and sang.
Marc A. Scorca: I've talked to Michael Bronson who was with The Met tour in the '60's and he talks about the trains where the last car opened backwards so that way they could get all of the rolled drops into the train car to go off. So I imagine that even the Rigoletto you saw with Leonard Warren from The Met, still was a pretty basic production.
Speight Jenkins: It was a basic production. I don't remember any of those productions in those years as being anything that you would talk about. The Boris in '47: I remember I was overwhelmed with the coronation scene. But I think the music and the whole thing: it's an overwhelming moment. I can tell you one funny thing. In '47 was my first Wagner, which of course was absolutely overwhelming to me. It changed my life, really. It was Lohengrin. And Helen Traubel was the Elsa; Torsten Ralf was the Lohengrin and Margaret Harshaw was the Ortrud. What I remember about the staging is that in the second act for "Euch Lueften,". And what I remember about it was that my parents giggled and I was already a Wagnerian. I was horribly offended. This was not something you were supposed to notice.
Marc A. Scorca: In your long interview for the NEA opera honors, you mentioned Milanov and Leonard Warren, and you talk about Callas and Tebaldi. And you used the word "personality" - that there was personality in their performances. I wanted to just probe that a little bit. What do you mean by that? And did it make up for weak production values?
Speight Jenkins: Oh, absolutely. There are two things about personality. One is the personality of a Milanov, who brought herself and her strange but delightful idea of character to every single character. So you knew that it was going to be Milanov and not necessarily Gioconda or Aida or Tosca or anything. It was going to be what she did. And then of course you had Maria. I heard Callas in '53. We got to Europe. We sailed. We were on the Queen Mary and we landed in Southampton, and that night, I saw there was something at Covent Garden and I said to my family, "There's an opera." And my father said, "Oh, we'll go." So I went and I had never heard of anybody in the cast. And it was Trovatore. And I was sitting next to a woman from Brooklyn (I remember for some reason), (but who) I never had seen before. And I know after the first act I said to her, "Well, we've really got some things to learn in the United States," because I was a Callasiano from that minute on. I mean she was totally gripping. And although Callas was Callas, she created every character in a very different way. And I mean, what the hell can you do with Leonora in Trovatore? And yet somehow she could. You immediately felt her joy and anticipation of the Manrico and then you felt in her singing, the horror of di Luna: that whole business with the trio. I didn't know a word of Italian at that point. This was 1953. I still didn't know any Italian, but I realized something was funny about the words, because (I've spent a career talking about this) the words mean everything. Words are everything in opera. And she could convey in the words exactly what the character felt. Precisely. And you knew it. You didn't have to know. Titles were irrelevant. I'm sure she would have absolutely had a fit, if titles had ever come into her world because she didn't need them. You knew what she was thinking about. You knew what every word was. Nobody was ever confused. I often wonder...I remember Terry McEwen used to say, "Oh, well I never understood why...she never had a voice," because he was, of course, always pushing Tebaldi and all that. There have been others since: Rysanek was one who did it. I've given a whole class at Stanford on Callas - five lectures on Callas showing each way she would work with different composers in different ways; create different things. And it's not just hero worship. It's a practicality. And the whole world... I mean, after all, post-Callas is completely different from pre-Callas. Every single person in the theater, in opera, was aware of what went on and thought about it. And the smart people paid attention to the words after that too. Just like they do now.
Marc A. Scorca: So by 1970, you were already an established writer and commentator about opera in America.
Speight Jenkins: Opera News; sort of (established).
Marc A. Scorca: Was there change in the air? Did you have a sense in 1970 that the tides were shifting and theatricality was coming into opera in a new way? That somehow an American flavor was being infused into the art form?
Speight Jenkins: I don't know that I got it then. I'll tell you, when you mentioned 1970, that is an important year because Mr. Bing retired in '71 and The Met went into a decline until Jim (Levine) really took over as music director. And I remember that one of my colleagues in the press said to me in '73 or '74, as we were walking out of the theater, "If it keeps on like this, this is going to be the biggest movie house in New York". In other words, things were rough at The Met. Now the interesting point about this, is the excitement in New York was at the City Opera from '66 - from the time Beverly really made her success in Julius Caesar, but particularly from the Manon period in '67 -'69. She and Norman Treigle and what Julius Rudel was doing: that was where you went. The stars were at The Met and you went to hear the voices. But the excitement: the thing you couldn't wait to see was what the City Opera was going to do next. It's so hard for a generation afterwards to believe that that was the case. But it really was. That was where it was. And that's where opera changed.
Marc A. Scorca: And companies began to take, or young new companies in the United States began to take their lead from City Opera.
Speight Jenkins: Exactly.
Marc A. Scorca: So Speight, you succeeded a founder. Glynn Ross, in addition to being the founder of OPERA America was the founder of Seattle Opera. And you've known other founders in your work because you grew up with a generation of people who started so many of these opera companies. What qualities did the founders possess? What was it like to follow one?
Speight Jenkins: I don't honestly know what quality the founders possessed, except they must have believed in opera the way I do. Glynn certainly did, I know, because as a director he cared about it and he thought he could do it.
Marc A. Scorca: So the qualities of a founder - and even as I asked that question, I think of you as having some of those qualities: - indomitable, determined advocacy for the art form. But I'm also curious to know what it was like to succeed a founder; to follow.
Speight Jenkins: With me, it was very interesting because Glynn had done wonderful things here in doing the first Ring; the first Ring with a small company anywhere. And the things he had done. But the company was not particularly fresh at that point. And certainly the dramatic values were not. I mean there were a lot of things that needed to be done: with the staff, with everything. And so in a way, what I came into was that I had the desire to make Seattle Opera into a major American company; not a regional company. And I knew the way to do it, was: 1) to spend money; 2) to get great singers, because I believe that's what opera is all about. I mean, directing and productions: that's fine. But what people come to the opera is to hear singing, and that's what distresses me most in today's world - in criticism and everything else, is that they write paragraphs about the production, and then at the end they say, so-and-so sang. People don't come to opera to see theater visually. It's nice if they do it and it's interesting, dramatic. But they come to hear the singing. So I knew that I had to have good singers and I knew that I had to rely on the friends I had already made in New York, who would come for less money here, when we started out. I had to create that. I had to build a company. I didn't want to fire anybody. I wasn't doing that. But I wanted to bring people in who worked for me, who had the same passion for opera that I did. There were several real big steps in that. I did have a very fine associate, who came from the Ross era, who was my assistant at the time. But what really began to change was the first time when Noel (Uzemack) came in as technical director. He made big changes and then Bob Schaub did even more. Because Bob is one of the great technical directors of all time, so far as I'm concerned. And in general, the people I tried to hire, at least in the artistic department (and all the departments really) were people who were committed to opera, and committed to the fact that Seattle Opera was - and I told them from the beginning - this is in terms of being a leader... The first time I ever got them together, I said, "Okay, we are sitting here" - and this is hard for people to understand in the United States even today - "We're up in a corner of the world; we're far away from everything. The only thing people know about us is Boheme. There's no real reason to come here. So what we have to do is, in every way we have to make people have a good time at Seattle Opera: that's the point. They're going to have fun here. They're going to have a good time and they're going to want to come back." And I said, "If somebody comes in and is nasty, I promise you I will not bring them back, or if I do, I will explain why I have to, because our job is to make people have a good time."
Marc A. Scorca: More than a lot of companies, you work season after season with a family of artists. And it wasn't a company in the European sense of a company, but it was in between the itinerant artist who just comes in to do one production and a continuing relationship. What was the value of building that proto-company, that quasi company?
Speight Jenkins: I think it's amazing because everybody in the staff ... for instance, let's say: Dale Duesing. He did so many works here...so many things here. Or Vinson Cole: doesn't make any difference who. Everybody in the company: they would understand them and they would build for them; they would work for them; they knew how to work with them. We started off like 50% ahead of where you are in a lot of places. And as long as the audience was happy with them and I was happy with them, then I would bring them back. I always tried to bring every year new people in. But I would always bring these people back because that's why I thought it was a company. You take a person like Carol Vaness. Now my greatest sorrow is that I never forced Carol to do a Mozart role here. Crazy. I mean, here's the greatest Mozart singer of the time, but she sang six operas, all different, every one of them different, because this is where she wanted to try everything out. Carol was Carol. If I had really pushed, I could have gotten her to do a Cosi or Figaro or something, but somehow I didn't. I was happy by doing Manons, and Trovatores, and Anna Bolena, all that stuff. And of course we ended up…her final thing here was the Marschallin and I finally got her into German opera. I love doing all that and I'm really so sorry that I didn't give Seattle her Fiordiligi. That's the one thing. Countess, yes and Donna Anna, yes. But we've had great ones at that. But her Fiordiligi was like no other Fiordiligi that I've ever heard.
Marc A. Scorca: I guess in a way an orchestra becomes better as it plays together.
Speight Jenkins: Oh, heavens yes.
Marc A. Scorca: And the company that was Seattle Opera, including the technical and production staff and the artists who came back year after year, they learned how to work together and got better.
Speight Jenkins: Right. And the orchestra, of course. The Seattle Symphony became one of the great Wagner orchestras of the world because we did so much Wagner and they had good conductors for it. And I know the orchestra. I mean I know what they did when I left; how nice they were to me. I know they enjoyed working here, but the reason they did was because we did not treat the orchestra - I did not treat the orchestra as a - at least I tried to treat the orchestra with the care that you give to singers and made them feel important, because they are. I mean we can't function without musicians. And so, they belonged just like the chorus. One of the smartest things ever said to me early on in my tenure is that - in terms of the unions - you negotiate every single day of your life and there's absolute truth in that. You always are remembering that, when you're dealing with them: with the stage hands; with the chorus; with the orchestra; with everything, because when people get in trouble, I think it's because sometimes managements are isolated. They don't care about these people. But that's what I said at the beginning when I told them: "If somebody is mean, I'm not going to bring them back." If people give the costume department trouble, I'm not going to bring that person back, unless I have to.
Marc A. Scorca: In your tenure, you featured more African American singers than most general directors, especially men. Was that purposeful?
Speight Jenkins: When I came to here, I had two ideas in mind. Overall: do good opera. But I had two goals: one was to present as much Wagner as possible and equally important was the black male. I wrote one of the first articles ever published (which was in the Arts and Leisure section in the New York Times in 1972) saying "Where are the black men?" Because, of course, I was there the night Leontyne made her debut and I'm a friend of Leontyne's. But anyway, by the time I took over, there's no worry about black women, but there was a huge thing about black men. It was my goal to do this. The triumph of it was - you know, I love Arthur Woodley, who has never had the career he should have. My last opera that I did was the Tales of Hoffmann and Arthur said to me, "Well, you've really done it. Look up on that stage in the second act, there's only one white person there." But I believe that and therefore I really worked on it. I would come several times (before your day) to OPERA America and I know I gave one or two speeches about it, and just had people looking at me very, 'Oh yeah'. And the response was always, "Well, you're in Seattle" .And I said, "Yeah, I'm in Seattle." But Seattle is not a unique place. Was I nervous the first time I put Vinson Cole in bed with Kathy Gamberoni in Romeo and Juliet in 1989? Yes. I wondered what was going to happen. Not one word was said to me, not one. And so I said, that's the way it is. People come for the music. Opera people are not going to have a fit about this. But it was terribly important to me with the black men. I was really wanting to do it.
Marc A. Scorca: And such wonderful artists when you think about Vinson Cole, Larry Brownlee. Wonderful singers. Now you had not run an opera company before you were appointed to the general director of the Seattle Opera and I know that Mr. Bing was someone you held in high esteem and Mr. Adler. What about them did you admire as leaders?
Speight Jenkins: I understood the autocrat nature of the general director and I got that from them. In other words, that the general director, if he or she is going to do a good job, he's going to be the one that decides; makes the decision and is firm about it. On the other hand, both men really loved opera and I felt that I didn't have to learn to love opera. I mean I'd always loved opera, but I knew that when I saw general directors who were less interested in the art form, the opera they presented was different. There is an example of...I won't specify where...we will say it was in Europe. I went to a Gioconda and the (general) director was sitting directly behind me and at the end of the second act we went out and he said, "You really love this stuff, don't you?" And I said, "Yes I do." I was so interested because it's characteristic and I saw it in him. Because it's not that he wasn't a good (general) director, but I think that what is necessary to do the best kind of opera is to believe that what you're doing is important. To have the fire of opera within you. To believe that it is significant. It's got to be really done well. I think that's what it is. It's the belief in the art form. And I think that's what I got from those two men. And also from David Gockley. He's younger than I am, but he was in there much before me. And David cared. And I always loved it that each of us could have special things. Certainly Wagner was mine; David's was contemporary opera. But he loved everything and he worked on it. The people who really obviously loved opera have turned out better opera than people who have just been doing it.
Marc A. Scorca: And the comfort to make the decision. I hear you saying that finally the general director has to make the decision.
Speight Jenkins: Yeah. I planned the operas every time and I would go to Kathy Magiera or to Kelly [Tweeddale] and she would say to me, "You can't do this or that." And I would say, "Okay, fine." That was their job. I trusted them to tell me what financially we could do and not do. The ones I wanted to do the most that I didn't do was Wozzeck. Twice I tried to do it; twice the money ran out in a different place. Mephistopheles I wanted to do. But the three I really wanted to do the most were Wozzeck, Lady Macbeth of Mtsensk and Gioconda. I know Gioconda is not significant to anybody, but I was raised with it and I love Giaconda. But I could never do it. If the recession hadn't happened, I would have done all three of these. I was determined to do it and I had even made a deal with the ballet here to do the Dance of the Hours. And Peter [Boal] was happy about that. He wanted to do that, and I was going to do it. But then the recession came. One thing about a general director we haven't talked about is very important in America, at least -- this was not true with Adler or Bing -- but it goes without saying, 'you've got to be a money raiser' and you've got to go out and work on that and you've got to give time to it. You find the people who believe in it. I know when we did the new Eaglen/Heppner Tristan here, I went to a lady (who's now passed away) with the designs because I needed to get a million dollars from her. And so we talked and I said "Do you know anything about Tristan?" And she said "No, I don't." And so I talked about Tristan. I talked about its importance. I talked about what we were gonna do with it. And I said, "Look, Patsy, if we pull this off the way I think we do with Jane and Ben, the whole world will come here. I know that." And she said "Okay, I'll do it." And that was it. You have to care about this. You can't just give it off to some assistant. You've got to really make these people know that you care about them too.
Marc A. Scorca: In your NEA Opera Honors interview, you talked about knowing Mrs. Belmont. In so many ways, the kind of fundraising we do, where we build a strong company through lots of donors, many of whom give small or modest gifts, but in aggregate really support the company. That started with Mrs. Belmont.
Speight Jenkins: Eleanor Belmont thought it up.
Marc A. Scorca: How did you know her and what was she like?
Speight Jenkins: She was fascinating, but the reason that I knew her was because when I was at Columbia Law School, I dated her granddaughter, Diane Timmerman. And so when the time came, when I had a chance to meet her, I told her that. I never saw her many times. She passed away very early. My first dealing with her was when I was seven years old, and I heard about Opera News on the radio. Then I wrote a letter. I asked my parents: it cost $9 a year and I think that for a year or so - this is all foggy in my mind - I think they decided I was going to have a checking account with a little bit of money in it. Then it went away, but it was there for a little bit. And I know I wrote a check for $9 and I wrote a letter saying what I was, and she wrote me back a letter (a personal letter from her), saying "I'm so happy to have you as a young opera goer" and whatever. So when I met her, I reminded her of it, which at that age, I don't know if she remembered, but I've never forgotten it. I didn't unfortunately keep the letter, but she wrote back to tell me thank you.
Marc A. Scorca: We talked about David Gockley and his dedication to new opera, American opera. And now from having existed through a desert of new opera in the '70's and '80's, we see just new operas everywhere. Every company is doing new work, either brand-new work or doing productions of American operas. What excites you about the American opera trend today?
Speight Jenkins: I'm excited that there is a lot of opera. I'm not as excited over the fact that...this is kind of a dangerous thing to say, but I don't feel that they're writing many times for voices. They're writing very good plays and music. They're writing modern things that are very good. For instance, and I don't mind saying this at all. They did recently Steve Jobs here. Well, I thought it was okay music. I didn't think it was great music. To me, it was not an inspiring evening, because at least what I believe you go to opera for, is to hear great music and to hear great voices sing. Well in this Steve Jobs, there was nothing for people to sing. It was mostly sprechstimme. I mean, it was not really sprechstimme, but it was not great music. I have yet to see, I regret to tell you, Silent Night. Everybody tells me 'I love Silent Night'. I'm sure I will. I have seen a great many of Jake Heggie's works and I love those. I thought Moby Dick was a great opera. That was one of my real frustrations. That was the one I wanted to do here. But at the time they only had the really expensive production and we couldn't afford it. Because that one was so gorgeous. Oh, I'll never forget that overture. That was so great. It was so wonderful. I love Jake Heggie's work and I'm sure I'd like more of them if I heard it. But I think that there's not enough emphasis in some of the contemporary opera I've heard on voices. And that's what we are: we are the most complex art that exists, but we are vocal art. And I think audiences come for voices. Now I'm 82 years old and that's the way it is, and I just accept the fact that they aren't going to do what I want them to do. That's fine. But I just mean that's my worry about it.
Marc A. Scorca: You were such an important music critic. I read your reviews in the New York Post so many times as I went to the opera. I was learning about it myself. And we've seen such a deterioration in the journalism infrastructure.
Speight Jenkins: Terrible.
Marc A. Scorca: So few cities have full-time music critics anymore. Arts sections of papers are gone. Papers are gone. So getting any kind of really informed reportage about music or about opera is really, really challenging. You must feel this particularly, given your background. How does an opera company navigate without an active music media?
Speight Jenkins: I don't know. We had Melinda Bargreen, a wonderful, wonderful person and did great work here. And Richard Campbell was too. I had two critics here all those years. Nowadays, Melinda does an occasional piece for The Times. Richard is dead, but there's no real...The young man in New York...
Marc A. Scorca: Michael Cooper or Zach Woolfe?
Speight Jenkins: Zach Woolfe is good. They're good. But if you don't have good criticism; if you don't have critics who understand... You don't find it necessarily a W. J. Henderson. None of us were that, but you've got to have people who really understand and who love the art form. That's the problem when you have just regular people - like the Seattle Times frequently brings in staff writers to do a review. That's the thing that is just so painful and I don't see how we're gonna get around that if we don't have some means of transmitting the excitement of an opera to the public. And that we're not getting, and I don't know what we do about that. I think that for instance, even the people that I like at The Times, they don't spend much time on the singers either. And there is some enthusiasm. I mean, Zach can be enthusiastic at times, which is great and he can do things and they can do really good things. But I think the enthusiasm that needs to be there is oftentimes not there. I mean Winthrop Sargeant would write those long reviews in the New Yorker and Irving Kolodin and people like that. We just don't have anybody like that.
Marc A. Scorca: Andrew Porter's, I remember so well. And so many singers I talk to feel really quite imprisoned by social media because if they have a bad high note or if they aren't feeling quite up to snuff that night, suddenly social media is abuzz with "They're not singing well...their careers..." Just the amount of immediate commentary is really a pressure on the artists.
Speight Jenkins: Oh, that's terrible. That I never knew, but I recognize that's terrible because if you're gonna give a... that's terrible. That's just terrible. What I've often said to artists...this is contrary to that...is, in the old days: the most dangerous thing was a good review of a bad performance, because then the singer would always do this. Bad reviews really didn't have much to do with it if the audience liked it and the person is good, then the singer just moves on and does the next thing. But a good review of a bad performance, can freeze a performance in the singer's head. And that's unfortunate.
Marc A. Scorca: Very good advice. So HD transmissions, chamber operas, alternative venues, even operas being composed these days for virtual reality. When you're talking in Stanford to your students about the future of opera, what do you tell them?
Speight Jenkins: Well, the first thing I tell them, is that in terms of the operas transmitted in the movies: I say that this is very good; I'm glad they're doing it. I'm glad Peter [Gelb] thought it up. It's a great thing for people, but don't get confused: it's not opera. Because opera is an energy interchange between the public and the singers in a room. And if you go by just transmission of it, it's not opera; it's something else. It's fine. I mean, I have nothing against the opera in the movies. That's fine to do it. But I just think you've got to understand: it's not opera. And I think if you began to do music where singing is not important, then it's another art form too. It's not the thing. Because people come to hear singing that is - I don't care whether this sounds old fashioned or not - they come to hear singing that is beautiful. They don't come to hear non-singing. For instance, take a classic example of what I'm talking about from my experience. I heard my first Wozzeck in 1959 in Europe, in Munich. And then I heard it at The Met in '59 too - maybe I did it in reverse, didn't matter. But in both cases I thought it was very good. It's a very interesting approach to opera. It's different. I was intellectually interested in it, but no more than that. And I thought it was just kind of, a lot of it was ugly and it was not attractive, but I knew what he was doing and I studied it to see all the different forms. (I recently looked at this). I then heard Wozzeck four more times in different years. Whenever The Met did it, I went. And every time I had the same reaction: okay, it's intellectually interesting; it's worthwhile; it's good to do. But I didn't care about it. And then in 1974, Jim (Levine) did it. And I said, "Oh my God, this is incredibly great music." Because Levine understood in a way that Karl Böhm did not. Or if he did, he didn't care that the piece had been dedicated to Alma Mahler and that Mahler was right there. So the way Jim conducted it, Mahler was everywhere, and to a romantic like me, I understood the whole opera. And I've loved every minute of Wozzeck I've seen ever since, even if it's not done that way. That to me is what's necessary. And I think no matter what music is written, the voice has to inspire you; has to make you think singing is a beautiful art form. I can't take anything else. Now maybe this is just age. I mean, for all I know people were saying the same things - they did say the same things about Wagner in the end of the 19th century.
Marc A. Scorca: You were so identified in the last half of your career with Seattle and Seattle Opera. Of course, you're from Texas originally and then you lived in New York. How did you bond with the city? How did you make it your own and how did you make Seattle Opera, Seattle's opera company?
Speight Jenkins: The first time that I landed here to do my first interview, I fell in love with the city. And I have no idea why. I certainly didn't know I was coming here. When I first came, I was just coming in as a speaker. I love the city, you know. So the thing was, it never occurred to me. The whole reason I became general director was because of one woman, Beverly Brazeau, who thought I could do it and convinced the board that I should come in. I was totally flabbergasted. So how did I do with Seattle? I suppose the city just appealed to me. Maybe coming from Texas and living 20 years in New York, maybe Seattle was somewhere in between, in a funny way? But it just charmed me as a city and I loved it. I loved the people. I loved what I was doing. Honestly, part of me thinks that if I'd gone wherever I had gone, I would've loved it, because if I had the ability to put an opera company together, I think that's really the case. But Seattle certainly did everything for me it could possibly do. I've always had good experiences here with the political side of Seattle and the financial side of Seattle and the business side of Seattle and all those things. It was a place that was attuned that I found very easy to work in and wonderful to work in.
Marc A. Scorca: Well, Seattle may have given you a lot, but you gave a lot to Seattle,
Speight Jenkins: But it did. It gave me a lot