Opera Conference 2024 | June 5-8
Opera Conference 2024 brings opera administrators, artists, trustees, and advocates from across North America together in Los Angeles to move the art form forward.
Directly following the second-ever World Opera Forum, the conference will weave the global discourse of the forum into four days of sessions, discussions, and networking focused on advancing the industry in the United States and Canada.
The conference is hosted by LA Opera, which will headline a festival of performances throughout the greater Los Angeles area.
Register Today
Come for both events or just one. Register before prices increase on December 16.
Conference Topics
The World Opera Forum will set the stage for the conference by leading global discussions about making the case for opera in the 21st century. The closing session of the forum will launch the conference as its opening session.
Over the subsequent four days, attendees will translate the topics of the forum into key discussions about the future of the North American opera field.
Opening Session: Making a Case for Opera in the 21st Century
Topic I: Managing Accelerating Change
Topic II: What Does It Mean to Be Local?
Topic III: Expanding the Opera Business Model
Conference Structure
The conference includes several types of sessions:
General Sessions - Large plenary sessions for all conference attendees.
Concurrent Sessions - Breakout sessions about specific topics that build on the themes of the general sessions.
Spotlight Sessions - Brief topical sessions presented by conference sponsors and partners.
Network Roundtables*- Focused discussion sessions for attendees working in specific areas of practice.
When not in meetings, attendees will have opportunities to meet and network:
Host Company Reception - LA Opera's opening reception for all conference attendees.
Sponsor Reception - A conference-wide reception to meet sponsors in the Exhibit Hall.
Affinity Group Homerooms & Reception - Morning and evening meet-ups for members of the LGBTQIA+ Opera Network, Racial Justice Opera Network, and Women's Opera Network.
Network Dinners* - Add-on dinners for conference attendees working in specific areas of practice.
*Networks include Artistic Administration, Development, Education/Community Engagement, Finance/HR, Marketing/PR, Performer Development, Technical/Production, and Trustees. Some network events are open only to staff and trustees of Professional Company Members.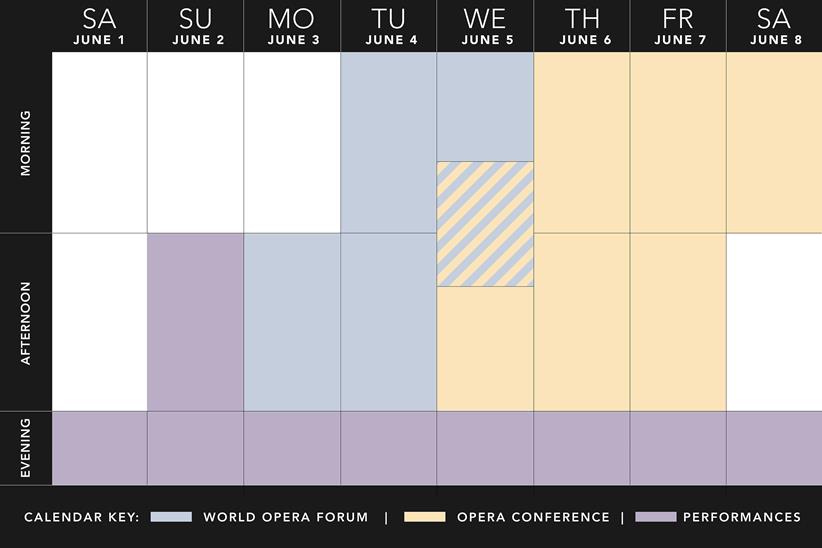 The conference gave me the feeling that I am part of something much greater than myself, resulting in an enthusiastic recommitment to my work, to my personal and professional connections, and to my modest monetary donations within the opera field.
Rita Horiguchi, emeritus council member, Opera San José
As a newcomer to this art form, I have only begun to scratch the surface of the deep history of opera and the vast network of organizations across North America. Opera Conference provided me with a ton of insight, and many, many touch points.
Mélanie Dubois, artistic producer, Tapestry Opera
I loved how many different points of view were represented — the mix of production, administration, composers, singers, board members, and more.
Kim Powers, set designer
I love this conference — it's truly a highlight of my year. Being around hundreds of people who share my passion for opera is inspiring and makes me feel I'm in the industry I'm meant to be.
Regi Lammers, director of development, Hawai'i Opera Theatre
I enjoyed the energy of attendees and a pervasive, optimistic sense of the field poised for an exceptional artistic explosion of engaging creative new work.
Robert Darling, vice president, Alliance for New Music Theater
I enjoyed meeting new people — having beautiful conversations and making new connections.
Tamar Muskal, composer
The value of conference for me is always first in connecting — or reconnecting — with friends and colleagues.
Katie Preissner, managing director, artistic and production, Opera San José
I enjoyed the diverse perspectives presented on the panels and learning how companies are getting creative with engagement and development in their communities.
Genevieve Trygstad-Burke, development director, Intermountain Opera Bozeman
World Opera Forum is an opportunity to think beyond the day-to-day business of opera and spend some real time grappling with industry issues that impact us all. The intentional curation of participants ensures that you will be challenged, supported, and pushed to see opera from a perspective that is new to you.
Nadege Souvenir, chief operating officer, Saint Paul & Minnesota Foundation, and 2018 World Opera Forum participant
Register Now
Register by December 15 to score the best prices during the Advance Registration period!