World Opera Forum 2024 | June 3-5
The second-ever World Opera Forum welcomes opera leaders from around the world to Los Angeles for a global conversation about the future of the art form.
Directly preceding Opera Conference 2024, the forum will engage opera leaders from six continents in discussion of the strategies needed to guide the sector through today's dynamic landscape of art, politics, and technology.
The forum is hosted by OPERA America in collaboration with Opera Europa, Ópera Latinoamérica, and the Association for Opera in Canada.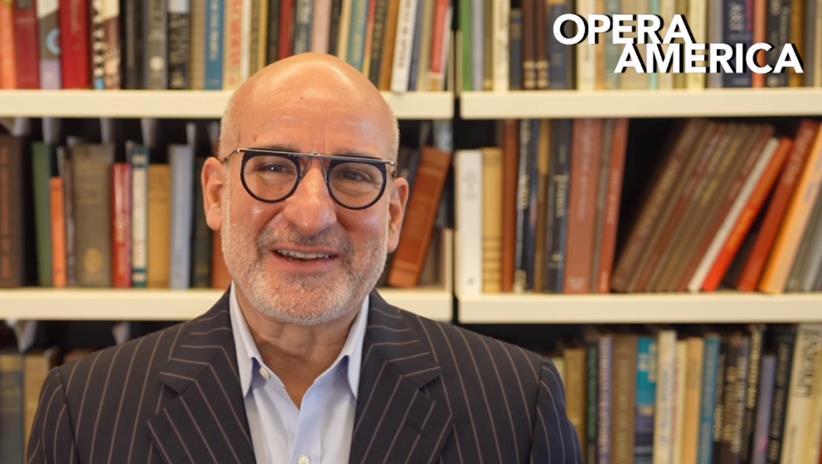 Register Today
Come for both events or just one. Register before prices increase on December 16.
Forum Topics
Opera has benefitted for decades from the support of cultural agencies and philanthropy. But in a world of competing priorities and limited resources, support structures are weakening. Making a case for opera requires new organizational and artistic strategies.
Over three days, delegates and members from the global opera community are invited to investigate the following key themes:
Introduction: Making a Case for Opera in the 21st  Century,
Opera has benefitted for decades from the support of cultural agencies and private philanthropists for different reasons. In much of Europe, governments have been motivated by a sense of obligation to their national culture and cultural infrastructure. In North America, the grandeur and exclusivity of opera has been an allure to many social and business leaders. Many countries exhibit a mix of these motivations, but in a world of competing priorities and limited resources, support structures for opera companies in their current form are weakening.
Making a case for opera today cannot be a simple narrative exercise in which different language is found to change the public perception and value of the art form. Superficial changes will not be sufficient to overcome barriers to opera participation. Making a case for opera requires new organizational and artistic strategies that make theaters welcoming to more diverse audiences and convey the importance of the arts, artists, and arts workers to healthy communities and thriving economies.
What is the government's responsibility to support the arts in a world that is becoming increasingly multicultural? Are commitments to overcome the elitism of opera and increase diversity authentic and sustained? Is the tempo of evolution too slow; is disruption a necessary precursor to reinvention?
Topic I: What We Produce, How We Produce It, and For Whom 
Through the 20th century and into the 21st, opera has been defined by a 19th-century European repertoire that extended Europe's cultural sensibilities around the world, including some works that promote cultural stereotyping and depict the mistreatment of women. Some of these works have enduring musical importance but require careful consideration in light of contemporary sensibilities.
At the same time, an increasing number of new works tell new stories in different styles that connect opera to life today. Composers and librettists entering the opera sphere are helping the art form evolve as a contemporary cultural expression. New collaborative, cooperative, and devised models of creation are expanding the creative diversity of the art form. Co-production among companies leverages resources and promotes sustainability. The incorporation of film, video, and other new technologies amplifies the scope of production design and composition. Technology also expands the reach of opera outside the walls of the opera house through live transmission, recordings, and work developed specifically for the screen.
Enlarging the palette of opera increases the potential to attract new audiences, and while most companies report record-setting first-time attendance, many newcomers are not yet returning frequently. Some long-standing audiences are unenthusiastic about new works and new interpretations of their favorite operas. Many people have incorporated new forms and formats of entertainment and cultural consumption into their lives, intensifying competition for their time and attention.
How can the intersection of the old and new enrich the entire opera experience? What is the right balance between stories with local impact and universal appeal? Can stewardship of the operatic inheritance and encouragement of new creation be woven into an appealing continuum? Should continuity be the goal, or is discontinuity the more appropriate path to progress?
Topic II: Elevating Human Values 
The worldwide pandemic shined the light on the urgency to reassess opera's relationship with the people who bring the art form to life. Opera leaders have a history of inspiring audiences with transporting productions and virtuosic performances, but this success has taken place too often without sufficient regard for the well-being of the artists and artisans who make the work possible.
Opera leaders are called upon to examine and adjust long-standing policies and practices to retain and recruit staff in critical areas of operation and provide a responsible level of job security. The training of artists must prepare them to exercise agency in the progress of their own multifaceted careers. A sustained commitment to embrace new attitudes and values and create workplaces that affirm individual identities, promote social and racial justice, and assure safe and respectful work conditions is an essential basis for extending service to the public.
How can producers overcome inherited attitudes and adjust ingrained practices to improve conditions for artists and arts workers? How can artists be empowered as full partners in the opera enterprise? How can artists and arts workers thrive in the context of reduced productivity? Will changed values reshape the structure and operation of opera companies?
Topic III: Becoming Engaged Cultural Citizens 
Opera cannot thrive without a demonstrable connection to the social and political dynamics of the communities that are home to companies. In an age defined by war and migration, climate change, cultural and economic inequities, political polarization, and increasing diversity, the mission of opera must expand beyond the narrow purview of the arts.
With a shared, multi-national repertoire, every opera company will be enriched by its unique relationship to its place and the qualities that shape it. Opera's inherent capacity to convene, communicate, educate, and bridge divides must be shared broadly to improve the lives and lift the spirits of people who may never enter the opera house in addition to those who enjoy the art form.
How can the demands of producing opera be integrated into a larger commitment to addressing varied and changing civic priorities? Can the aesthetics of public service be appreciated equally with the aesthetics of production and performance? Do expanded civic responsibilities require changes in organizational missions?
Conclusion: Making a Case for Opera
We return to the opening challenge. Have two days of debate about critical issues among global opera leaders clarified programmatic aspirations, prioritization of respect for the people of opera, and the relationship of companies to the places they inhabit? Can creative sustainability, environmental sustainability, and financial sustainability coexist in a supportable balance? Can they reinforce one another in a manner that brings new energy to a 400-year-old art form?
Forum Structure
Sixty official delegates, including artists, administrators, trustees, and advocates from six continents, have been chosen by an international committee to lead the forum discussions. Delegates will engage with each of the three topics in a half-day sequence that includes opening remarks, a moderated "fishbowl" debate, break-out groups, and a concluding summary.
All members of OPERA America, Opera Europa, and Ópera Latinoamérica are invited to register for the forum as participants at large. They will be able to participate in all sessions and enrich discussion by submitting questions and comments. And they will extend the ideas of the forum to the subsequent Opera Conference and their home companies.
The combined World Opera Forum and Opera Conference will be a week filled with debate, discussion, and networking at the conclusion of which participants will leave with new insights, ideas, and relationships that circle the globe.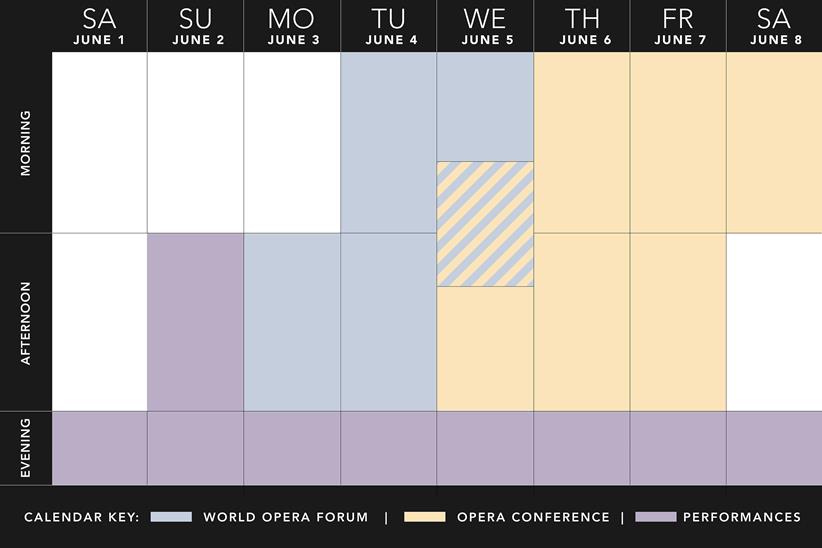 The forum has a very different feel compared to the Opera Conference. This is the space for the big philosophical things, the existential questions.
Christopher Hahn, general director, Pittsburgh Opera, and 2018 World Opera Forum participant
World Opera Forum is an opportunity to think beyond the day-to-day business of opera and spend some real time grappling with industry issues that impact us all. The intentional curation of participants ensures that you will be challenged, supported, and pushed to see opera from a perspective that is new to you.
Nadege Souvenir, chief operating officer, Saint Paul & Minnesota Foundation, and 2018 World Opera Forum participant
Both OPERA America and Opera Europa have practical conferences and forums where they get into solutions, but at the international level, it can be incredibly enriching to simply discuss the differences in the challenges facing different companies around the globe.
Audrey Jungers, general manager, Opera Europa, and 2018 World Opera Forum participant
The most important value of the World Opera Forum was to start a collective work between five continents. It was a milestone in the history of opera.
Alejandra Martí, executive director, Ópera Latinoamérica, and 2018 World Opera Forum participant
Building on the 2018 Forum
The 2024 World Opera Forum builds on the inaugural forum hosted by the Teatro Real in Madrid in 2018.
Since then, the world has been changed by a global pandemic. Inherited cultural traditions are being reexamined, social and environmental justice is taking precedence among other priorities, government policies are shifting, and technology is reshaping our relationships with one another, our audiences, and the public.
Yet, within this ever-changing landscape, opera retains its unique power as a story-based, multimedia art form that can strengthen community ties, address civic issues, and inspire audiences across economic, social, and racial divides. 
The 2018 World Opera Forum united the global opera industry in a discussion about the future of the art form around four central themes: cultural...
Register Now
Register by December 15 to score the best prices during the Advance Registration period!